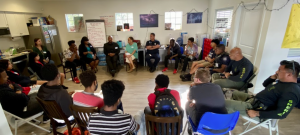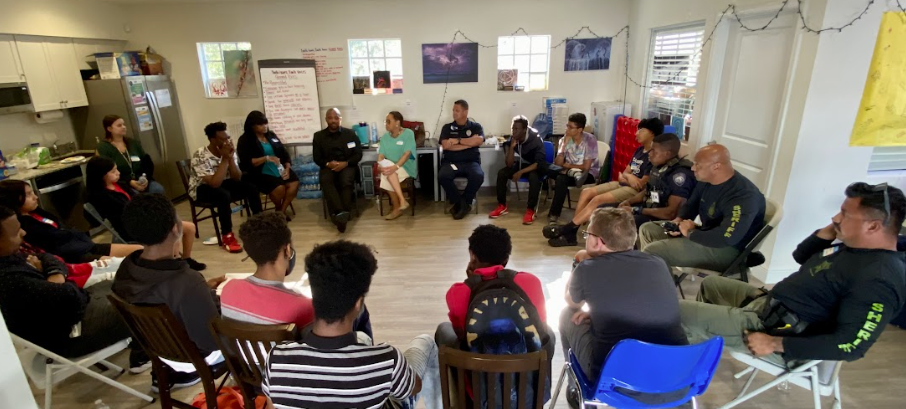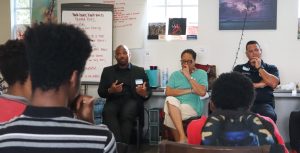 Adopt-A-Family's Youth Success Group participated in a 6-week "Youth Issues, Youth Voices" dialogue group led by Barbara Cheives of Converge & Associates. The sessions explored topics like racial and ethnic tension, violence in the community, healthy relationships, and substance abuse. Each gathering allowed students the space to openly share opinions and experiences, and brainstorm solutions to issues youth are facing today.
To conclude the 6-week course, several leaders in the local criminal justice system joined the Youth Success Group for an open conversation with the middle- and high- school students on May 11. Judge Bradley Harper, criminal prosecutor Cheo Reid, criminal defense lawyer Maegan Young, Deputy Morales, Agent Ramsey, and Palm Beach School District Police officers Morales and Nickelson shared advice, bringing valuable perspective from their years of responding to juvenile offenses.
"It's hard to see what kids like you go through in the system all because of a stupid mistake, or because you never got the help or guidance you needed," Prosecutor Reid shared with the kids.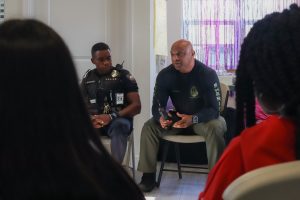 As conversation flowed, covering hot topics like social media crimes and the rising popularity of vaping, each professional took the time to share heartfelt advice and personal anecdotes.
"You need to get comfortable with being uncomfortable," Judge Harper told the students. "Every guest in this room made decisions that made them uncomfortable at some point – either it had never been done in their family before, or it was a tough road. You have opportunities coming for you, but those doors won't always be open. If you have an opportunity, take it, give it a try. When you feel buried, when you're in a dark and uncomfortable place, that's when you grow."
We thank each guest for taking the time to have this special evening with the students of our Youth Success Group, and to Ms. Cheives for her continued work within the agency.


Out of Reach 2019 Report
The National Low-Income Housing Coalition recently released its 2019 Out of Reach report which reveals startling statistics on the current state of affordable housing throughout the country. Out of Reach documents the significant and growing gap between renters' wages and the cost of housing in every county and state in America.  The report breaks down the average hourly wage a full-time worker must earn to afford a modest rental without spending more than 30% of their annual income.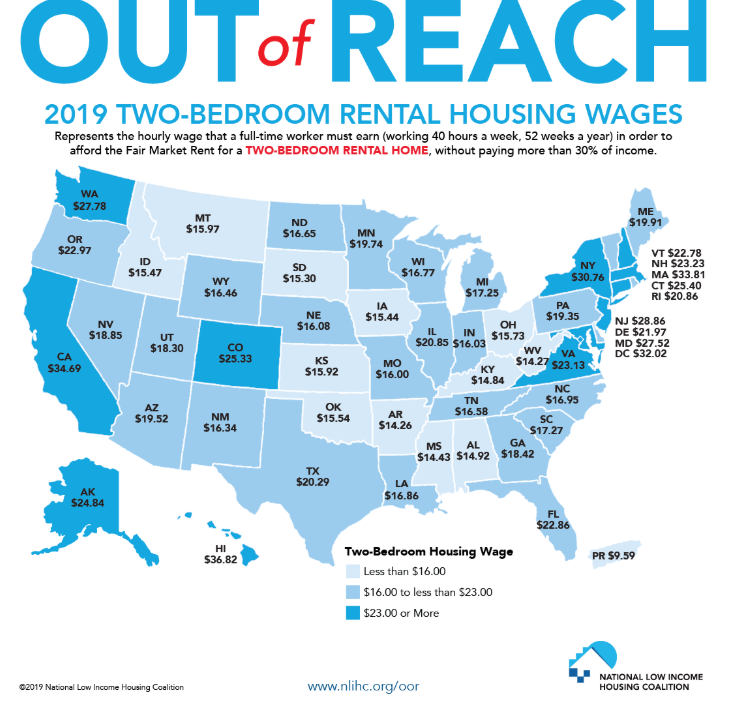 The Out of Reach report states that there is not a single county or metropolitan area in Florida where an individual working a full-time, minimum wage job can afford a simple 2-bedroom apartment. On average, they would need to work 108 hours per week or have 2.7 full-time minimum wage jobs to afford a decent place to live.  Coupled with the rising costs of food, childcare, and transportation, low-income families often find themselves having to make the impossible decision between paying rent and buying food or seeking medical care.

With Palm Beach County being the 3rd most expensive county in Florida and West Palm Beach-Boca Raton being the 2nd most expensive metropolitan area in Florida, drastic changes are needed to decrease the disparity between wages and housing costs.  The Out of Reach report states that Fair Market Rent in Palm Beach County is $1434 per month for a 2-bedroom apartment which would require a single parent to earn $27.58 to afford and maintain stable housing.
Every day, Adopt-A-Family works to combat the affordable housing crisis in Palm Beach County and equip low-income families with the tools they need to become stable and self-sufficient in the midst of a rental landscape that is stacked against them. The agency's efforts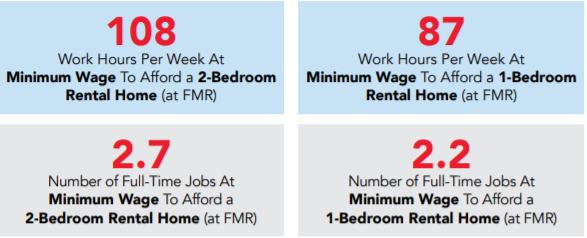 include:
51 units of housing for homeless Palm Beach County families
55 units of affordable rentals for low-income Palm Beach County families
Financial assistance to prevent eviction for low-income families experiencing a crisis
A new housing project that will provide 14 units of housing reserved for unstably housed students at Highland Elementary School in Lake Worth, Florida
Case management, financial literacy classes, credit repair services, budget counseling, first-time home buyer education, mental health services, and linkage to support services to enable families to become self-sufficient.
Read more 2019 Out of Reach report here.
For part two of our four part Great Give 2017 series highlighting Adopt-A-Family programming, we caught up with Director of Homeless Services, Nydia Sabugo-Marrou. Our second feature focuses on how emergency housing solutions provide a stable foundation for families in crisis.
What are common barriers faced by families entering Program REACH and the Lewis Center?
The common barriers of the families we serve are the following: they have very limited income, limited education, parents that may have been in the foster care system, and have experienced a plethora of traumatic events in their lives. Because of the significant trauma, many families come to us with additional mental health challenges on top of their experience with homelessness.
What are some key goals for families served in your programs?  
The first goal when we bring them here is to put a roof over their head. This starts with a hotel voucher or a referral to Program REACH. Our next goal is to obtain more stable and long-term housing solutions. The primary way we accomplish this is through Rapid Re-Housing. Another goal is to ensure we limit the amount of time each family spends being homeless. Once a family is housed, we provide referrals and other services offered by collaborative partners to help families grow.
Why is it so important that this work is possible in Palm Beach County? How is it making a difference? 
---
We begin with saying that everyone deserves a safe and stable place to stay.  Every child should know that when they come home from school, they have a space that is truly their own.  It's important in this community and across the world. Shelter is a BASIC human need. – Nydia Sabugo-Marrou
---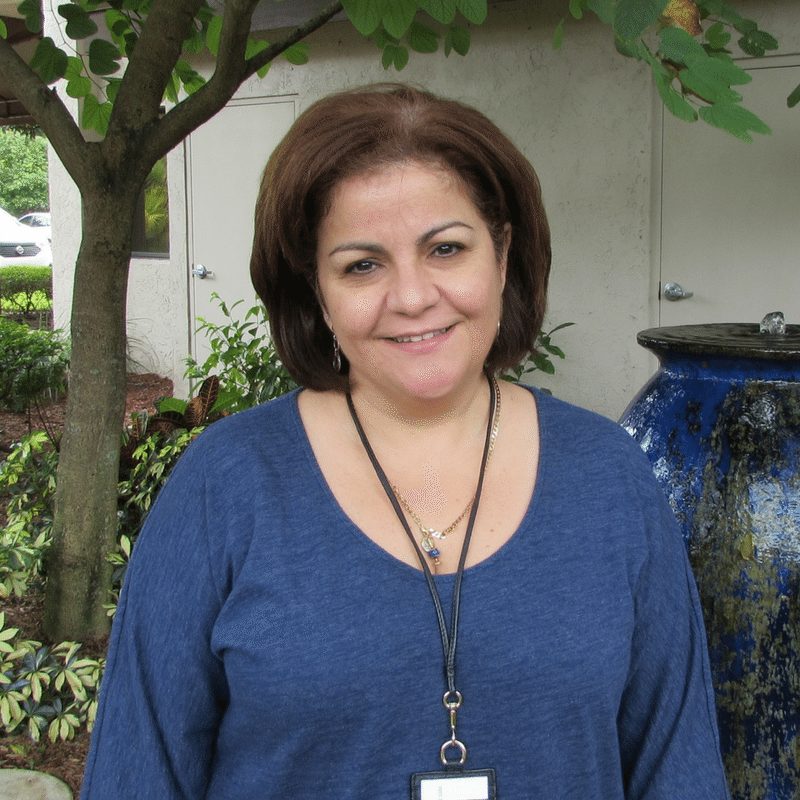 From the perspective of the families you serve, what would you like the community to know (that they may not know) about the work that you do? 
The first thing that comes to my mind is to eradicate the stigma of homelessness. There are so many false stereotypes going around. I'd want to tell the community that so many of our community's residents are just one paycheck away from homelessness. Anything that causes you to miss work could put you in the same predicament of so many of our families. We have families that are doing their best – some even working two part-time jobs and still having a  difficult time to afford rents in this county.
It's truly an uphill battle. However, with the supportive services provided by Adopt-A-Family and our partners, we're able to see great successes.
What makes your job so meaningful? 
The most meaningful aspect of my work is giving families a place to stay when they otherwise wouldn't have a home. I'll never forget one mother saying, "I can finally cook. I can make a meal for my family." Click To Tweet Simple things like cooking that we take as an everyday luxury is simply not a reality for struggling families in our community.
Thank you for sharing this insight Nydia!
---
Our 2017 Great Give mission statement: Housing stability creates opportunities for our families. When you give with your heart during this year's Great Give, our families and children will thrive. We can only impact the lives of families with you. Create the opportunity for our families and children to grow.  #GiveAAF17 during the Great Give. 
---
This blog is part two of an ongoing series that aims to give our community a closer look at the programming they will directly support during this year's Great Give. Stay tuned for additional features on our self-sufficiency programming and educational programming. Throughout the campaign, you will also hear straight from our families on how their lives have been impacted by Adopt-A-Family. To view our Great Give fundraising page, click the logo below. To help share this feature, please click the Twitter or Facebook share icons below.