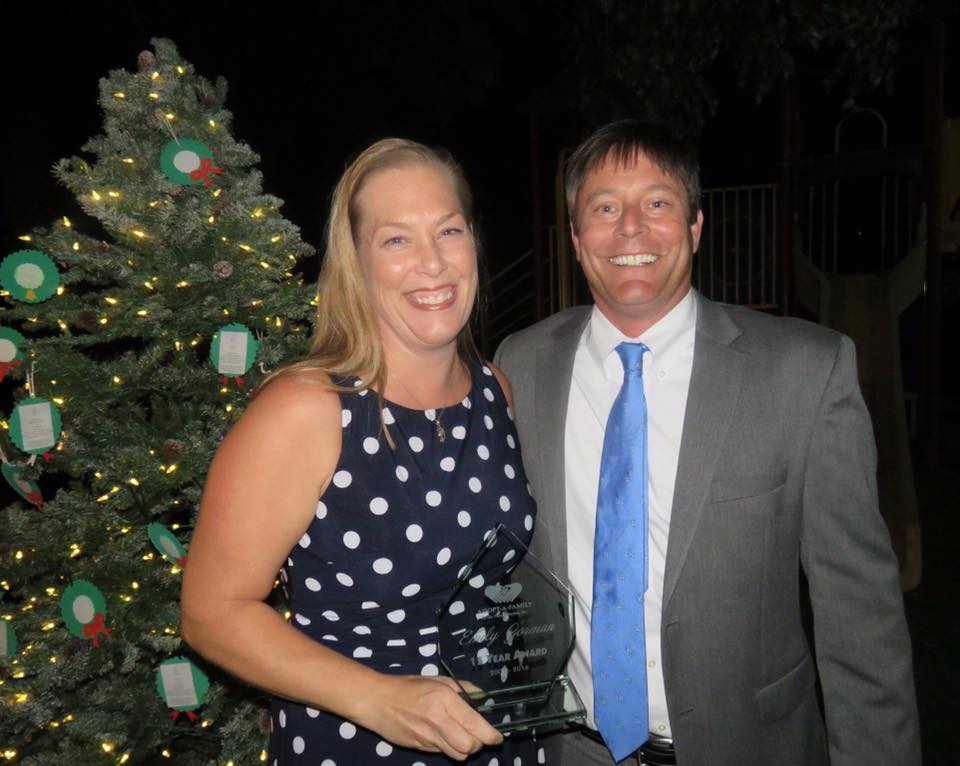 Yesterday evening, Adopt-A-Family staff and Board of Directors celebrated the Annual Meeting on the Project Grow turf. We want to take the opportunity to formally recognize our Annual Meeting award recipients.
Staff Awards
5 Year Recognition – Rae Harris. Since day one, Rae has brought a rare energy, spirit, and work ethic toward becoming an integral part of Adopt-A-Family's Lewis Center family homelessness team. Thank you Rae, for making a difference every single day!
10 Year Recognition – Patrick McKenna. Patrick epitomizes the Adopt-A-Family spirit of always going out of his way to get the job done. Case in point — Mr. Patrick is always the first to volunteer in lending a hand with prepping delicious food and hor d'oeuvres for our events. He is the utmost gentleman!
15 Year Recognition – Emily Gorman It is hard to quantify the impact Emily has had on the agency in 15 years of dedicated service. She has played a vital role in Adopt-A-Family programming for nearly two decades and has recently transitioned to the role of Administrative Director. Emily's loyalty to the agency is unparalleled.
Board Awards
Recognition of Service: We Recognized John Castronuovo for his nearly two decades of service on Adopt-A-Family's Board of Directors. In that time, John played a significant role in the expansion and oversight of the agency's growth and transformation. John's commitment led to his serving as Board Chairman on TWO separate occasions. He also recruited prominent members of our existing board including current Board Chair, Garth Rosenkrance. Thank you John!
President's Award – CEO, Matt Constantine. The award was presented in recognition of Matt's relentless and determined efforts to ensure Program REACH would remain in operation. The program, which is the only emergency shelter dedicated to families experiencing homelessness in Palm Beach County, was on the verge of closing earlier this summer. From late May through the summer months, Mr. Constantine worked closely with Palm Beach County officials, our legal team, and the board of directors to navigate the complexities of keeping the shelter's doors open.
Thank you for your determination Matt!
And, thank you all!