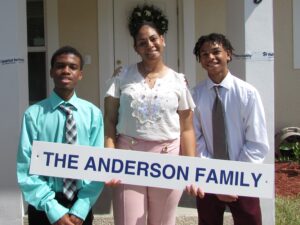 Service Enriched Housing (SEH) is a residential program designed to help families navigate financial barriers to become homeowners. The 31 families served by SEH are dedicated to the pursuit of financial stability and homeownership, and work closely with the program manager to address credit obstacles, debt, and the necessary steps to becoming a homeowner. SEH residents are referred to a number of first-time home buyer workshops as well as nontraditional homeownership programs such as Habitat for Humanity and the Palm Beach County Community Land Trust.  
The program's innovative rent model sets families up for financial success: 
Residents are charged 30% of their gross income for rent. 
Any amount over $550 is placed directly into an individual escrow account.
Residents build savings while remaining stably and safely housed.
During the 2021 fiscal year, SEH residents had a combined total of $191,429 in their escrow accounts, and two families became first-time homebuyers.
Click to read a homeownership success story, Karla Thompson, and her family.