Erika King and Family
Program Success Story: Neighborhood Stabilization Program 2 (NSP2)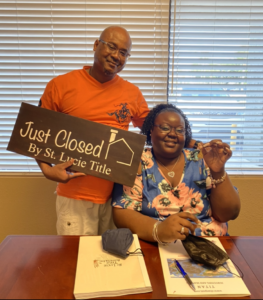 When Erika King walked through the doors of her new home for the first time in June 2020, she felt the kind of excitement we all feel on New Year's Eve.
"It was like January 1 when 12 o'clock hits and the firecrackers explode," Erika said.
For Erika and her family, walking through those doors meant stepping into a new phase of life, only a few years removed from utter hardship.
The family first came to Adopt-A-Family in 2015, seeking shelter, stability, and hope. Their struggles were plentiful, from medical issues to family traumas. The agency's Neighborhood Stabilization Program 2 provided the family with a stable home they could afford, case management, and access to services that supported them on the path to stability.
"Adopt-A-Family gave us that extra hope that it was all going to work out."
Erika helped others, even during her darkest days, in her work at a local women's shelter. She met women who endured homelessness and trauma.
"There were women every day dealing with the same stuff I was dealing with," she said. "Their stories helped me to keep going."
It was Erika and her family's determination to better their lives that ultimately helped them realize their ultimate goal – homeownership. When Erika and her husband began saving for a down payment, they kept it a secret from everyone, including their family.
"When we finally closed, I just sent everybody a picture with me holding the key," she said. Now, her family and friends cannot stop visiting and everyone wants to have birthday parties at her house.
When asked what was next for her, Erika replied, "Just living, loving, and laughing – a lot of laughing."
Erika and her husband had another blessing in 2020 when they became first-time grandparents. Her advice for other people facing life's obstacles?
"Stay strong and know that there is a light at the other end of the tunnel. And keep your faith. Faith is everything."
The McDonald Family
Program Success Story: Housing Stabilization Program (HSP)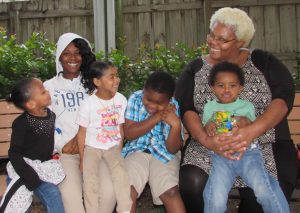 Angela McDonald is a hardworking grandmother of five that was renting a one-bedroom apartment in the City of Lake Worth. Angela's adult daughter was living out of state and found herself unable to care for her children. After receiving a call from that state's Department of Children and Family Services, Angela immediately took custody of her five grandchildren, ranging in age from three to 14 years old. Angela struggled to adjust to this change in family dynamics – not only was she charged with the care of five children, she also had to secure a larger apartment to accommodate the change in family size. Angela did her best to make ends meet, but the move to a bigger place and the expenses incurred when she took custody of the children caused her to fall behind in rent. Angela sought assistance from HSP to prevent her family from becoming homeless.
HSP was able to pay the family's past due rent and utilities to keep them stably housed. Angela and her family took full advantage of the services provided and were referred for a number of resources; including school uniforms, counseling and educational advocacy for the children, the clothing closet at the Senator Philip D. Lewis Center, referrals for low income housing, referrals to both of Adopt-A-Family's holiday programs, and a referral to a first-time homebuyers course (facilitated by AAF's Service Enriched Housing program). Angela and her family benefited tremendously from their involvement with HSP. Angela was able to improve her budget and she and the children have remained stably housed since agency intervention. Angela had always dreamed of becoming a homeowner, but did not think she would ever be able to obtain this goal.
Through her involvement with the program, Angela was referred to AAF's Service Enriched Housing program and is now on the road to homeownership!
The Harper Family
Program Success Story: Senator Philip D. Lewis Center Family Homelessness Team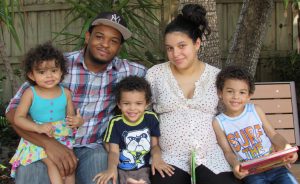 The Harper family relocated to South Florida from New Jersey after Mr. Harper was offered a new job that he hoped would ensure a good life for himself, his wife, and their three young children. Upon arriving to Florida, he learned the position had been filled and the job was no longer on the table. With nowhere else to turn or go, the entire family moved into his grandparents 55+ community – a stay that was short-lived due to the fact the community did not allow children. Out of options, the family reached out to The Senator Philip D. Lewis Adopt-A-Family homelessness team.
Our Lewis Center team worked collaboratively to temporarily place the Harper's and provide comprehensive services to address the family's most important needs; including access to childcare, which was an absolute necessity to ensure mom and dad could obtain work. Our housing specialist team also worked relentlessly to identify affordable housing for the family, which is always difficult in Palm Beach County.
Mr. and Mrs. Harper worked closely with their family advocate to set a budget, and work toward family and personal goals. The family's diligent efforts with their family advocate led to Mr. and Mrs. Harper both obtaining employment, and to top it all off, our housing specialist was able to identify housing that suited their budget!
In Mr. Harper's own words – "Life throws every one curve balls from time to time. The fact that Adopt-A-Family was there for me and my family in a time of need is so special. I am so grateful to Rae, Steve, Ashley (our family advocate), and the entire agency for helping us regain stability. I now have a great job as a technician for a large telecommunications company, and we have an apartment to call our very own. Adopt-A-Family even provided resources to get the apartment furnished and beds for my children – free of charge. I am so, so grateful."
A Project Grow Alumni success story – introducing Pete Cabrera
Program Success Story: Project Grow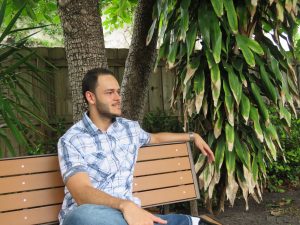 Project Grow has a positive, and lasting impact on the students who graduate the program. Adopt-A-Family recently caught up with a successful alumnus of Project Grow, Pete Cabrera, who took time out of his busy academic schedule to give insights into how the program made a difference.
Q 1: As a Project Grow alum, what made your experience in the program important to you?
A 1: Essentially, all of the aspects of the Project Grow program were important to me. They safely walked us (the students) over to the facility from school, offered homework assistance, and had an abundant number of extra-curricular activities for us to enjoy. Some of the extra-curricular activities included playing on the playground, educational field trips, science projects, singing events, and taekwondo classes. Moreover, the program mentors were always there to help with any inconvenience we encountered with challenges related to school or our personal lives.
Q 2: What is your favorite memory from your time in Project Grow?
A 2: My favorite memory of the Project Grow program has to be when they granted me the ability to travel to Washington D.C during my fifth grade year while I was a safety patrol. This was my first time outside of the state of Florida and that experience has stuck with me throughout my life. It connected me more with the outside world and gave me the opportunity to educate myself outside of the traditional classroom setting.
Q 3: How did the program impact your academic studies and schooling? Did it help you eventually choose a track toward medical school?
A 3: Regarding academics, Project Grow taught me how to prioritize school work first. When we arrived at the facility, we would have snack time and immediately start working on our homework. This started the habit of always doing my school work first and having fun later. I would say Project Grow, in addition to Adopt-A-Family programming as whole, led to my decision in pursuing a medical degree. The agency fostered my will toward wanting to give back to others – and this played a direct role in my pursuit of a medical school education.
Thank you for your time Pete, and we wish you well in your academic endeavors!
Nicole W. and Family
Program Success Story: Neighborhood Stabilization Program 2 (NSP2)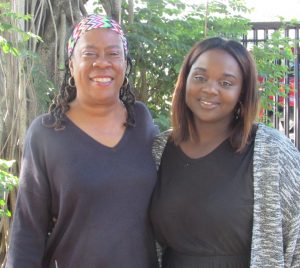 Nicole W. joined Adopt-A-Family's NSP2 program in the fall of 2014 and it has changed her life. "Being a part of the program has allowed me to become financially stable, take better care of myself and family, and grow in all walks of life. Most importantly, this opportunity has given me HOPE.
Everyone falls on hard times at some point or another – Adopt-A-Family was there for me when all I needed was a helping hand. My case worker Ms. Glenda is so full of compassion! She always reaches out to me about resources through the agency and the community that best suit my family's needs. She's more than a case worker to me – she's become a friend."
Nicole and her family are one of 24 families living in affordable rental housing through AAF's NSP2 program.
Anna M. and Family
Program Success Story: Wiley Reynolds Gardens Apartments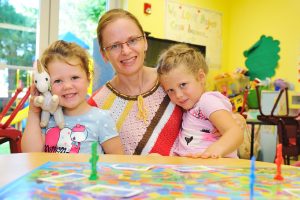 Anna and her family have recently transitioned successfully to complete independence – exiting Adopt-A-Family programming accomplished and empowered. Before leaving, Anna penned a powerful note to her case manager that we wanted to share.
"When I moved to this country, I had huge dreams! Never did I think I would start a family or fall madly in love. Unfortunately, it was with someone who ended up putting me and my daughters through hell. Today, I am a survivor of domestic violence, and I am only where I am today because of Adopt-A-Family! I remember the big day on May 14, 2012, when I signed the rental agreement with Mrs. Emily Gorman (from AAF). I moved with my daughters to a fully furnished, newly renovated two-level apartment at Wiley Reynolds Gardens Apartments! We had so much space! I had a tight budget but AAF adjusted rent so that it was affordable and I would be in a position to sustain. This was a huge chapter in my life changing for the better.
No matter what, I couldn't go through my challenges and growth without tremendous support from AAF along the way. The staff I met at the office were always so kind and ready to lend a giving hand. I also had a fantastic case worker, Ms. Maura Andres. I cannot begin to imagine what would have happened to us (my family and I) if I never came to Adopt-A-Family.
From the bottom of my heart, THANK YOU ALL!" – Anna M.
Marlena, 2nd Grade Student in Project Grow
Program Success Story: Project Grow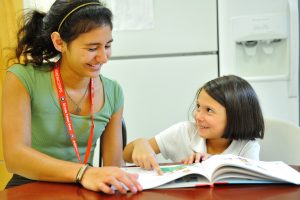 Marlena started in Adopt-A-Family's Project Grow as a kindergartener. She was very shy and reserved and spoke little English. Marlena's family struggled with frequent moves and lacked the stability necessary to ensure Marlena and her siblings could have a healthy childhood.
At first, Marlena performed poorly academically but as services were implemented for her in Project Grow, she gained confidence and improved as a student. Marlena loved working one-on-one with the Literacy AmeriCorps tutor in reading and writing, as well as her tutor from the school district who helped her with mathematics. Marlena has become so proficient in English that she's begun teaching her parents!
Through Project Grow's STEAM (science, technology, engineering, arts, and mathematics) curriculum, she has shown a particularly keen interest in science and math. Her mother meets regularly with the Project Grow academic adviser to receive support services and tools to help Marlena grow as a student, at home, and in the classroom.
During Project Grow's summer camp, she was able to experience the wonder of local museums and other educational (and fun) field trips that her parents otherwise would not be able to afford.
Marlena is now in second grade and is excelling academically due, in large part, to Project Grow's extensive programming.