Glenda has endured the unimaginable.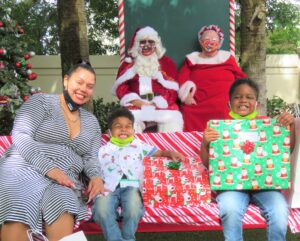 Two years ago, her 6-year-old daughter Kaileen died in a house fire. Glenda struggled to cope with the overwhelming grief while providing for her surviving children, Leo and Elijah (now 8 and 5). At one point, the family's only option was to take refuge in a shelter.
Then came another blow: Leo was diagnosed with T-cell lymphoma. There were far-away medical appointments and chemotherapy treatments. Leo's compromised immune system meant he required homeschooling, making it difficult for Glenda to work.
Glenda's search for solutions led her to Adopt-A-Family, where she qualified for one of the agency's supportive housing programs. The stable housing and case management provided by Adopt-A-Family has enabled Glenda to focus on her children, family therapy, advancing her education, increasing her earning potential, and pursuing her dream of homeownership. Leo is currently in remission with an optimistic prognosis, and both boys happily returned to school in 2021.
Your support of Adopt-A-Family equips the agency to provide housing and hope to families like Glenda's every day.
---
Interested in donating stock or making this a matching gift through your employer? Please contact Adopt-A-Family's Chief Financial Officer, Arianna De Leo, at 561.253.1361 ext. 116 or email adeleo@aafpbc.org.