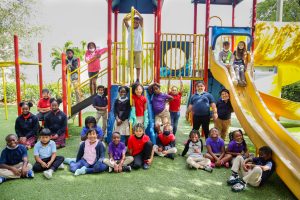 Project Grow is Adopt-A-Family's afterschool/summer program for at-risk elementary school students. Project Grow aims to reverse the debilitating effects of homelessness and poverty through a holistic approach centering on four core areas: academic support, emotional development, parental engagement, and life-enriching experiences.
Academic lessons complement the public school curriculum, often using hands-on experiential learning as reinforcement. The program provides one-on-one tutoring, promotes parental involvement, and offers free on-site mental health services to help students overcome trauma and behavioral issues. Project Grow also includes STEAM (Science, Technology, Engineering, Arts, and Math) activities, academic advising, life-enriching field trips, and recreation on the agency's turf field and playground.
The program can serve up to 57 students in kindergarten through 5th grade. During the 2020-21 school year, 100% of the students were successfully promoted to the next grade level. In addition, 97% of the students' parents increased their involvement in their children's education by participating in academic advising sessions.