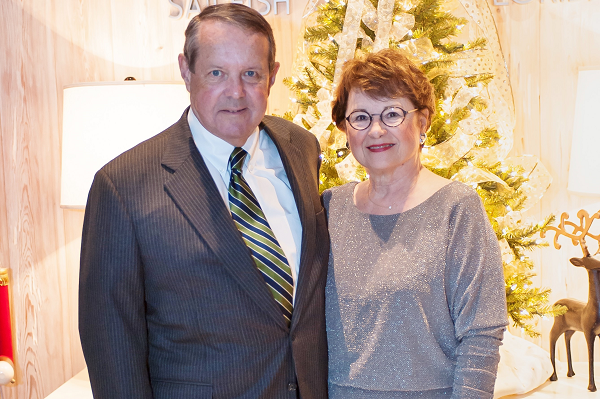 New Adopt-A-Family Board Chairman, Bill Peterson, with his wife Kathy at the 32nd Annual Tree Lighting Celebration.
---
Adopt-A-Family is thrilled to announce that board member and supporter, Bill Peterson, has assumed the role of Board Chairman effective July 1st, 2017. Mr. Peterson has been a dedicated member of Adopt-A-Family's board of directors for a number of years, most recently serving as Vice Chairman.
After a decades-long career in broadcast news and television, Mr. Peterson retired in 2009 as Senior Vice President/Television Station Group for the E.W. Scripps Company. Prior to his time at Scripps, he served as Vice President/General Manager of Scripps-owned WPTV NewsChannel 5 in West Palm Beach. He also held similar roles at WRAL-TV in Raleigh, NC, WPEC-TV (also in West Palm Beach), and WTKR-TV in Norfolk, VA. He was named 1996 Broadcaster of the Year by the Florida Association of Broadcasters and has served on the Television Board of the National Association of Broadcasters.
Mr. Peterson's community leadership in Palm Beach County spans nearly three decades. He served as a long-time member of United Way of Palm Beach County's board of directors and as the annual campaign chairman in 1992, which was the first county-wide campaign. He has also served as chairman of LISC Palm Beach County, which built hundreds of affordable housing units in Palm Beach County.
"My wife Kathy became an Adopt-A-Family volunteer more than twenty years ago and we both were impressed with its culture of care for clients and efficiency in its operations. I am honored to serve with a most impressive Board of Directors with members of varied expertise and ability; all of which hold a common commitment and respect for our clients and donors." – Bill Peterson
---
Bill and his wife Kathleen have two adult children and reside in West Palm Beach, Florida.
We are excited for the wealth of knowledge, leadership experience, and expertise Mr. Peterson will bring to his term as Board Chairman!