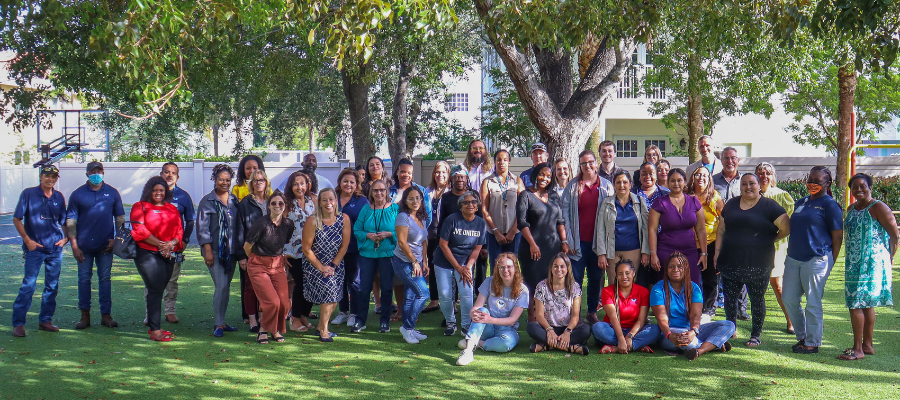 ADOPT-A-FAMILY'S 5-YEAR STRATEGIC PLAN
Every five years, Adopt-A-Family's Board of Directors and staff collaborate to create a strategic plan for the next five years of agency operations and impact in Palm Beach County. This plan responds to our county's changing market and needs, identifies goals and opportunities for improvement and growth, and cements agency values as we create a roadmap for continuing to achieve our mission in the years ahead.
After a year of workshops and a full day retreat facilitated by Rita Barreto of Top Tier Leadership, Adopt-A-Family's recently-completed strategic plan sets a vision for our next five years, spanning July 2022-2027, and focuses on maximizing Adopt-A-Family's efforts in four key areas:
Program and Service Excellence: Building on current efforts, create and deliver programs that are executed with excellence and a strong attention to exceeding expectations.
Talent Management and Culture: Identify, attract, and retain a talented and diverse board and workforce while maintaining and enhancing the agency's unique culture built on: respect, collaboration, inclusion, safety, and health.
Fiscal Strength: Ensure continued financial sustainability with a focus on diverse revenue streams.
Operational Efficiency and Effectiveness: Strengthen operations (money, information, systems, and physical assets) to ensure the efficient and effective management of resources and Board engagement.
Our past five years have been defined by several incredible milestones, including the opening of Julian Place and the Jayne and Tim Donahue Community Center, and receiving a $5 million grant from the Bezos Day 1 Families Fund to launch and grow our services to families experiencing unsheltered homelessness. These victories provided timely opportunities for expansion for the agency, as the affordable housing crisis wrought havoc on the lives of families across Palm Beach County.
Over the next five years, Adopt-A-Family will continue to mobilize efficiently in response to our community's needs, and strive for excellence in all that we do. As we expand our staff and reach, we build on the heart and longtime mission of Adopt-A-Family: to strengthen families with children in their efforts to achieve stability and self-sufficiency by providing access to all-encompassing services.