You Have the opportunity to make a difference for the families we serve.
Families' like Knawza's.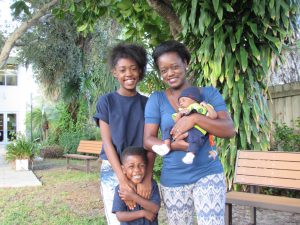 Knawza is a hard-working single mother who has provided a safe and stable home for her 12 year old daughter and three year old son. Through no fault of her own, Knawza's teaching position for summer school was disrupted, leaving her with no income during the summer months. She exhausted her savings to keep the family afloat, but fell behind in rent and was threatened with eviction and subsequent homelessness.
To further complicate matters, Knawza gave birth prematurely at the end of September. Little Terrance was born with an inverted heart and he spent the first few months of his life in a Neonatal Intensive Care Unit. Knawza was forced to miss a great deal of work as she spent her time traveling back and forth to the hospital while caring for her other two children.
Adopt-A-Family's Housing Stabilization Program provided the family with financial assistance in order to bring them current on rent and utilities and stop the eviction proceedings. The family was also provided with community and ancillary resources to ensure their needs were being met. Knawza continues to work with her Family Advocate on her budget so that she can sustain the family's expenses until she is able to return to work full time. She is happy to report that baby Terrance was recently released from the hospital and is now home with the family!
Knawza's story is one, of thousands of families touched by Adopt-A-Family programming in a given year.
YOU can make a difference today.
---
Please complete this secure online donation form and click the 'submit' button at the bottom of the page. If giving via credit card, we will process your donation. If giving by check, please make it payable to:
Adopt-A-Family of the Palm Beaches, Inc.
and send it to our main offices at:
1712 Second Avenue North,
Lake Worth, FL 33460-3210.
*To speak with someone regarding a donation, please contact the Director of Agency Relations, Layren Calvo at (561) 253-1361 ext. 112 or email lcalvo@aafpbc.org.