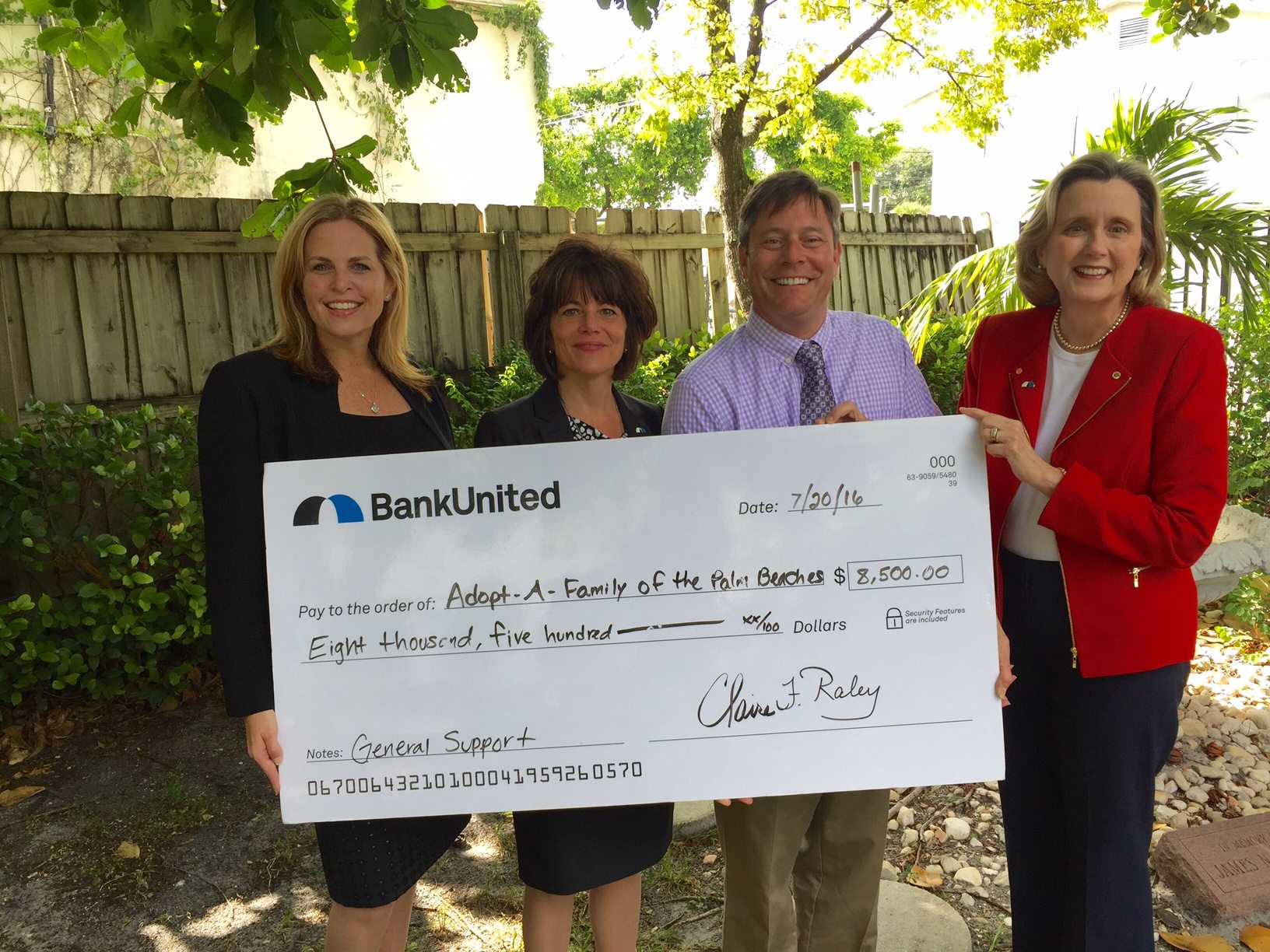 We have three high-impact summer grant awards to share with our Adopt-A-Family community!
Continued funding support from Bank United benefits Service Enriched Housing
On July 20th, the tremendous BankUnited team visited Adopt-A-Family for a check presentation in support of Service Enriched Housing. The $8,500 grant provides general operating support for one of the county's most innovative homeownership incubator models. We are so humbled to receive BankUnited's continued support.
Program overview: Service Enriched Housing (SEH) is an innovative homeownership incubator program that serves 28 hardworking families on-site at our Lake Worth campus. Each participating family is dedicated to the pursuit of increased financial stability and homeownership. Since early 2014, six SEH families have successfully become first-time homeowners!
BankUnited is also a committed partner in providing financial literacy trainings/counseling for our families (and students in Project Grow!), as well as a partner with SEH's 'Homebuyer's Club' – facilitated by our program manager, Christina Hewitt. Thank you BankUnited, for all that you do!
Innovative Community Foundation grant supports expansion of Service Enriched Housing
A generous and innovative grant from the Community Foundation for Palm Beach and Martin Counties will allow Adopt-A-Family to rehabilitate/renovate two apartments on-site at our Lake Worth campus. The rehabilitation project will benefit Adopt-A-Family's innovative homeownership program, Service Enriched Housing. After renovations are complete, we will be able to serve two additional families and expand the program to 30 participating families! October update: click here to view a sneak peak behind the scenes at the progress of this project!
Thank you again to the Community Foundation for playing a direct role in addressing one of our community's most pressing needs – access to quality and affordable housing.
Quantum Foundation grant strengthens Adopt-A-Family community
The Quantum Foundation, the largest Palm Beach County funder in the area of health, has awarded Adopt-A-Family a 2-year grant award to fund a full-time licensed mental health therapist position.
This position will serve all families who reside in Adopt-A-Family programs at our Lake Worth campus. Mental health challenges are one of the foremost barriers our families face with regard to employment, and furthering their education. With this new position, our families can prioritize mental health to focus on strengthening their entire family. Matt Constantine, CEO of Adopt-A-Family had this to add about the vital Quantum Foundation grant.
"The majority of the families we serve have experienced significant trauma in their lifetimes. For our families to move forward, whether it is pursuing a college education or advancing their careers, it is critical that mental health needs are addressed. With Quantum
Foundation's support, we can now provide on-site mental health therapy to strengthen our families in building a foundation of confidence and well-being."
We send our gratitude to the Quantum Foundation for playing a significant role in strengthening the well-being of the community and the families we proudly serve.