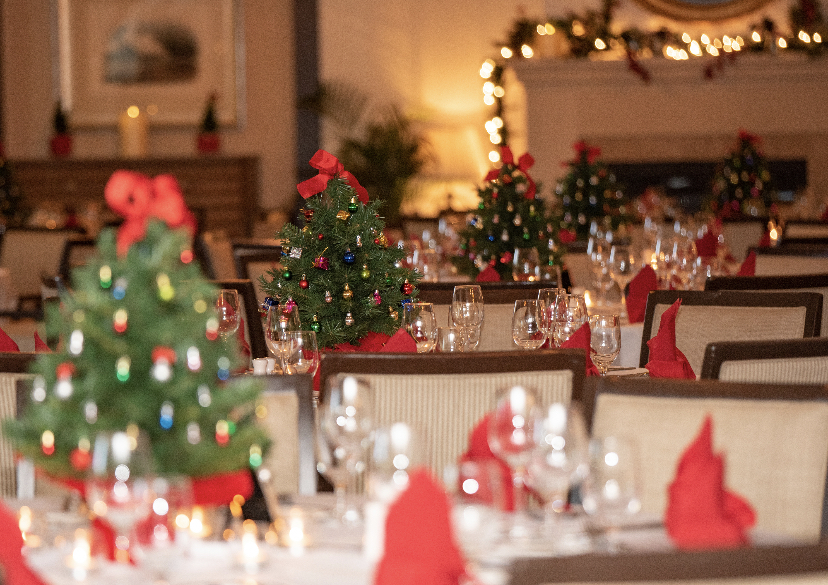 The 37th Annual Tree Lighting Celebration was an incredible success! The 2021 Tree Lighting committee, steadfastly led by Chair Nancy Kalaher and Co-Chair Elizabeth DeBrule, displayed incredible dedication to the organization of this year's event as the agency continued to adapt to ever-evolving circumstances brought on by COVID-19. 
With the health of all attendees in mind, this year's silent auction was held almost entirely online in order to expand available space at the event. All agency supporters were invited to participate in our virtual silent auction. Special thanks to Tree Lighting Chair Nancy Kalaher, Co-Chair Elizabeth DeBrule, Alice Tarone and Bel Miller for assisting with the photography and organization of hundreds of silent auction items! 
As attendees arrived at the event on Palm Beach, they were welcomed with angelic arrangements of holiday songs performed by The Kings Academy Choir.  
The dining room was beautifully decorated with Christmas trees, holiday wreaths, and gorgeous centerpieces designed by committee member Carolyn Haggerty. As the event began, the dining and auction rooms offered a panoramic view of the sunset over the Intracoastal.  
Attendees were invited to browse the orchid display and the live and silent auction preview displays during cocktail hour.  The event featured our first Annual Wine Pull, where attendees purchased a cork for $100, and at the end of the evening each entrant took home an excellent bottle valued from $50-$1,000. 
During dinner, guests enjoyed a video overview of Adopt-A-Family, an address by CEO Matt Constantine, and the beautiful testimony of a former Adopt-A-Family client.  
The evening concluded with an exciting live auction, hosted by longtime agency friend Neil Saffer. Attendees bid head-to-head on six incredible auction prizes, including a four-night stay at a luxury resort, John Mayer tickets, and a pair of remote-controlled yachts.  
We would like to express our deepest gratitude to Tree Lighting Committee Chair and Co-Chair, Nancy Kalaher and Elizabeth DeBrule, for their unwavering devotion to the success of this year's event. These incredible women led the committee through the development of this year's event with positivity and warmth, and we are honored by their dedication to the agency's mission.  
Adopt-A-Family is incredibly grateful to each and every supporter for your commitment to our agency's mission of serving and strengthening Palm Beach County's most vulnerable families.