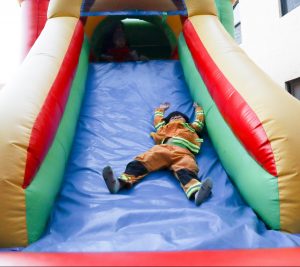 The 2022 Trunk-or-Treat brought spectacularly spooky fun for the whole family.
As golden hour fell over Project SAFE, dozens of excited visitors poured into the parking lot to find a Halloween carnival, complete with a bounce house, popcorn machine, photo booth, and games.
Throughout the night, families enjoyed mingling with one another while perusing the trunks creatively decorated by staff and volunteers. This year's lineup of trunks was out of this world!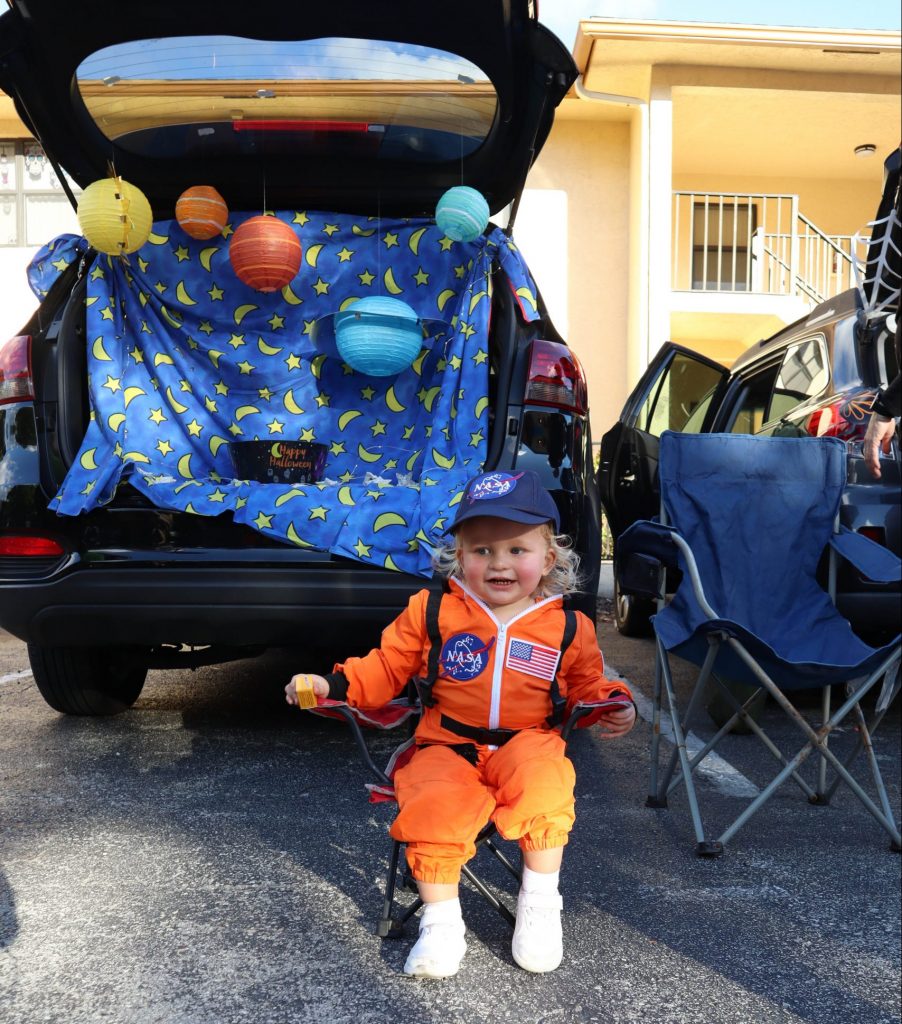 To everyone who donated costumes and candy this year, your donations were appreciated by all. Thanks to your generosity, the kids lived out their Halloween dreams as mermaids, construction workers, zombies, pirates, and more.
Academic Resource Coordinator Andrea Abreu coordinated the event with the help of a group of staff and volunteers, deemed the "Boo Crew." Youth Success Coach Michelle Pinto and the teens of the Youth Success Group worked hard to design signs for each station, which they manned themselves.
We owe the success of Trunk-or-Treat 2022 to the hard work of all donors, volunteers, and staff involved. We thank everyone who had a hand in making this year's event a night to remember.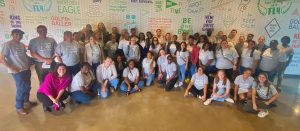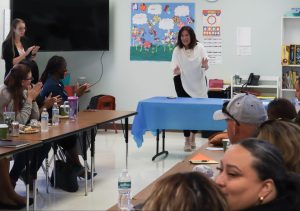 The annual United Way Campaign celebrates our longtime partnership with United Way of Palm Beach County, who works to unite the resources of donors, volunteers, agencies and the community to make lasting impact in the lives of our neighbors in need. The week-long campaign encourages Adopt-A-Family staff to rally support through personal pledges, kicking off with a challenge to reach 100% staff participation. We are excited to share that after a week of events, games, and themed dress-up days, staff once again reached the campaign goal of full participation (and won a day off)!
Several United Way team members joined Monday's kick-off breakfast, including Senior Director of Resource Development Dana Collier, who thanked Adopt-A-Family for our years of successful campaigning.
Program REACH Shelter Service Coordinator Ina Mallet spearheaded Adopt-A-Family's campaign for the second year in a row.
Tuesday's outfit challenge prompted awareness for a variety of causes honored throughout the month of October. Staff were invited to wear purple for Domestic Violence Awareness Month, pink for Breast Cancer Awareness Month, or other colors to represent an observance of their choosing.
On Wednesday, staff dressed to represent their favorite sports teams, and AAF Grants Writer Jodi MacNeal returned for the third year in a row to lead virtual trivia. Over 20 staff members showed up to the competition, but only three left as champions: Congrats to Dylan Blue, Evan Schoenly, and Arianna DeLeo!
The campaign's grand finale took place at Drive Shack. Trivia and raffle winners were awarded prizes and CEO Matt Constantine announced the news the whole team was waiting for – we had reached our goal of 100% staff participation.
Adopt-A-Family is grateful to partner with United Way, whose efforts help ensure everyone in our community has access to stable housing, education, food, and other needs.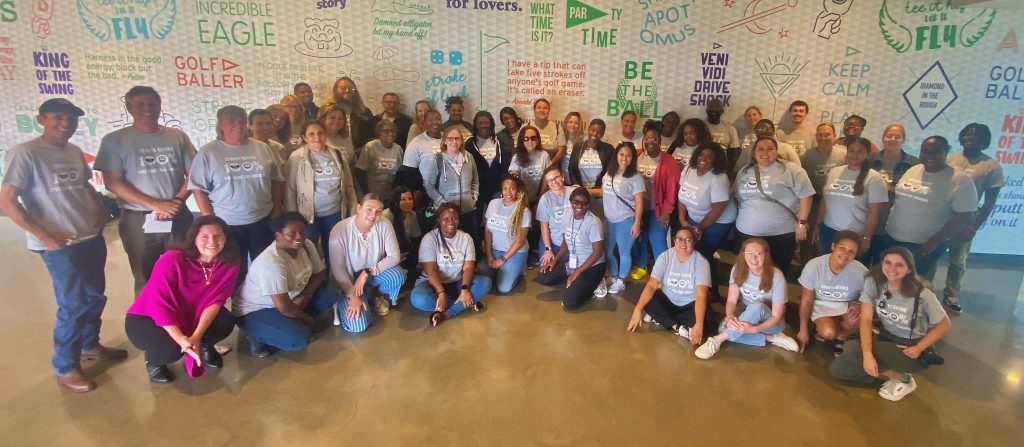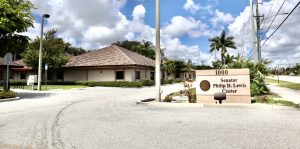 Celebrating Ten Years of the Senator Philip D. Lewis Homeless Resource Center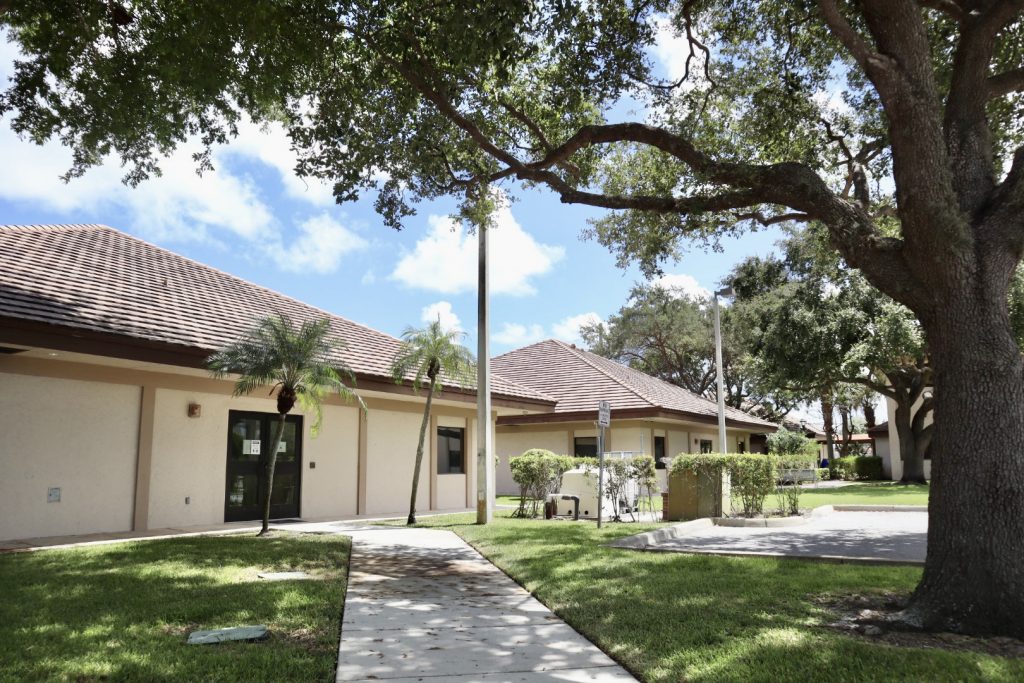 Established in 2012, the Senator Philip D. Lewis Homeless Resource Center (HRC) remains the backbone of Palm Beach County's continuum of care. Since establishing itself as the centralized point of entry for those experiencing homelessness, the center continues to field thousands of calls and connect hundreds of families to shelter annually. Adopt-A-Family staffs and operates the Family Division of the HRC.
The HRC links families to an appropriate intervention aimed to end their episode of homelessness. Under one roof, people in need can access several HRC-operated programs such as Rapid Re-Housing and Diversion, be connected to one of Adopt-A-Family's housing programs, or receive referrals to housing services at partner agencies. This eliminates lost time and wasted resources so often spent tracking down assistance, so families can get back on their feet faster.
"The HRC was something new," said Chief Program Officer Nydia Sabugo-Marrou, who played an integral role in the HRC's development and growth. "It was a venture for multiple agencies to make together, working toward one common goal."
At the heart of the HRC is its innovative coordinated entry process, currently managed by Gloriene Claudio-King. When Gloriene first joined the HRC team in 2012, she was the sole Family Navigator. Today, Gloriene manages an entire team of Navigators who collaborate closely with other departments.
"Originally, coordinated entry was just a simple intake," Gloriene said, "but now, we dive deeper to help them find solutions."
The HRC offers facilities like showers and laundry on-site for families to use as they go through the coordinated entry process. Coordinated entry also offers links families to an appropriate housing intervention which may include Rapid Re-Housing, Diversion, emergency shelter, and permanent supportive housing.
"Staff walk clients through the entire process from start to finish, which helps us build relationships with them," Gloriene said.
Rapid Re-Housing was developed in 2009, and Adopt-A-Family integrated it into the continuum of services offered at the HRC when it opened in 2012. Rapid-Re-Housing places families in housing and pays a gradually declining portion of the family's rent, giving them adequate time to establish the ability to maintain rent payments on their own. The program's Housing Specialists maintain relationships with local landlords and think on their feet to secure fast, safe, stable housing for families in urgent need of assistance.
A newer addition to the lineup of services offered through the HRC, Diversion focuses on helping families identify nontraditional housing solutions and facilitating the move to quickly end an episode of homelessness. The Diversion team often communicates with families on a weekly basis as they work together to secure solutions.
"My 'why,'" Gloriene said, "is my brother. He struggled with his mental health. I've always wanted to help people like him, and give back to the community I was raised in."
Gloriene credits agency leaders for the HRC's success. "I could never do this work without the team or the support we have," she said. "We help each other see ways to better the system and improve it for our clients. It is so awesome to know my supervisors value and support the work our team does."
Sharing the sentiment, Nydia Sabugo-Marrou looks forward to the future of the HRC. "When I look back 10 years ago, I can see we planted a seed. And that tree has just been growing and growing," Nydia said. "It has solid roots, and the roots are all of us who work at Adopt-A-Family, the Board of Directors, and our supporters."
Adopt-A-Family is grateful to our partner agencies, including Palm Beach County, for their years of collaboration and ongoing commitment to serving our community. The Senator Philip D. Lewis Homeless Resource Center could not succeed without their support and service.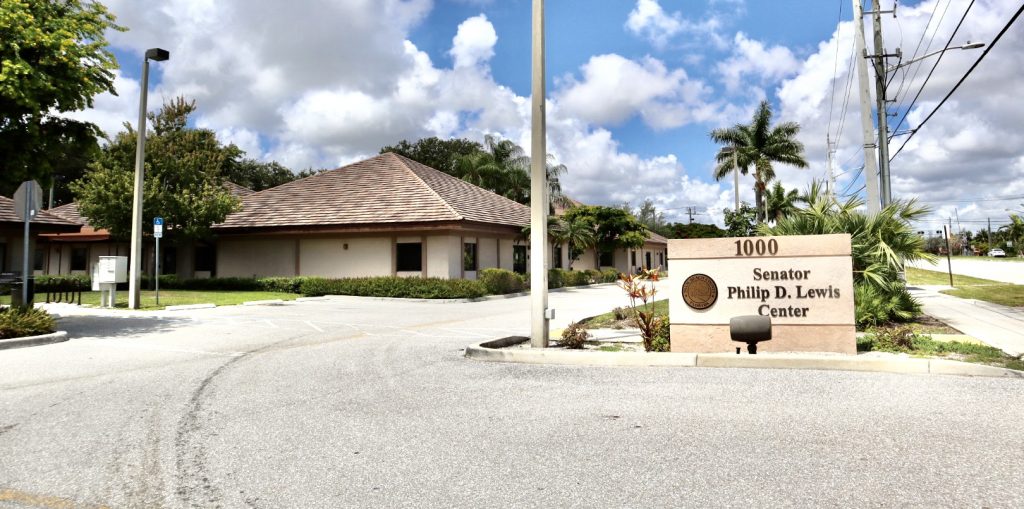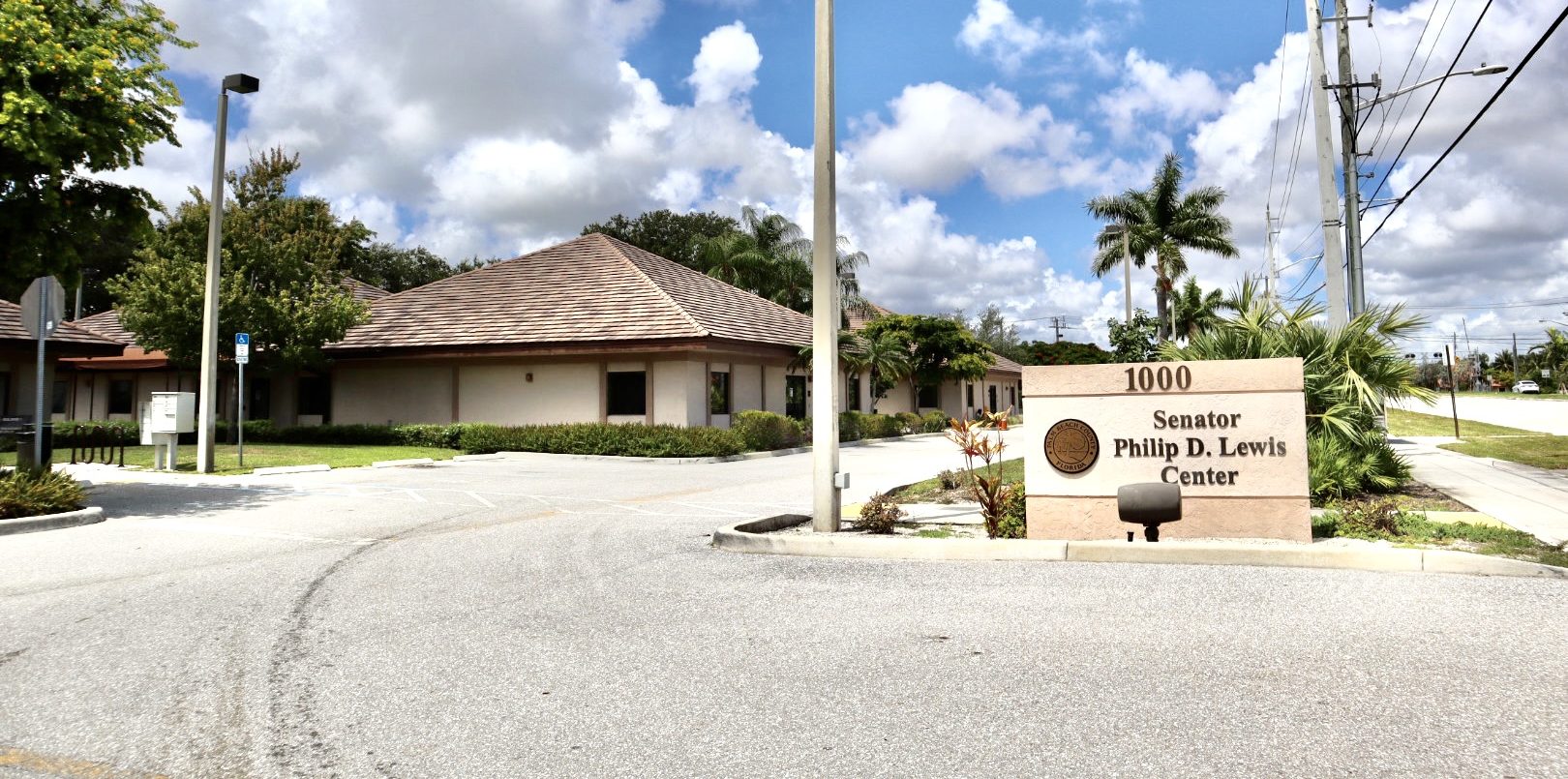 "What do you want for your life?"
Adopt-A-Family Mental Health Therapist Joan Kieffer often asks her clients this question, knowing these days, opportunities for self-reflection are few and far-between.
Right now, many families don't really have the luxury to consider what they want. Needs must be met before desires are, and resources are too scarce to feel free to dream.
But as Kieffer reminds her clients, it is hope that will keep them moving forward. "They have to be able to envision the preferred future that they want," says Kieffer. "If they can see it, they can achieve it."
We are living in the aftershock of a world-shattering pandemic that hit low-income families harder than most – and still does. Among the many alarmingly negative effects of long-term isolation, Kieffer notes many patients are dealing with loss of self-confidence, loneliness, depression, and in an increasing number of cases, heightened tensions and toxicity in the home.
"The biggest common denominator among all my patients is trauma," Kieffer tells us. "They are losing their self-confidence, but a lot of these people don't realize the skill sets they've developed. You've lived in your car for four months, and somehow your children are still fed. That is a skill set. They are amazing. But they don't see it like that."
Kieffer recognizes that when it comes to securing housing, keeping hope alive is getting harder and harder.
"The reality is, they can't afford to live here anymore. And a lot of these people, this is where their families are. They've been here for generations," she explains.
Kieffer tells us of a client who doesn't qualify for many affordable housing programs, but needs to find a home.
"She was crying, and she said, 'Joan, I have searched every inch of Palm Beach County, and I cannot find a place.' And I told her, 'Give yourself a break. Come up for air. Take a day off where you're not looking.' But the discouragement is just so disheartening, because it is her reality."
Kieffer recognizes that oftentimes, therapy focuses on improving a client's perception of their circumstances. In these cases, a situation feels unmanageable at first, but can become manageable with the right therapy and thought-work. But right now, Kieffer notes, things are very different: Circumstances really are that bleak; there really aren't attainable housing options. Clients feel backed into a corner, because they are.
We asked Kieffer to share one piece of advice she thinks everyone should hear today:
"Remember a time when it wasn't so bad. Remember a time when it wasn't so painful. I ask clients to tell me about the time when things seemed to be working in your favor, and hold onto that. Remind yourself that you can get there again."
Adopt-A-Family is grateful to be able to offer free, convenient, accessible therapy options to our clients, who continue to face unprecedented hardship. We admire the strength and resilience of the families we serve, and we strive to honor their stories and desires for the future by tending to their mental health as they work to regain self-sufficiency.
EDITOR'S NOTE: Adopt-A-Family's On-Site Mental Health Program eliminates barriers and broadens access among homeless, formerly homeless, and low-income families, who experience disproportionately high rates of mental illness and trauma but typically do not seek care due to cost, lack of transportation, limited provider availability, insufficient health coverage, stringent participation requirements, or unfamiliarity with the benefits.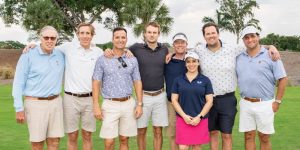 The 10th Annual Better Ball Invitational Golf Tournament was a smashing success! Clear skies and friendly competition set the stage for a fantastic day of fun, as 82 players took to the Banyan Cay course on May 6 in support of Adopt-A-Family. Thanks to all participants, as well as our 55 amazing sponsors, the event raised over $200,000.
This year, we celebrated the 10th anniversary of hosting our annual golf tournament in better ball format, though Adopt-A-Family's signature golf tournament is a tradition enjoyed since the early 2000's.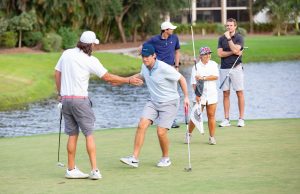 It was a pleasure to return to Banyan Cay, where moving fairways and diverse landscape challenge players of every level while providing scenic views throughout the course. This year's all-inclusive tournament included 18 holes of golf in better ball format and use of the driving range. Players enjoyed use of the carts, a forecaddie, cocktails, lunch, and dinner, and were each gifted a $50 to the pro shop.
Congratulations to our 1st place winners, Michael Puder and Warren Rustin!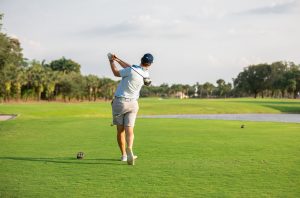 We are extremely grateful to each and every friend of the agency who participated in the 10th Annual Better Ball Tournament. Your generosity and enthusiasm for our mission ensures Adopt-A-Family can continue to provide safe, quality housing and meaningful support services to those in our community who need it most.
We owe the success of this year's event to the incredible hard work and dedication of the 2022 Tournament Committee. We thank each committee member for their profound support of our agency's mission.
2022 Golf Tournament Committee:
Frank Bresnan
Sean Bresnan
Jeff Preston
Gary Pohrer
Joe LaRocca Jr.
Joe Carron
Tom Frankel
Ned Grace
Matt Constantine
Winners:
1st Place: Michael Puder, Warren Rustin 
2nd Place: Gary Pohrer, Rob Surtees 
3rd Place: Sam Grace, Tim Mullen 
4th Place: Ned Grace, Damien Barr 
5th Place: Jeff Smith, Dennis Goldstein 
Closest to the Pin (Men): Rob McKoewn
Closest to the Pin (Women): Cory Clement 
Longest Drive (Men): Conner Barry
Longest Drive (Women): Maureen Raihle 
Sponsors:  
NORTH AMERICAN DEVELOPMENT GROUP
THE MATTHEW & TRACY SMITH FOUNDATION
FRANK & SEAN BRESNAN
MILES NADAL
DAVID LAMBERT
CHRISTINE & BOB STILLER
********************** 
A&M
RISK STRATEGIES / LAROCCA & ASSOCIATES
C. STEVEN DUNCKER
THE TELESCO FAMILY FOUNDATION
DOUG & PEGGY BRIGGS
ANDY REDMOND
THE KYLE FRASER FOUNDATION
COMITER SINGER BASEMAN & BRAUN
BARRY OBLIO WISH
MICHAEL CROSBY
SEAN DUNNE
RAY CELEDINAS
SCOTT GOLDSMITH
RANDY TULEPAN
MICHAEL SELVERIAN
DENNIS CARSON
CASEY ROSEN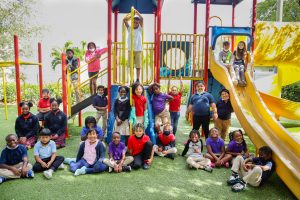 Thank you to all who voted! Voting has closed. Results will be available on June 7. 
EXCITING NEWS: 
Selected from among 4,000 applicants, Adopt-A-Family of the Palm Beaches' afterschool/summer program, Project Grow, is in the running to receive a generous State Farm Neighborhood Assist grant – but needs your help to secure those critical funds. Project Grow and 199 other causes nationwide have until May 6 to earn as many votes as possible. The 100 causes with the most votes will each receive a $25,000 grant. 
Help us win! If you are a U.S. resident over the age of 18 and you have a valid email address, you can cast your daily votes for Project Grow by visiting https://www.neighborhoodassist.com/entry/2041687. 
Help spread the word: hit "Share" on the voting page to post to your social media accounts, or send the link to friends and family. 
State Farm guarantees it will not share, sell, or send solicitations to voters' email addresses.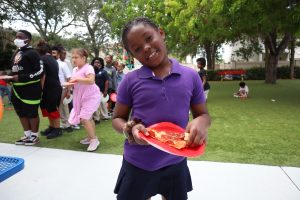 WHO YOUR VOTES WILL IMPACT: 
Each vote will put Adopt-A-Family one step closer to $25,000 in much-needed funding for Project Grow, Palm Beach County's only afterschool/summer program specifically designed to support elementary school students who have experienced the traumas of living with poverty and homelessness.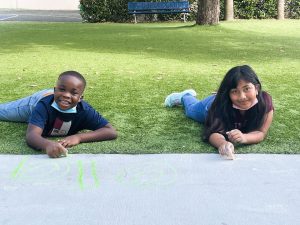 Project Grow focuses on academic support, emotional development, parental engagement, and life-enriching experiences. The classroom experience includes tutoring; academic advising, mental health counseling, social-emotional learning, and outdoor play. The program emphasizes Science, Technology, Engineering, Art, and Math (STEAM) activities that boost critical thinking, promote self-confidence, and open students' eyes to future career paths. 
Project Grow is one of 15 Florida causes to make the Top 200, and the only one in Palm Beach County. 
To learn more about Project Grow or Adopt-A-Family's other programs and services, or to make a donation, please visit www.adoptafamilypbc.org or call (561) 253-1361.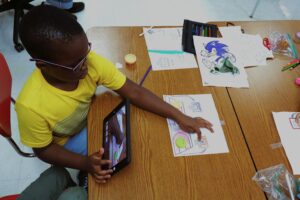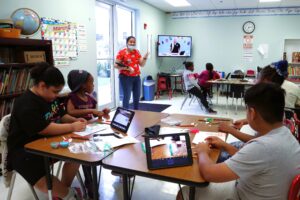 Spring Break at Project Grow means long days full of fun. Every day after outside playtime, snacks, and crafts, students settled into the classroom for a special treat: stop-motion animation classes with Green Mouse Academy.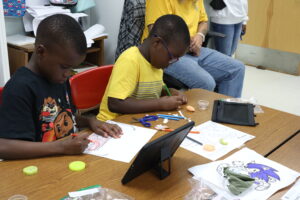 Students took the entire week to design and direct their very own animated films using the stop-motion technique. Teams of two worked together to make their Dot Bots bounce basketballs, or light Olympic torches.
In a practice of patience, accuracy, and teamwork, students built and colored a background, molded a character out of Play-Doh, and recorded their unique animated films one photo at a time.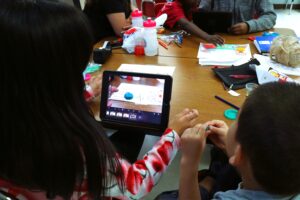 Green Mouse Academy brings Technology Arts Courses to local classrooms, allowing young students a chance to show off their technological and creative sides while working on engaging, hands-on projects.
Green Mouse Academy has led robotics classes at Project Grow in the past as well. We are grateful for this partnership that provides our students with unique and stimulating classroom experiences.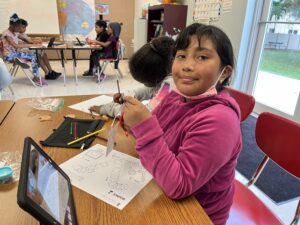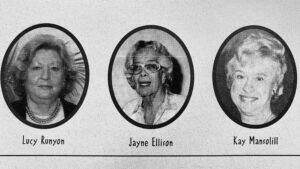 In honor of Women's History Month, we celebrate the legacy of our founding women.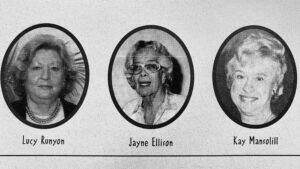 Thirty-nine years ago, a trio of local women laid the foundation for Adopt-A-Family of the Palm Beaches. Little did they know, nearly 40 years later, Adopt-A-Family would stand as the community's largest service provider for homeless and low-income families.
In 1983, Lucy Runyon, Jayne Ellison, and Kay Mansolill heard a radio broadcast that changed everything. 
A local radio station shared the story of a family living under a bridge. The family of four had just moved to Florida from Texas. On their journey east, the excitement of starting a better life in the tropics dissolved in the blink of an eye when one of the children fell terribly ill, requiring hospitalization.  
Hospital bills soon absorbed the family's modest savings. Arriving in Florida destitute and worn, the family took shelter under the Royal Palm Bridge.  
The story sparked a dream that blossomed nearly overnight. 
Immediately after hearing this story, local residents Runyon, Ellison and Mansolill sought the family out and moved them into a motel. Runyon, the Vice President of First National Bank in Palm Beach at the time, conferred with the bank's Board of Directors and called her lawyer. Twelve hours later, the first Board of Directors for Adopt-A-Family of the Palm Beaches was born.  
The bank "adopted" the family, and success after success followed: the ladies helped the family find an apartment, and two weeks later found the father a job. The women sought out more families in need of help. Soon a catalog of dozens of families was developed and distributed to local businesses, and within a year, 50 families were adopted by members of their own community. 
Runyon, Ellison and Mansolill laid the foundation for what is now a 39-year-old, multi-campus supportive housing agency.  
The ladies continued to seek funding from the community, all while spending time supporting and empowering families on their journeys to self-sufficiency. They helped families build nutritious, affordable diet plans and would treat them to days at the salon to help build self-esteem. The goal was to reinforce to families that their situation was only temporary, that they would be provided with whatever they needed to regain stability, and that their stories and place in the community mattered.  
In 2022, the mission persists: Adopt-A-Family support families in their efforts to achieve stability and self-sufficiency; we lean on our community for support and resources; and we strive to honor and empower every family we assist.  
Lucy Runyon, Jayne Ellison, and Kay Mansolill forged the heart of Adopt-A-Family in 1983. Without the determination of these three local ladies, we would not be who we are today.  
Did you know?
Kay Mansolill: In addition to co-founding Adopt-A-Family, Mrs. Mansolill also served as President of the American Cancer Society on Long Island, NY. 
Lucy Runyon: Mrs. Runyon was featured in the Palm Beach Post's Who's Who of Florida Executive Women in 1989. She served on six charity executive boards at the time.
Jayne Ellison: Mrs. Ellison was a reporter for the Palm Beach Post, and she covered the story of Florida serial killer Gerard Schaefer in the early 1970s.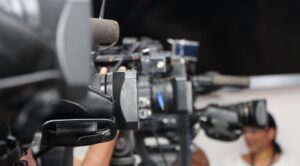 It's been a busy year for Adopt-A-Family, and our local news outlets have noticed. We are grateful to WPTV, The Sun Sentinel, and The Palm Beach Post for offering our clients and staff opportunities to speak about the agency's mission and our community's needs.  
Recent stories have covered our innovative housing programs, local affordable Pre-K education opportunities, and Florida's increasingly restrictive housing market.  
WPTV recently highlighted Service Enriched Housing and one of its grant funders, The Community Foundation for Palm Beach and Martin Counties, which celebrated its 50th anniversary this week. The Community Foundation supports a wide array of nonprofits in our community. Many Adopt-A-Family programs have benefitted from the Community Foundation's support.  
Service Enriched Housing (SEH) works with low-income families dedicated to the pursuit of homeownership and long-term financial stability.   
WPTV recently interviewed SEH residents Jerrod and Iesha James about the way the program put them on the path to stability and homeownership. The family was recently selected for Habitat for Humanity of South Palm Beach County's next Women Build project.   
Residents of Palm Beach County are feeling the pressure of a tightening housing market and are speaking up about the challenges the working class faces. One Adopt-A-Family client was featured in a recent Sun Sentinel article covering the current housing market. After the couple was hit with a $500/month rent increase on their two-bedroom apartment last November, they received assistance from the Housing Stabilization Program. 
The Sun Sentinel reports that West Palm Beach's median rent for a two-bedroom apartment hit $2,200, a 42% increase from the year before. Florida's affordable housing crisis means Adopt-A-Family's mission is more urgent than ever.   
Project Grow Director Daron Morse shared her insight with The Palm Beach Post about how difficult it can be for low-income families to afford Pre-K programs. 
The Bezos Academy, a tuition-free preschool, will be opening its newest campus at Florida Atlantic University in Boca Raton, and will serve children of families earning up to 400% of the federal poverty level. Ms. Morse noted that many families desire to provide their children with a proper education, but face financial barriers.   
The majority of families involved with Project Grow face these same challenges. Project Grow staff regularly works with parents to help navigate academic options that cater to their financial situations.  
Adopt-A-Family has recently partnered with the Bezos Day 1 Families Fund to expand and enhance efforts to serve unsheltered Palm Beach County families.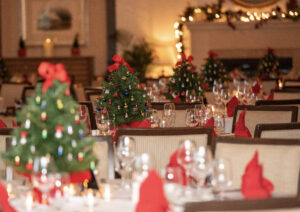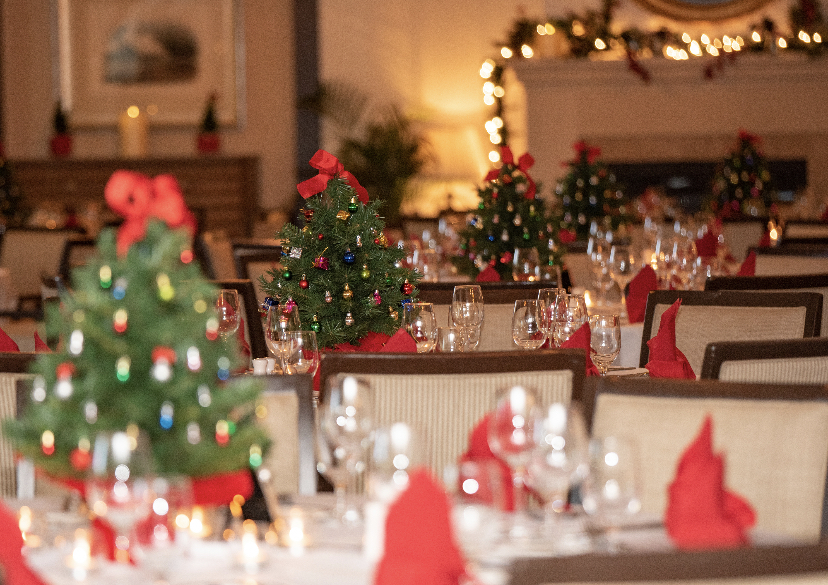 The 37th Annual Tree Lighting Celebration was an incredible success! The 2021 Tree Lighting committee, steadfastly led by Chair Nancy Kalaher and Co-Chair Elizabeth DeBrule, displayed incredible dedication to the organization of this year's event as the agency continued to adapt to ever-evolving circumstances brought on by COVID-19. 
With the health of all attendees in mind, this year's silent auction was held almost entirely online in order to expand available space at the event. All agency supporters were invited to participate in our virtual silent auction. Special thanks to Tree Lighting Chair Nancy Kalaher, Co-Chair Elizabeth DeBrule, Alice Tarone and Bel Miller for assisting with the photography and organization of hundreds of silent auction items! 
As attendees arrived at the event on Palm Beach, they were welcomed with angelic arrangements of holiday songs performed by The Kings Academy Choir.  
The dining room was beautifully decorated with Christmas trees, holiday wreaths, and gorgeous centerpieces designed by committee member Carolyn Haggerty. As the event began, the dining and auction rooms offered a panoramic view of the sunset over the Intracoastal.  
Attendees were invited to browse the orchid display and the live and silent auction preview displays during cocktail hour.  The event featured our first Annual Wine Pull, where attendees purchased a cork for $100, and at the end of the evening each entrant took home an excellent bottle valued from $50-$1,000. 
During dinner, guests enjoyed a video overview of Adopt-A-Family, an address by CEO Matt Constantine, and the beautiful testimony of a former Adopt-A-Family client.  
The evening concluded with an exciting live auction, hosted by longtime agency friend Neil Saffer. Attendees bid head-to-head on six incredible auction prizes, including a four-night stay at a luxury resort, John Mayer tickets, and a pair of remote-controlled yachts.  
We would like to express our deepest gratitude to Tree Lighting Committee Chair and Co-Chair, Nancy Kalaher and Elizabeth DeBrule, for their unwavering devotion to the success of this year's event. These incredible women led the committee through the development of this year's event with positivity and warmth, and we are honored by their dedication to the agency's mission.  
Adopt-A-Family is incredibly grateful to each and every supporter for your commitment to our agency's mission of serving and strengthening Palm Beach County's most vulnerable families.