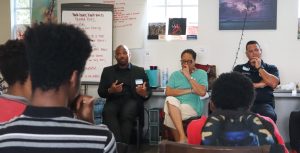 Adopt-A-Family's Youth Success Group participated in a 6-week "Youth Issues, Youth Voices" dialogue group led by Barbara Cheives of Converge & Associates. The sessions explored topics like racial and ethnic tension, violence in the community, healthy relationships, and substance abuse. Each gathering allowed students the space to openly share opinions and experiences, and brainstorm solutions to issues youth are facing today.
To conclude the 6-week course, several leaders in the local criminal justice system joined the Youth Success Group for an open conversation with the middle- and high- school students on May 11. Judge Bradley Harper, criminal prosecutor Cheo Reid, criminal defense lawyer Maegan Young, Deputy Morales, Agent Ramsey, and Palm Beach School District Police officers Morales and Nickelson shared advice, bringing valuable perspective from their years of responding to juvenile offenses.
"It's hard to see what kids like you go through in the system all because of a stupid mistake, or because you never got the help or guidance you needed," Prosecutor Reid shared with the kids.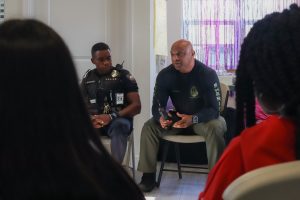 As conversation flowed, covering hot topics like social media crimes and the rising popularity of vaping, each professional took the time to share heartfelt advice and personal anecdotes.
"You need to get comfortable with being uncomfortable," Judge Harper told the students. "Every guest in this room made decisions that made them uncomfortable at some point – either it had never been done in their family before, or it was a tough road. You have opportunities coming for you, but those doors won't always be open. If you have an opportunity, take it, give it a try. When you feel buried, when you're in a dark and uncomfortable place, that's when you grow."
We thank each guest for taking the time to have this special evening with the students of our Youth Success Group, and to Ms. Cheives for her continued work within the agency.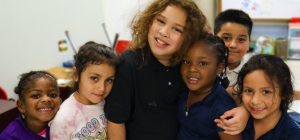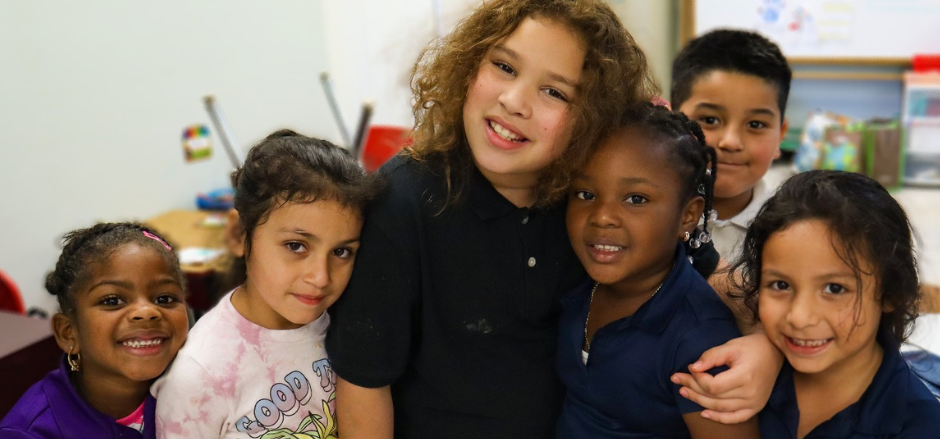 Project Grow's Impact Highlighted in Recent Report
Project Grow is designed to provide academic, social, and emotional support to elementary school students who have experienced homelessness and housing instability. In 2022, we invested in an independent evaluation of the program to measure Project Grow's effectiveness in meeting its goals.
The recently released Project Grow Student Progress Report published by Geo Education & Research (Geo) concluded that the program has a measurable positive impact on the test scores and grades of the elementary school students we serve. Project Grow students were compared to other students at their school with similar demographics and household income, and Geo found the following notable achievements:
FAST (Florida Assessment of Student Thinking) Test: Project Grow students scored 18 percentage points higher in Math and 7 percentage points higher in English Language Arts.
Palm Beach County i-Ready Diagnostic: Project Grow students scored 14 percentage points higher in Math and 7 percentage points higher in Reading.
2022 Report Card Grades: The percentage of Project Grow students earning "Proficient" or "Approaching Proficient" was 23 points higher in English Language Arts and 10 points higher in Math.
Geo also tracked high school graduation data for the students who participated in Project Grow during the 2007-08 school year and found that the Project Grow graduation rate was 4.4 percentage points higher than the district-wide average.
Not only does Project Grow provide a supportive, stable, and safe environment for students who have experienced homelessness, but its holistic curriculum and tutoring help students improve their educational performance and blaze a trail to high school graduation, which improves the long-term trajectory of their lives.
FULL REPORT: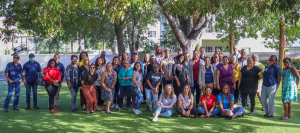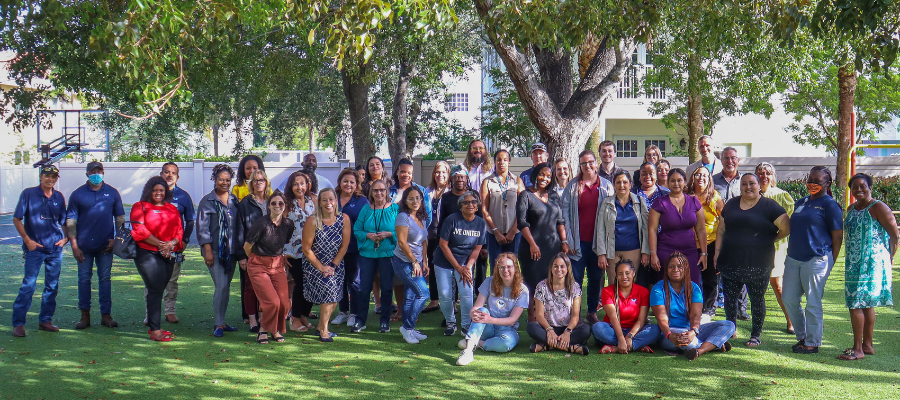 ADOPT-A-FAMILY'S 5-YEAR STRATEGIC PLAN
Every five years, Adopt-A-Family's Board of Directors and staff collaborate to create a strategic plan for the next five years of agency operations and impact in Palm Beach County. This plan responds to our county's changing market and needs, identifies goals and opportunities for improvement and growth, and cements agency values as we create a roadmap for continuing to achieve our mission in the years ahead.
After a year of workshops and a full day retreat facilitated by Rita Barreto of Top Tier Leadership, Adopt-A-Family's recently-completed strategic plan sets a vision for our next five years, spanning July 2022-2027, and focuses on maximizing Adopt-A-Family's efforts in four key areas:
Program and Service Excellence: Building on current efforts, create and deliver programs that are executed with excellence and a strong attention to exceeding expectations.
Talent Management and Culture: Identify, attract, and retain a talented and diverse board and workforce while maintaining and enhancing the agency's unique culture built on: respect, collaboration, inclusion, safety, and health.
Fiscal Strength: Ensure continued financial sustainability with a focus on diverse revenue streams.
Operational Efficiency and Effectiveness: Strengthen operations (money, information, systems, and physical assets) to ensure the efficient and effective management of resources and Board engagement.
Our past five years have been defined by several incredible milestones, including the opening of Julian Place and the Jayne and Tim Donahue Community Center, and receiving a $5 million grant from the Bezos Day 1 Families Fund to launch and grow our services to families experiencing unsheltered homelessness. These victories provided timely opportunities for expansion for the agency, as the affordable housing crisis wrought havoc on the lives of families across Palm Beach County.
Over the next five years, Adopt-A-Family will continue to mobilize efficiently in response to our community's needs, and strive for excellence in all that we do. As we expand our staff and reach, we build on the heart and longtime mission of Adopt-A-Family: to strengthen families with children in their efforts to achieve stability and self-sufficiency by providing access to all-encompassing services.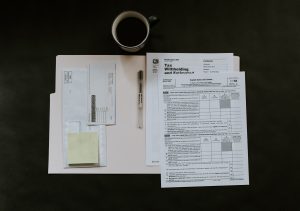 Don't miss this opportunity for free professional tax filing through the Fifth Third Bank and United Way's Volunteer Income Tax Assistance (VITA)! 
Spanish: Haga clic aquí para esta información en español.
Creole: Klike la a pou enfòmasyon sa yo an kreyòl.
On February 6 and 7, Adopt-A-Family will host the eBus, where IRS-Certified volunteer preparers will be stationed to provide tax filing assistance. Households whose income was $70,000 or less in 2022 qualify for this assistance. 
This event is open to the public and will take place at Project SAFE (1736 Lake Worth Rd.) to ensure easy access by Adopt-A-Family residents.
WHAT TO BRING:
2021 tax return
Social Security cards and correct birth dates for all family members
All W-2 wage and tax statements for 2022
Form 1098 – mortgage interest, property taxes
Form 1099 – DIV, G, INT, MISC, Q, R, RRB, SSA for 2022
A photo ID (for you and your spouse, if filing jointly)
Join returns require both filers to be present to sign the return
A voided check and/or savings account number for direct deposit
For Dependent Care Credit you need: 
Name
Address
Tax ID or social security number of care provider
For Education Credit you need:
1098-T or 1098-E
Amount paid for qualifying education expenses
For Premium Tax Credit you need: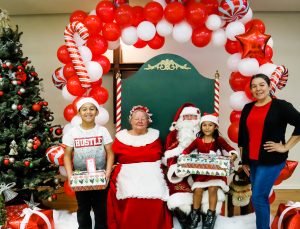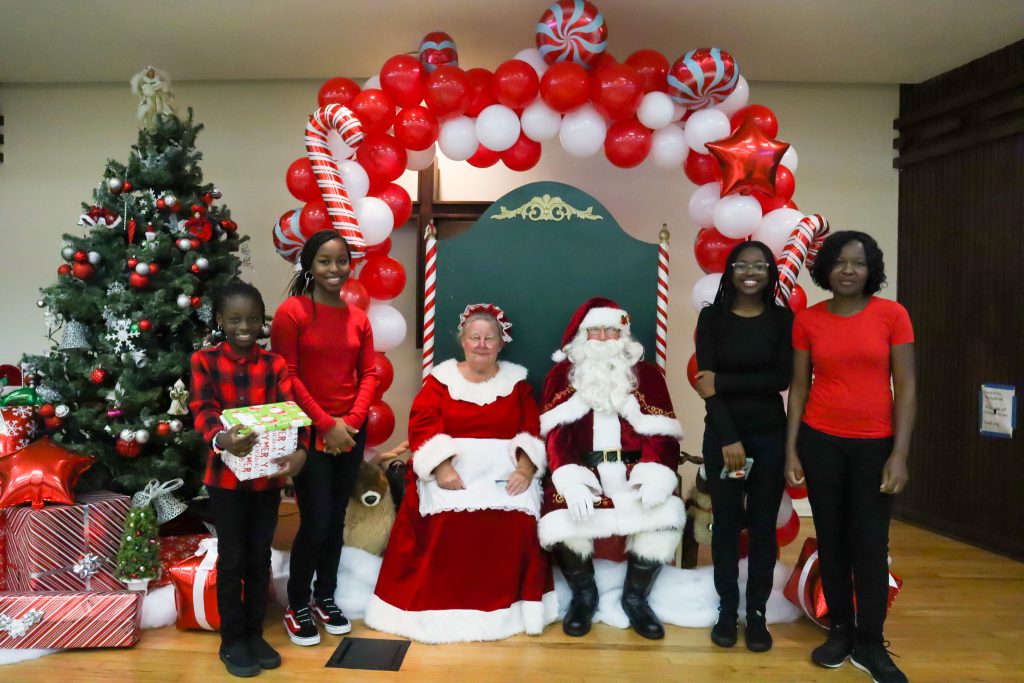 On December 10, 2022, our families celebrated the most wonderful time of the year with a beloved AAF tradition: Santa Shoppe! This year, the event made an exciting return to its long-time host venue First Christian Church.
Dozens of generous volunteers gathered the day prior to the event to transform the church into a winter wonderland, adorning the space with tinsel, string lights, and stockings.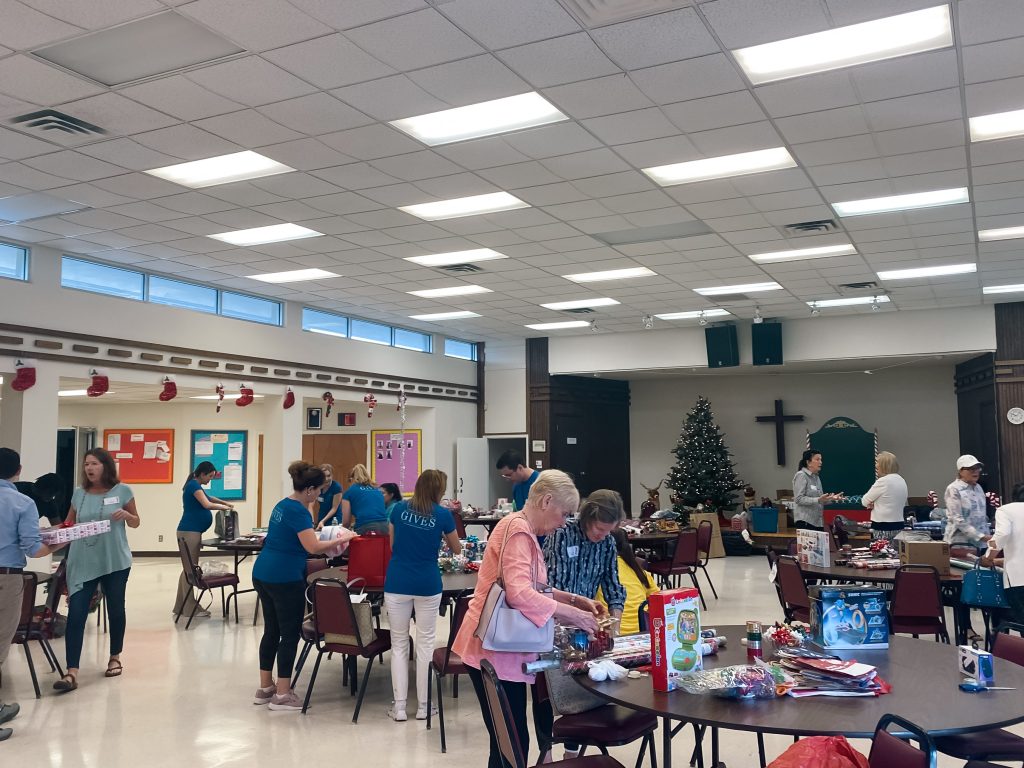 The helpers busily wrapped gifts for AAF kids and decorated the Christmas tree, which was the central décor alongside a festive photo booth. The side rooms housed the "Shoppe" and gift-wrapping station, where hundreds of donated gifts awaited.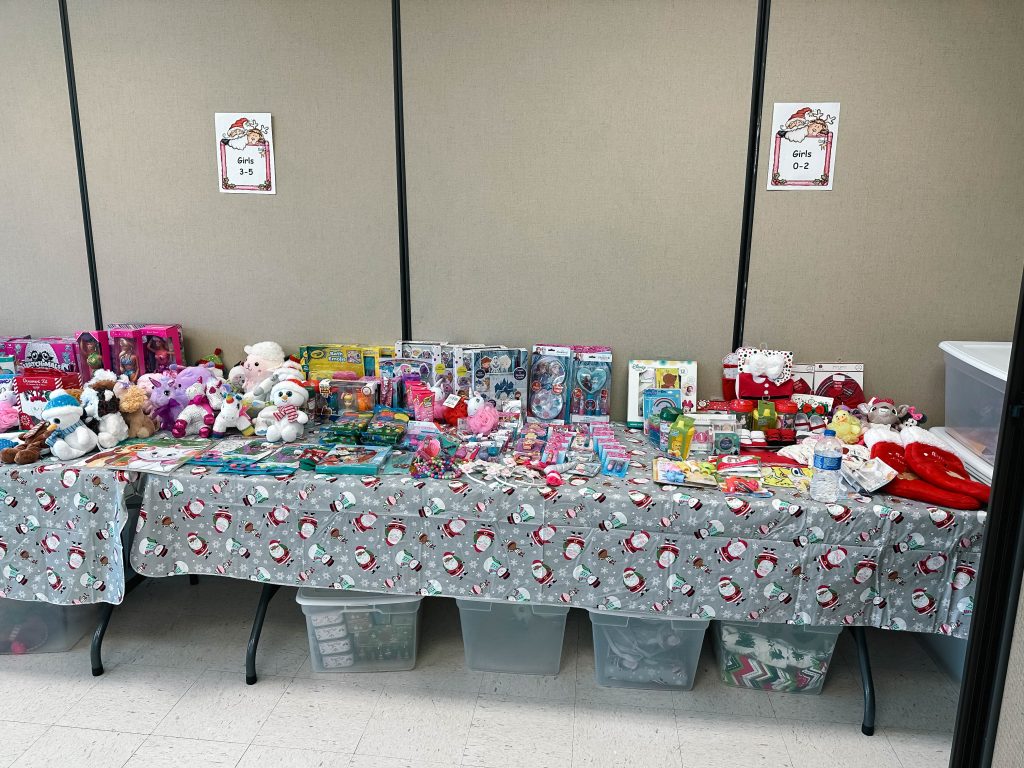 Santa Shoppe opened the following morning, welcoming a large crowd of AAF families for holiday festivities. Children shopped for gifts for their parents and siblings, then passed their selections to our team of volunteer elves who wrapped and bagged each present. Families enjoyed crafts and lunch, then posed for photos with Santa and Mrs. Claus, where each child received a gift specially chosen from their wish list by one of our incredible donors.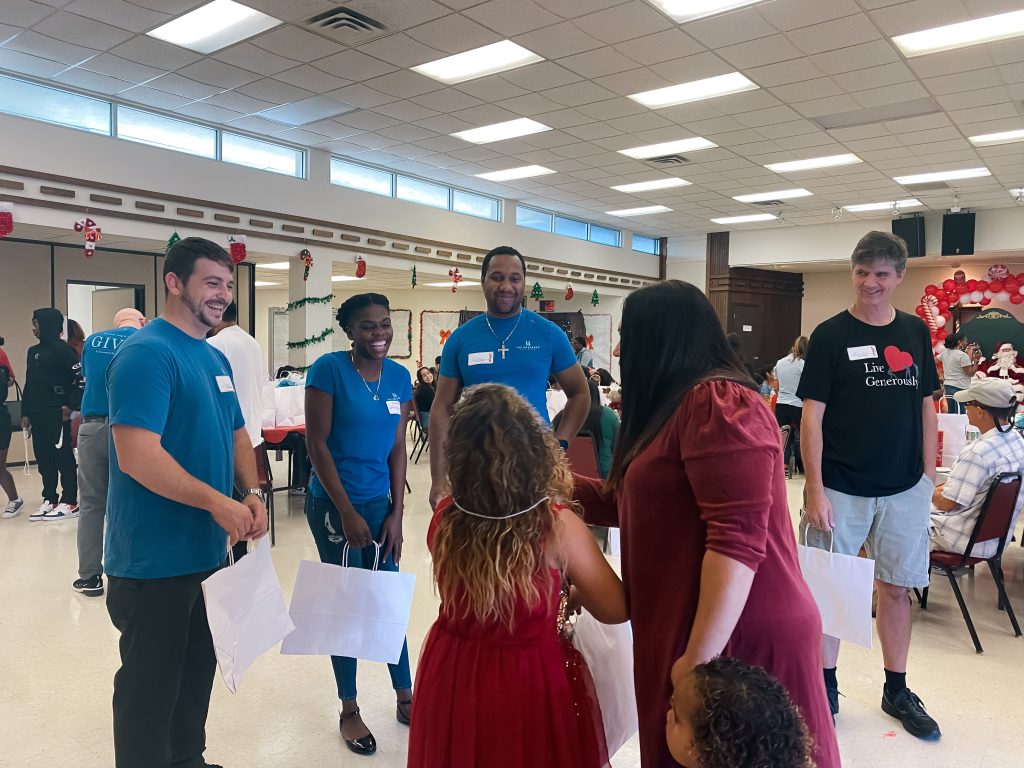 Every donation, hand-picked gift, and hour of volunteered time, made a difference. Thanks to the incredible generosity of each of Santa Shoppe's supporters, every family in attendance left with full arms and hearts.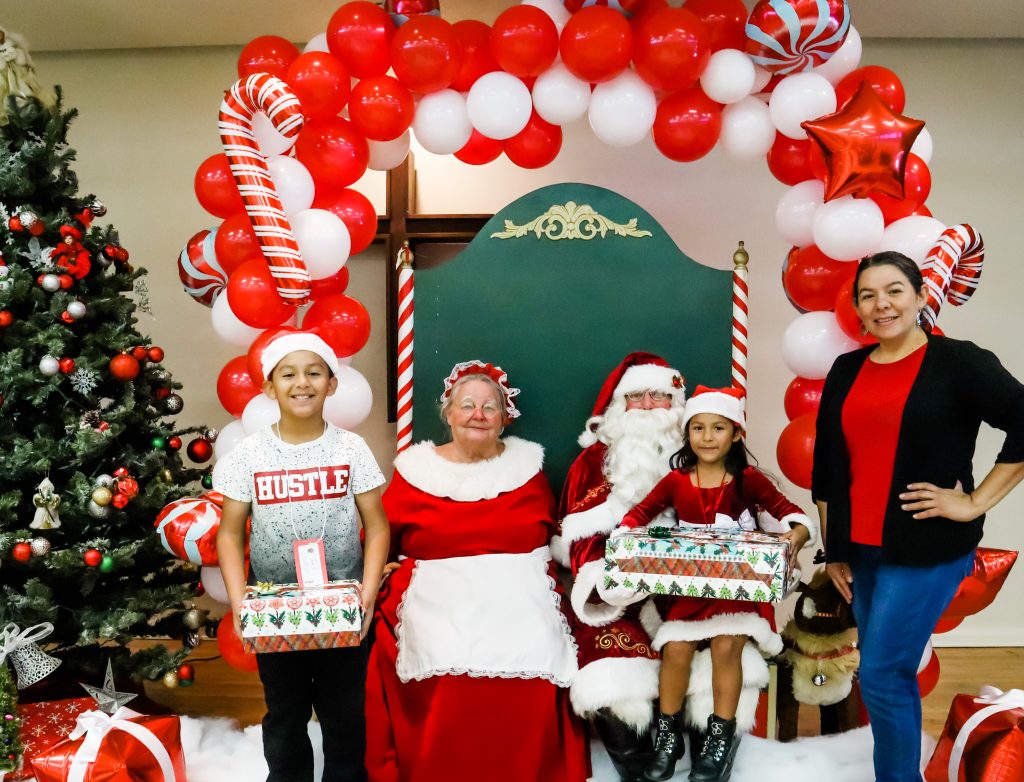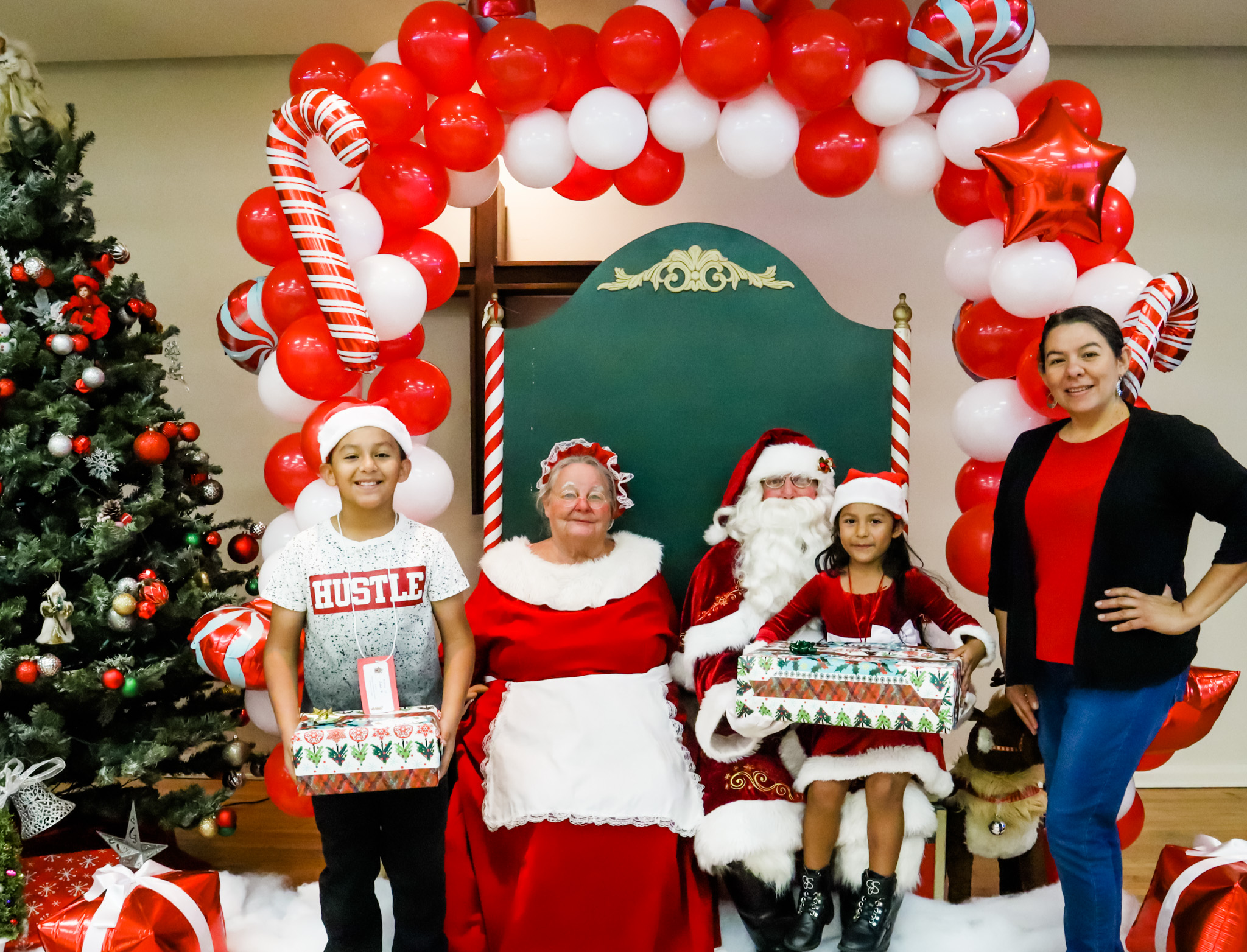 In addition to the many incredible individuals who generously donated time, resources, and gifts, we would like to thank the following groups for their notable commitment to helping families in need through their support of Santa Shoppe:
Adopt-A-Family's Board of Directors
AmeriCorps
AMG
Clipped Wings (United Airlines)
First Christian Church West Palm Beach
Lost Tree Chapel
Old Marsh Group
Palm Beach Rotary Club
The Breakers Palm Beach
Thrivent Action Team
UBS
And as always, a very special thank you to Santa and Mrs. Claus for making the trip!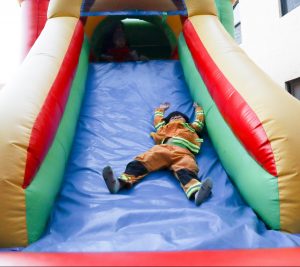 The 2022 Trunk-or-Treat brought spectacularly spooky fun for the whole family.
As golden hour fell over Project SAFE, dozens of excited visitors poured into the parking lot to find a Halloween carnival, complete with a bounce house, popcorn machine, photo booth, and games.
Throughout the night, families enjoyed mingling with one another while perusing the trunks creatively decorated by staff and volunteers. This year's lineup of trunks was out of this world!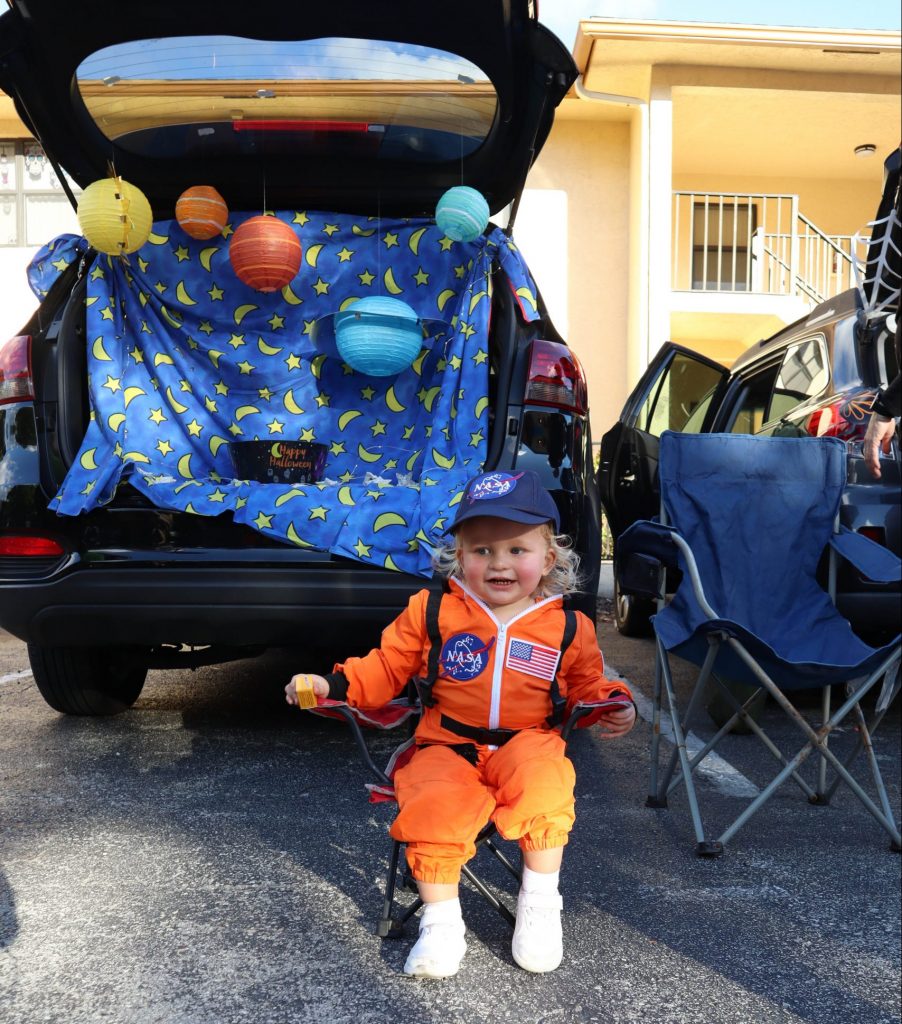 To everyone who donated costumes and candy this year, your donations were appreciated by all. Thanks to your generosity, the kids lived out their Halloween dreams as mermaids, construction workers, zombies, pirates, and more.
Academic Resource Coordinator Andrea Abreu coordinated the event with the help of a group of staff and volunteers, deemed the "Boo Crew." Youth Success Coach Michelle Pinto and the teens of the Youth Success Group worked hard to design signs for each station, which they manned themselves.
We owe the success of Trunk-or-Treat 2022 to the hard work of all donors, volunteers, and staff involved. We thank everyone who had a hand in making this year's event a night to remember.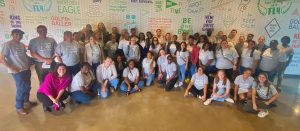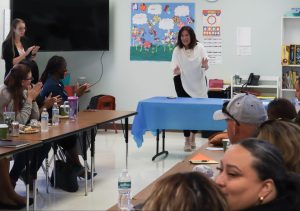 The annual United Way Campaign celebrates our longtime partnership with United Way of Palm Beach County, who works to unite the resources of donors, volunteers, agencies and the community to make lasting impact in the lives of our neighbors in need. The week-long campaign encourages Adopt-A-Family staff to rally support through personal pledges, kicking off with a challenge to reach 100% staff participation. We are excited to share that after a week of events, games, and themed dress-up days, staff once again reached the campaign goal of full participation (and won a day off)!
Several United Way team members joined Monday's kick-off breakfast, including Senior Director of Resource Development Dana Collier, who thanked Adopt-A-Family for our years of successful campaigning.
Program REACH Shelter Service Coordinator Ina Mallet spearheaded Adopt-A-Family's campaign for the second year in a row.
Tuesday's outfit challenge prompted awareness for a variety of causes honored throughout the month of October. Staff were invited to wear purple for Domestic Violence Awareness Month, pink for Breast Cancer Awareness Month, or other colors to represent an observance of their choosing.
On Wednesday, staff dressed to represent their favorite sports teams, and AAF Grants Writer Jodi MacNeal returned for the third year in a row to lead virtual trivia. Over 20 staff members showed up to the competition, but only three left as champions: Congrats to Dylan Blue, Evan Schoenly, and Arianna DeLeo!
The campaign's grand finale took place at Drive Shack. Trivia and raffle winners were awarded prizes and CEO Matt Constantine announced the news the whole team was waiting for – we had reached our goal of 100% staff participation.
Adopt-A-Family is grateful to partner with United Way, whose efforts help ensure everyone in our community has access to stable housing, education, food, and other needs.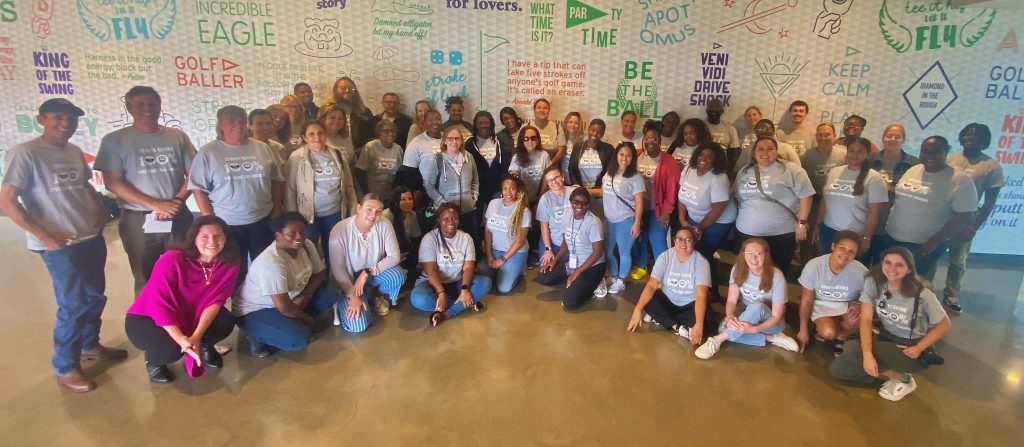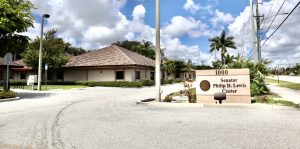 Celebrating Ten Years of the Senator Philip D. Lewis Homeless Resource Center!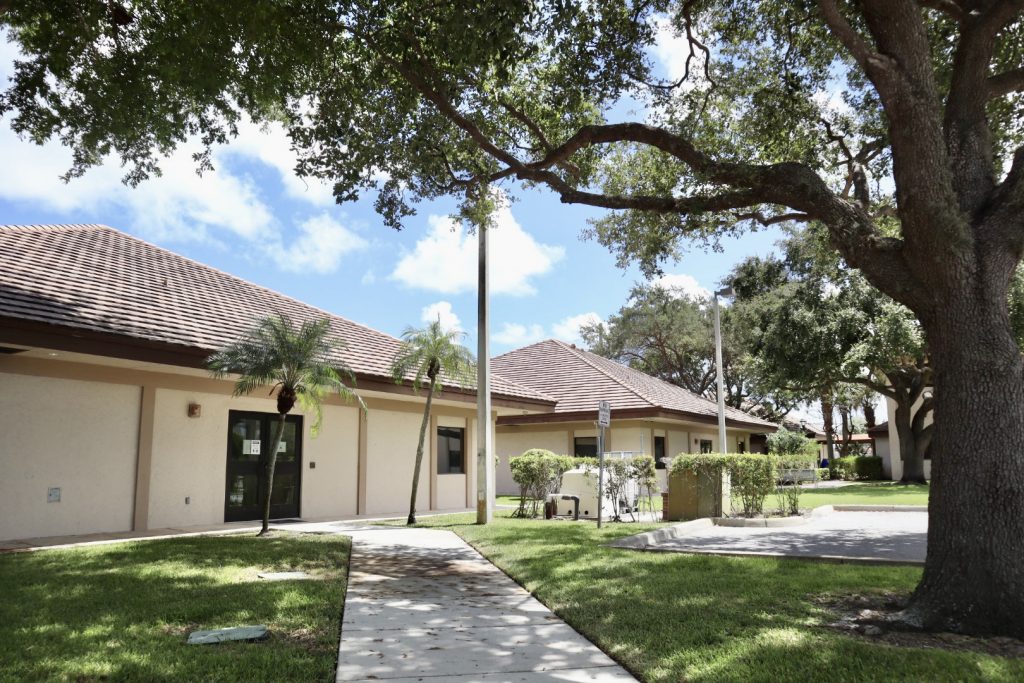 Established in 2012, the Senator Philip D. Lewis Homeless Resource Center (HRC) remains the backbone of Palm Beach County's continuum of care. Since establishing itself as the centralized point of entry for those experiencing homelessness, the center continues to field thousands of calls and connect hundreds of families to shelter annually. Adopt-A-Family staffs and operates the Family Division of the HRC.
The HRC links families to an appropriate intervention aimed to end their episode of homelessness. Under one roof, people in need can access several HRC-operated programs such as Rapid Re-Housing and Diversion, be connected to one of Adopt-A-Family's housing programs, or receive referrals to housing services at partner agencies. This eliminates lost time and wasted resources so often spent tracking down assistance, so families can get back on their feet faster.
"The HRC was something new," said Chief Program Officer Nydia Sabugo-Marrou, who played an integral role in the HRC's development and growth. "It was a venture for multiple agencies to make together, working toward one common goal."
At the heart of the HRC is its innovative coordinated entry process, currently managed by Gloriene Claudio-King. When Gloriene first joined the HRC team in 2012, she was the sole Family Navigator. Today, Gloriene manages an entire team of Navigators who collaborate closely with other departments.
"Originally, coordinated entry was just a simple intake," Gloriene said, "but now, we dive deeper to help them find solutions."
The HRC offers facilities like showers and laundry on-site for families to use as they go through the coordinated entry process. Coordinated entry also offers links families to an appropriate housing intervention which may include Rapid Re-Housing, Diversion, emergency shelter, and permanent supportive housing.
"Staff walk clients through the entire process from start to finish, which helps us build relationships with them," Gloriene said.
Rapid Re-Housing was developed in 2009, and Adopt-A-Family integrated it into the continuum of services offered at the HRC when it opened in 2012. Rapid-Re-Housing places families in housing and pays a gradually declining portion of the family's rent, giving them adequate time to establish the ability to maintain rent payments on their own. The program's Housing Specialists maintain relationships with local landlords and think on their feet to secure fast, safe, stable housing for families in urgent need of assistance.
A newer addition to the lineup of services offered through the HRC, Diversion focuses on helping families identify nontraditional housing solutions and facilitating the move to quickly end an episode of homelessness. The Diversion team often communicates with families on a weekly basis as they work together to secure solutions.
"My 'why,'" Gloriene said, "is my brother. He struggled with his mental health. I've always wanted to help people like him, and give back to the community I was raised in."
Gloriene credits agency leaders for the HRC's success. "I could never do this work without the team or the support we have," she said. "We help each other see ways to better the system and improve it for our clients. It is so awesome to know my supervisors value and support the work our team does."
Sharing the sentiment, Nydia Sabugo-Marrou looks forward to the future of the HRC. "When I look back 10 years ago, I can see we planted a seed. And that tree has just been growing and growing," Nydia said. "It has solid roots, and the roots are all of us who work at Adopt-A-Family, the Board of Directors, and our supporters."
Adopt-A-Family is grateful to our partner agencies, including Palm Beach County, for their years of collaboration and ongoing commitment to serving our community. The Senator Philip D. Lewis Homeless Resource Center could not succeed without their support and service.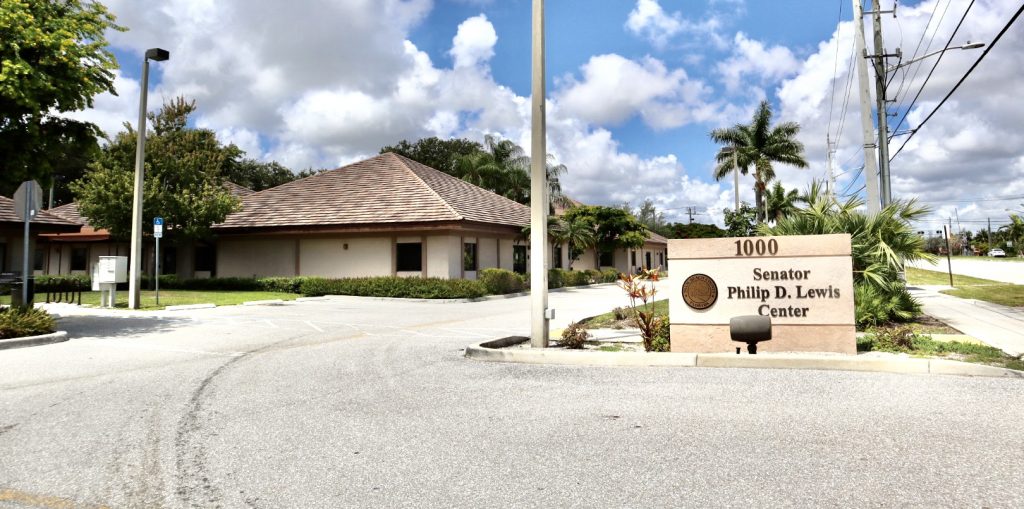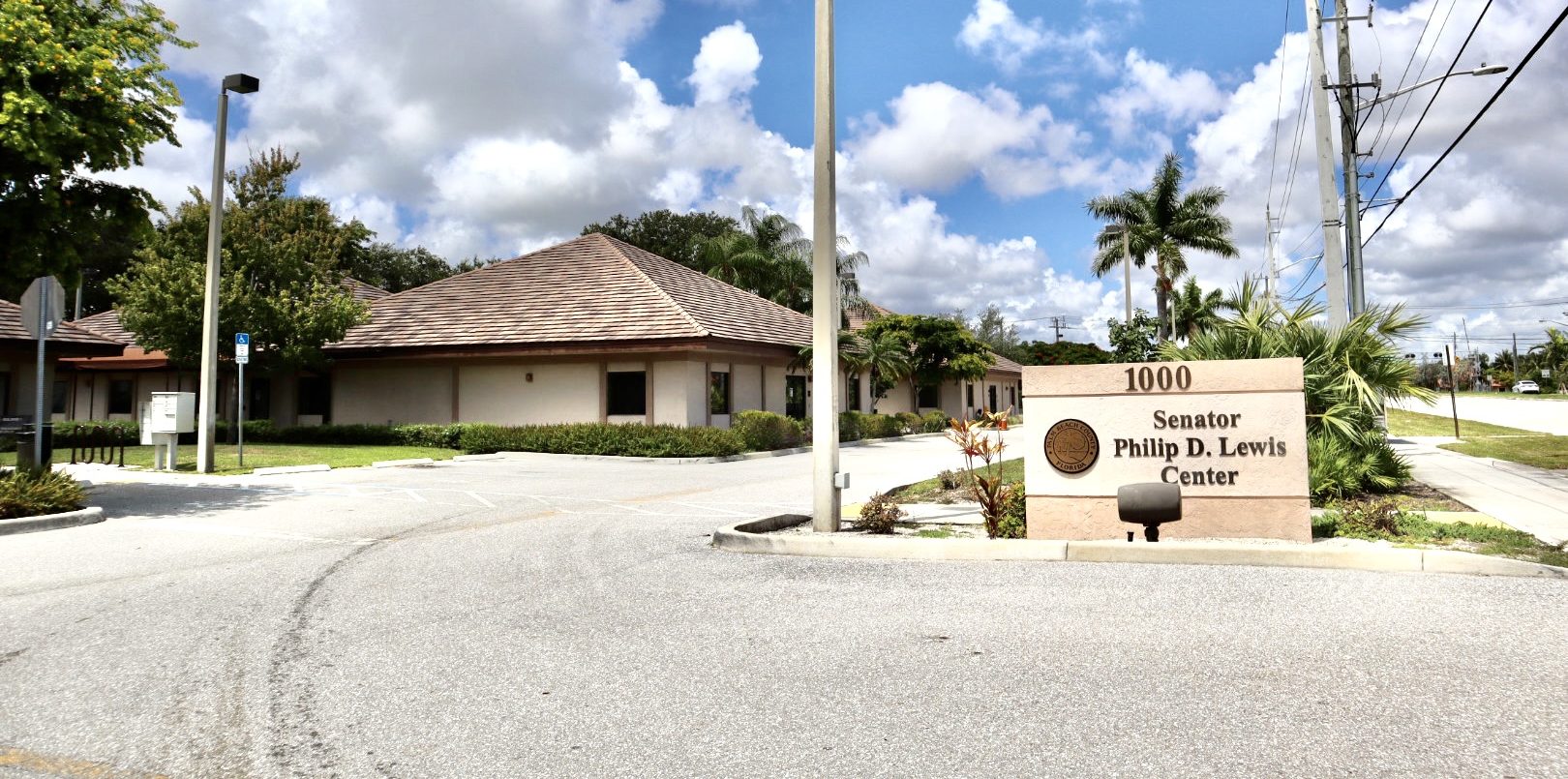 "What do you want for your life?"
Adopt-A-Family Mental Health Therapist Joan Kieffer often asks her clients this question, knowing these days, opportunities for self-reflection are few and far-between.
Right now, many families don't really have the luxury to consider what they want. Needs must be met before desires are, and resources are too scarce to feel free to dream.
But as Kieffer reminds her clients, it is hope that will keep them moving forward. "They have to be able to envision the preferred future that they want," says Kieffer. "If they can see it, they can achieve it."
We are living in the aftershock of a world-shattering pandemic that hit low-income families harder than most – and still does. Among the many alarmingly negative effects of long-term isolation, Kieffer notes many patients are dealing with loss of self-confidence, loneliness, depression, and in an increasing number of cases, heightened tensions and toxicity in the home.
"The biggest common denominator among all my patients is trauma," Kieffer tells us. "They are losing their self-confidence, but a lot of these people don't realize the skill sets they've developed. You've lived in your car for four months, and somehow your children are still fed. That is a skill set. They are amazing. But they don't see it like that."
Kieffer recognizes that when it comes to securing housing, keeping hope alive is getting harder and harder.
"The reality is, they can't afford to live here anymore. And a lot of these people, this is where their families are. They've been here for generations," she explains.
Kieffer tells us of a client who doesn't qualify for many affordable housing programs, but needs to find a home.
"She was crying, and she said, 'Joan, I have searched every inch of Palm Beach County, and I cannot find a place.' And I told her, 'Give yourself a break. Come up for air. Take a day off where you're not looking.' But the discouragement is just so disheartening, because it is her reality."
Kieffer recognizes that oftentimes, therapy focuses on improving a client's perception of their circumstances. In these cases, a situation feels unmanageable at first, but can become manageable with the right therapy and thought-work. But right now, Kieffer notes, things are very different: Circumstances really are that bleak; there really aren't attainable housing options. Clients feel backed into a corner, because they are.
We asked Kieffer to share one piece of advice she thinks everyone should hear today:
"Remember a time when it wasn't so bad. Remember a time when it wasn't so painful. I ask clients to tell me about the time when things seemed to be working in your favor, and hold onto that. Remind yourself that you can get there again."
Adopt-A-Family is grateful to be able to offer free, convenient, accessible therapy options to our clients, who continue to face unprecedented hardship. We admire the strength and resilience of the families we serve, and we strive to honor their stories and desires for the future by tending to their mental health as they work to regain self-sufficiency.
EDITOR'S NOTE: Adopt-A-Family's On-Site Mental Health Program eliminates barriers and broadens access among homeless, formerly homeless, and low-income families, who experience disproportionately high rates of mental illness and trauma but typically do not seek care due to cost, lack of transportation, limited provider availability, insufficient health coverage, stringent participation requirements, or unfamiliarity with the benefits.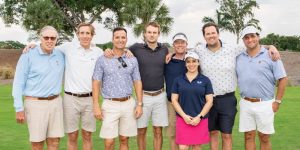 The 10th Annual Better Ball Invitational Golf Tournament was a smashing success! Clear skies and friendly competition set the stage for a fantastic day of fun, as 82 players took to the Banyan Cay course on May 6 in support of Adopt-A-Family. Thanks to all participants, as well as our 55 amazing sponsors, the event raised over $200,000.
This year, we celebrated the 10th anniversary of hosting our annual golf tournament in better ball format, though Adopt-A-Family's signature golf tournament is a tradition enjoyed since the early 2000's.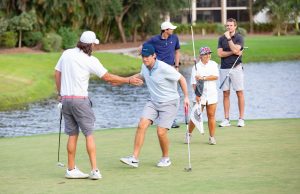 It was a pleasure to return to Banyan Cay, where moving fairways and diverse landscape challenge players of every level while providing scenic views throughout the course. This year's all-inclusive tournament included 18 holes of golf in better ball format and use of the driving range. Players enjoyed use of the carts, a forecaddie, cocktails, lunch, and dinner, and were each gifted a $50 to the pro shop.
Congratulations to our 1st place winners, Michael Puder and Warren Rustin!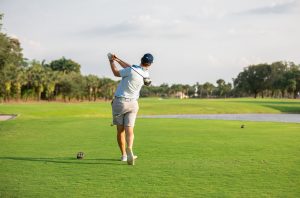 We are extremely grateful to each and every friend of the agency who participated in the 10th Annual Better Ball Tournament. Your generosity and enthusiasm for our mission ensures Adopt-A-Family can continue to provide safe, quality housing and meaningful support services to those in our community who need it most.
We owe the success of this year's event to the incredible hard work and dedication of the 2022 Tournament Committee. We thank each committee member for their profound support of our agency's mission.
2022 Golf Tournament Committee:
Frank Bresnan
Sean Bresnan
Jeff Preston
Gary Pohrer
Joe LaRocca Jr.
Joe Carron
Tom Frankel
Ned Grace
Matt Constantine
Winners:
1st Place: Michael Puder, Warren Rustin 
2nd Place: Gary Pohrer, Rob Surtees 
3rd Place: Sam Grace, Tim Mullen 
4th Place: Ned Grace, Damien Barr 
5th Place: Jeff Smith, Dennis Goldstein 
Closest to the Pin (Men): Rob McKoewn
Closest to the Pin (Women): Cory Clement 
Longest Drive (Men): Conner Barry
Longest Drive (Women): Maureen Raihle 
Sponsors:  
NORTH AMERICAN DEVELOPMENT GROUP
THE MATTHEW & TRACY SMITH FOUNDATION
FRANK & SEAN BRESNAN
MILES NADAL
DAVID LAMBERT
CHRISTINE & BOB STILLER
********************** 
A&M
RISK STRATEGIES / LAROCCA & ASSOCIATES
C. STEVEN DUNCKER
THE TELESCO FAMILY FOUNDATION
DOUG & PEGGY BRIGGS
ANDY REDMOND
THE KYLE FRASER FOUNDATION
COMITER SINGER BASEMAN & BRAUN
BARRY OBLIO WISH
MICHAEL CROSBY
SEAN DUNNE
RAY CELEDINAS
SCOTT GOLDSMITH
RANDY TULEPAN
MICHAEL SELVERIAN
DENNIS CARSON
CASEY ROSEN