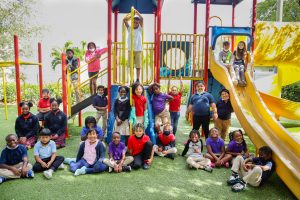 Thank you to all who voted! Voting has closed. Results will be available on June 7. 
EXCITING NEWS: 
Selected from among 4,000 applicants, Adopt-A-Family of the Palm Beaches' afterschool/summer program, Project Grow, is in the running to receive a generous State Farm Neighborhood Assist grant – but needs your help to secure those critical funds. Project Grow and 199 other causes nationwide have until May 6 to earn as many votes as possible. The 100 causes with the most votes will each receive a $25,000 grant. 
Help us win! If you are a U.S. resident over the age of 18 and you have a valid email address, you can cast your daily votes for Project Grow by visiting https://www.neighborhoodassist.com/entry/2041687. 
Help spread the word: hit "Share" on the voting page to post to your social media accounts, or send the link to friends and family. 
State Farm guarantees it will not share, sell, or send solicitations to voters' email addresses.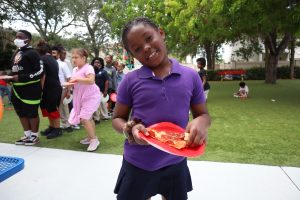 WHO YOUR VOTES WILL IMPACT: 
Each vote will put Adopt-A-Family one step closer to $25,000 in much-needed funding for Project Grow, Palm Beach County's only afterschool/summer program specifically designed to support elementary school students who have experienced the traumas of living with poverty and homelessness.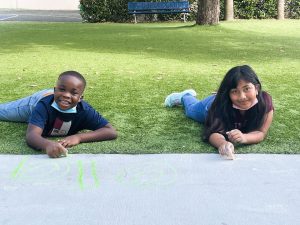 Project Grow focuses on academic support, emotional development, parental engagement, and life-enriching experiences. The classroom experience includes tutoring; academic advising, mental health counseling, social-emotional learning, and outdoor play. The program emphasizes Science, Technology, Engineering, Art, and Math (STEAM) activities that boost critical thinking, promote self-confidence, and open students' eyes to future career paths. 
Project Grow is one of 15 Florida causes to make the Top 200, and the only one in Palm Beach County. 
To learn more about Project Grow or Adopt-A-Family's other programs and services, or to make a donation, please visit www.adoptafamilypbc.org or call (561) 253-1361.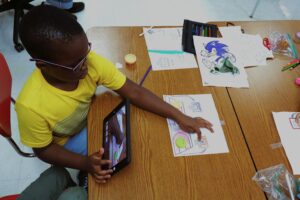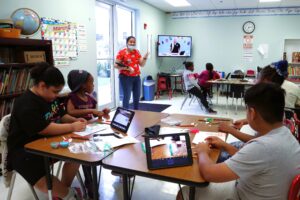 Spring Break at Project Grow means long days full of fun. Every day after outside playtime, snacks, and crafts, students settled into the classroom for a special treat: stop-motion animation classes with Green Mouse Academy.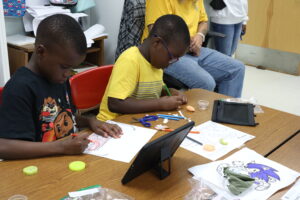 Students took the entire week to design and direct their very own animated films using the stop-motion technique. Teams of two worked together to make their Dot Bots bounce basketballs, or light Olympic torches.
In a practice of patience, accuracy, and teamwork, students built and colored a background, molded a character out of Play-Doh, and recorded their unique animated films one photo at a time.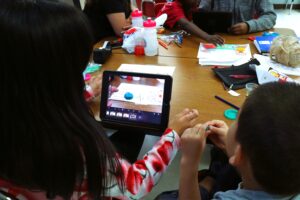 Green Mouse Academy brings Technology Arts Courses to local classrooms, allowing young students a chance to show off their technological and creative sides while working on engaging, hands-on projects.
Green Mouse Academy has led robotics classes at Project Grow in the past as well. We are grateful for this partnership that provides our students with unique and stimulating classroom experiences.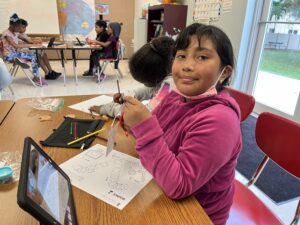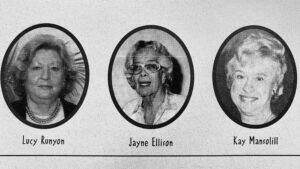 In honor of Women's History Month, we celebrate the legacy of our founding women.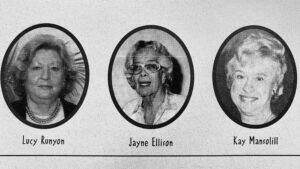 Thirty-nine years ago, a trio of local women laid the foundation for Adopt-A-Family of the Palm Beaches. Little did they know, nearly 40 years later, Adopt-A-Family would stand as the community's largest service provider for homeless and low-income families.
In 1983, Lucy Runyon, Jayne Ellison, and Kay Mansolill heard a radio broadcast that changed everything. 
A local radio station shared the story of a family living under a bridge. The family of four had just moved to Florida from Texas. On their journey east, the excitement of starting a better life in the tropics dissolved in the blink of an eye when one of the children fell terribly ill, requiring hospitalization.  
Hospital bills soon absorbed the family's modest savings. Arriving in Florida destitute and worn, the family took shelter under the Royal Palm Bridge.  
The story sparked a dream that blossomed nearly overnight. 
Immediately after hearing this story, local residents Runyon, Ellison and Mansolill sought the family out and moved them into a motel. Runyon, the Vice President of First National Bank in Palm Beach at the time, conferred with the bank's Board of Directors and called her lawyer. Twelve hours later, the first Board of Directors for Adopt-A-Family of the Palm Beaches was born.  
The bank "adopted" the family, and success after success followed: the ladies helped the family find an apartment, and two weeks later found the father a job. The women sought out more families in need of help. Soon a catalog of dozens of families was developed and distributed to local businesses, and within a year, 50 families were adopted by members of their own community. 
Runyon, Ellison and Mansolill laid the foundation for what is now a 39-year-old, multi-campus supportive housing agency.  
The ladies continued to seek funding from the community, all while spending time supporting and empowering families on their journeys to self-sufficiency. They helped families build nutritious, affordable diet plans and would treat them to days at the salon to help build self-esteem. The goal was to reinforce to families that their situation was only temporary, that they would be provided with whatever they needed to regain stability, and that their stories and place in the community mattered.  
In 2022, the mission persists: Adopt-A-Family support families in their efforts to achieve stability and self-sufficiency; we lean on our community for support and resources; and we strive to honor and empower every family we assist.  
Lucy Runyon, Jayne Ellison, and Kay Mansolill forged the heart of Adopt-A-Family in 1983. Without the determination of these three local ladies, we would not be who we are today.  
Did you know?
Kay Mansolill: In addition to co-founding Adopt-A-Family, Mrs. Mansolill also served as President of the American Cancer Society on Long Island, NY. 
Lucy Runyon: Mrs. Runyon was featured in the Palm Beach Post's Who's Who of Florida Executive Women in 1989. She served on six charity executive boards at the time.
Jayne Ellison: Mrs. Ellison was a reporter for the Palm Beach Post, and she covered the story of Florida serial killer Gerard Schaefer in the early 1970s.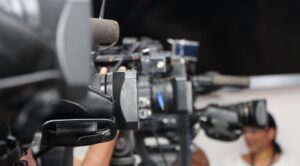 It's been a busy year for Adopt-A-Family, and our local news outlets have noticed. We are grateful to WPTV, The Sun Sentinel, and The Palm Beach Post for offering our clients and staff opportunities to speak about the agency's mission and our community's needs.  
Recent stories have covered our innovative housing programs, local affordable Pre-K education opportunities, and Florida's increasingly restrictive housing market.  
WPTV recently highlighted Service Enriched Housing and one of its grant funders, The Community Foundation for Palm Beach and Martin Counties, which celebrated its 50th anniversary this week. The Community Foundation supports a wide array of nonprofits in our community. Many Adopt-A-Family programs have benefitted from the Community Foundation's support.  
Service Enriched Housing (SEH) works with low-income families dedicated to the pursuit of homeownership and long-term financial stability.   
WPTV recently interviewed SEH residents Jerrod and Iesha James about the way the program put them on the path to stability and homeownership. The family was recently selected for Habitat for Humanity of South Palm Beach County's next Women Build project.   
Residents of Palm Beach County are feeling the pressure of a tightening housing market and are speaking up about the challenges the working class faces. One Adopt-A-Family client was featured in a recent Sun Sentinel article covering the current housing market. After the couple was hit with a $500/month rent increase on their two-bedroom apartment last November, they received assistance from the Housing Stabilization Program. 
The Sun Sentinel reports that West Palm Beach's median rent for a two-bedroom apartment hit $2,200, a 42% increase from the year before. Florida's affordable housing crisis means Adopt-A-Family's mission is more urgent than ever.   
Project Grow Director Daron Morse shared her insight with The Palm Beach Post about how difficult it can be for low-income families to afford Pre-K programs. 
The Bezos Academy, a tuition-free preschool, will be opening its newest campus at Florida Atlantic University in Boca Raton, and will serve children of families earning up to 400% of the federal poverty level. Ms. Morse noted that many families desire to provide their children with a proper education, but face financial barriers.   
The majority of families involved with Project Grow face these same challenges. Project Grow staff regularly works with parents to help navigate academic options that cater to their financial situations.  
Adopt-A-Family has recently partnered with the Bezos Day 1 Families Fund to expand and enhance efforts to serve unsheltered Palm Beach County families.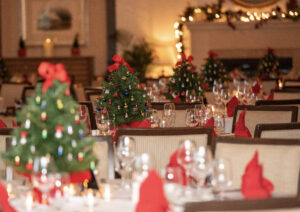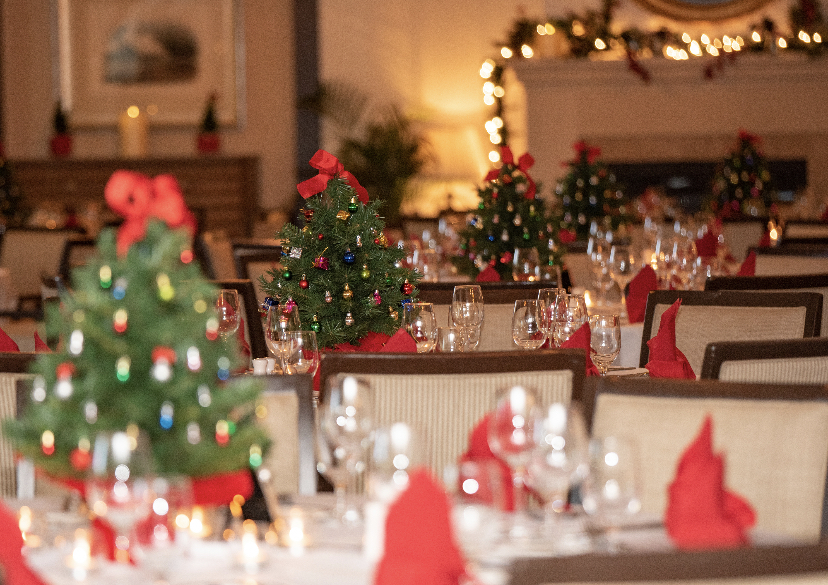 The 37th Annual Tree Lighting Celebration was an incredible success! The 2021 Tree Lighting committee, steadfastly led by Chair Nancy Kalaher and Co-Chair Elizabeth DeBrule, displayed incredible dedication to the organization of this year's event as the agency continued to adapt to ever-evolving circumstances brought on by COVID-19. 
With the health of all attendees in mind, this year's silent auction was held almost entirely online in order to expand available space at the event. All agency supporters were invited to participate in our virtual silent auction. Special thanks to Tree Lighting Chair Nancy Kalaher, Co-Chair Elizabeth DeBrule, Alice Tarone and Bel Miller for assisting with the photography and organization of hundreds of silent auction items! 
As attendees arrived at the event on Palm Beach, they were welcomed with angelic arrangements of holiday songs performed by The Kings Academy Choir.  
The dining room was beautifully decorated with Christmas trees, holiday wreaths, and gorgeous centerpieces designed by committee member Carolyn Haggerty. As the event began, the dining and auction rooms offered a panoramic view of the sunset over the Intracoastal.  
Attendees were invited to browse the orchid display and the live and silent auction preview displays during cocktail hour.  The event featured our first Annual Wine Pull, where attendees purchased a cork for $100, and at the end of the evening each entrant took home an excellent bottle valued from $50-$1,000. 
During dinner, guests enjoyed a video overview of Adopt-A-Family, an address by CEO Matt Constantine, and the beautiful testimony of a former Adopt-A-Family client.  
The evening concluded with an exciting live auction, hosted by longtime agency friend Neil Saffer. Attendees bid head-to-head on six incredible auction prizes, including a four-night stay at a luxury resort, John Mayer tickets, and a pair of remote-controlled yachts.  
We would like to express our deepest gratitude to Tree Lighting Committee Chair and Co-Chair, Nancy Kalaher and Elizabeth DeBrule, for their unwavering devotion to the success of this year's event. These incredible women led the committee through the development of this year's event with positivity and warmth, and we are honored by their dedication to the agency's mission.  
Adopt-A-Family is incredibly grateful to each and every supporter for your commitment to our agency's mission of serving and strengthening Palm Beach County's most vulnerable families.  

On Thanksgiving Day at the Homeless Resource Center (HRC), a group of Adopt-A-Family staff and volunteers spent the afternoon serving up hot meals to families who otherwise may not have had a way to cook for the holiday.
From Lisa Raymond, HRC Engagement and Quality Assurance Tech:
Thanksgiving was right around the corner, and I wanted to do something with purpose. I didn't just want to spend another Thanksgiving overeating at mom's house (as we all tend to do).
Initially, my idea was to gather a couple co-workers and cook Thanksgiving meals for the Homeless Resource Center clients. There are families who have no kitchen, no way of preparing food for their holiday. These are families who are sleeping in their cars or motel rooms. What were they to do? I knew we should make sure these families had a Thanksgiving dinner together somehow.
Preparations began for a holiday feast for our HRC families. When we realized it wouldn't be possible to cook for everyone ourselves, we got approval to cater the Thanksgiving meal.
Then, we started calling clients. We assigned times for families to come and pick up meals to take home or to have their meal at the HRC. We set up tables and decorated them with table cloths, sanitizers, and chocolate turkeys. A 6th grade class at Sacred Heart Catholic School made beautiful place mats, which were placed at every seat.
Families trickled in one by one, most of them taking meals back to their homes. They were so very grateful. Each family received a hot meal and dessert for each person in the household, and it didn't cost them a thing.
I could not have asked for a better crew of AAF staff and volunteers by my side on Thanksgiving day. We wanted to help families who do not have a home, do not have a kitchen to cook in, some who do not even have a roof over their heads. I am so grateful we were able to provide an easy and safe way for these families to have a Thanksgiving meal together.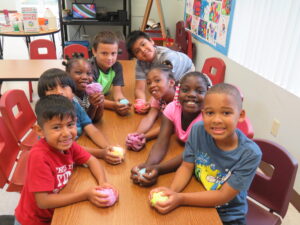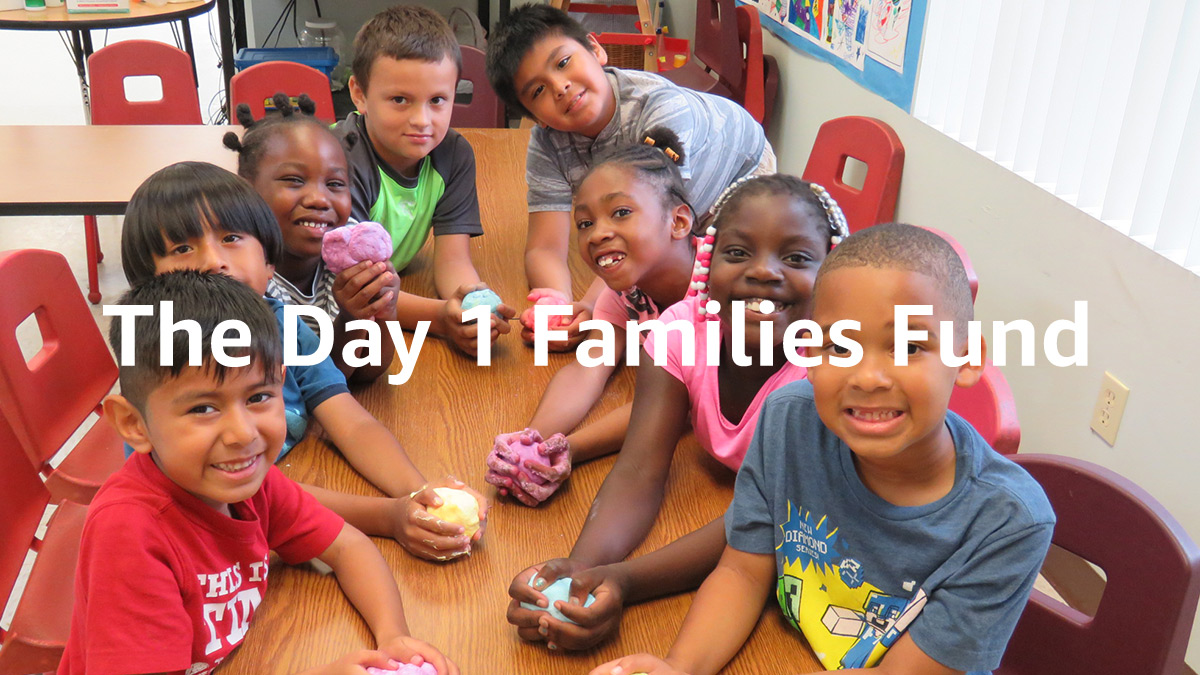 Adopt-A-Family is proud to announce that our agency received a 2021 grant from the Bezos Day 1 Families Fund in support of our efforts to combat family homelessness in Palm Beach County. The agency is one of 32 agencies selected nationwide by an independent advisory board comprised of homelessness experts with experience in policy, advocacy, racial equity, child welfare, and housing and service delivery, as well as firsthand experience in homelessness. 
Adopt-A-Family was awarded $5 million from the Bezos Day 1 Families Fund—the largest grant in agency history. This one-time grant will allow us to significantly expand and enhance our efforts to end family homelessness in Palm Beach County through diversion, shelter, and rapid re-housing initiatives. The magnitude of the grant will enable Adopt-A-Family to provide safety and stable housing to hundreds of unsheltered families with children.   
"We cannot thank the Day 1 Families Fund enough for providing our agency and county with a path to a reality where all children have a safe place to sleep each night," said CEO Matt Constantine. "We are extremely grateful for this award and look forward to providing housing and hope to those who might not otherwise be served." 
Launched in 2018 by Amazon founder and executive chair Jeff Bezos, the Day 1 Families Fund issues annual leadership awards to organizations and civic groups doing compassionate, needle-moving work to provide shelter and hunger support to address the immediate needs of young families. Since 2018, the Day 1 Families Fund has issued 130 grants totaling more than $398 million to organizations around the country working to combat homelessness and help families gain housing support and stability.  
Adopt-A-Family is incredibly grateful to the Bezos Day 1 Families Fund for equipping our agency to make an even greater and longer-lasting impact on family homelessness in Palm Beach County. We thank our entire community of supporters for your longstanding partnership and investment. This grant award honors our collective commitment to ensuring all children and families in Palm Beach County have a safe place to call home. 
For more information and a full list of awardees, visit www.BezosDayOneFund.org/Day1FamiliesFund.  

On Friday night, Adopt-A-Family hosted our 4th annual Trunk-or-Treat!  
Dozens of excited Trunk-or-Treaters showed up for candy, popcorn and games. Participants flaunted all kinds of awesome Halloween costumes, dressing as everything from pirates and zombies to a bag of Cheetos. Santa Claus even made an appearance! 
Nine trunks were decorated by volunteers and agency staff, each with its own unique, spooky style.  
Some costumes stood out among the rest, like AAF Housing Specialist Joanne Diaz's look, inspired by Effie from The Hunger Games.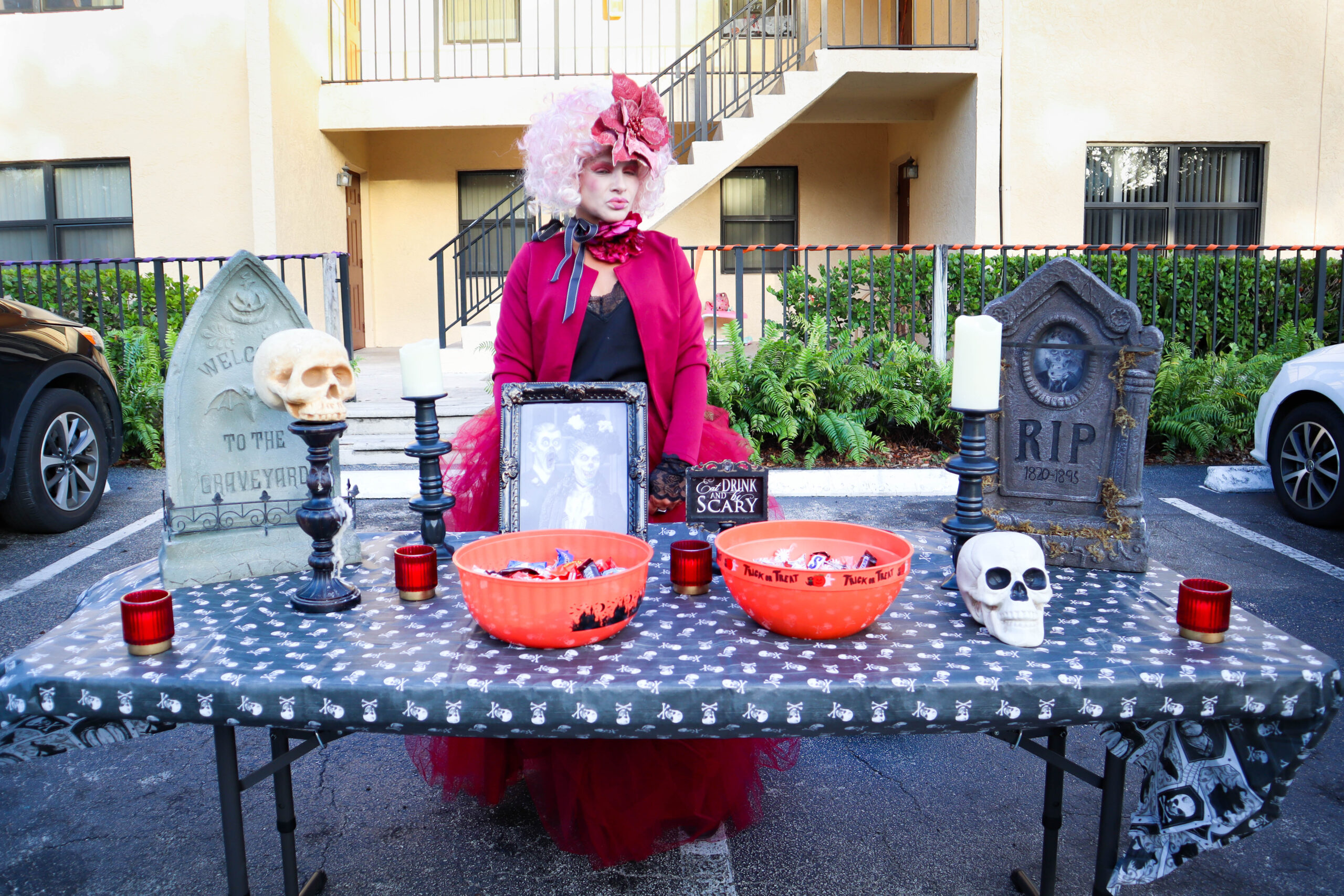 Families showed off their costumes at the photo booth. 
Children took a shot at some fun games and challenges at the activities table.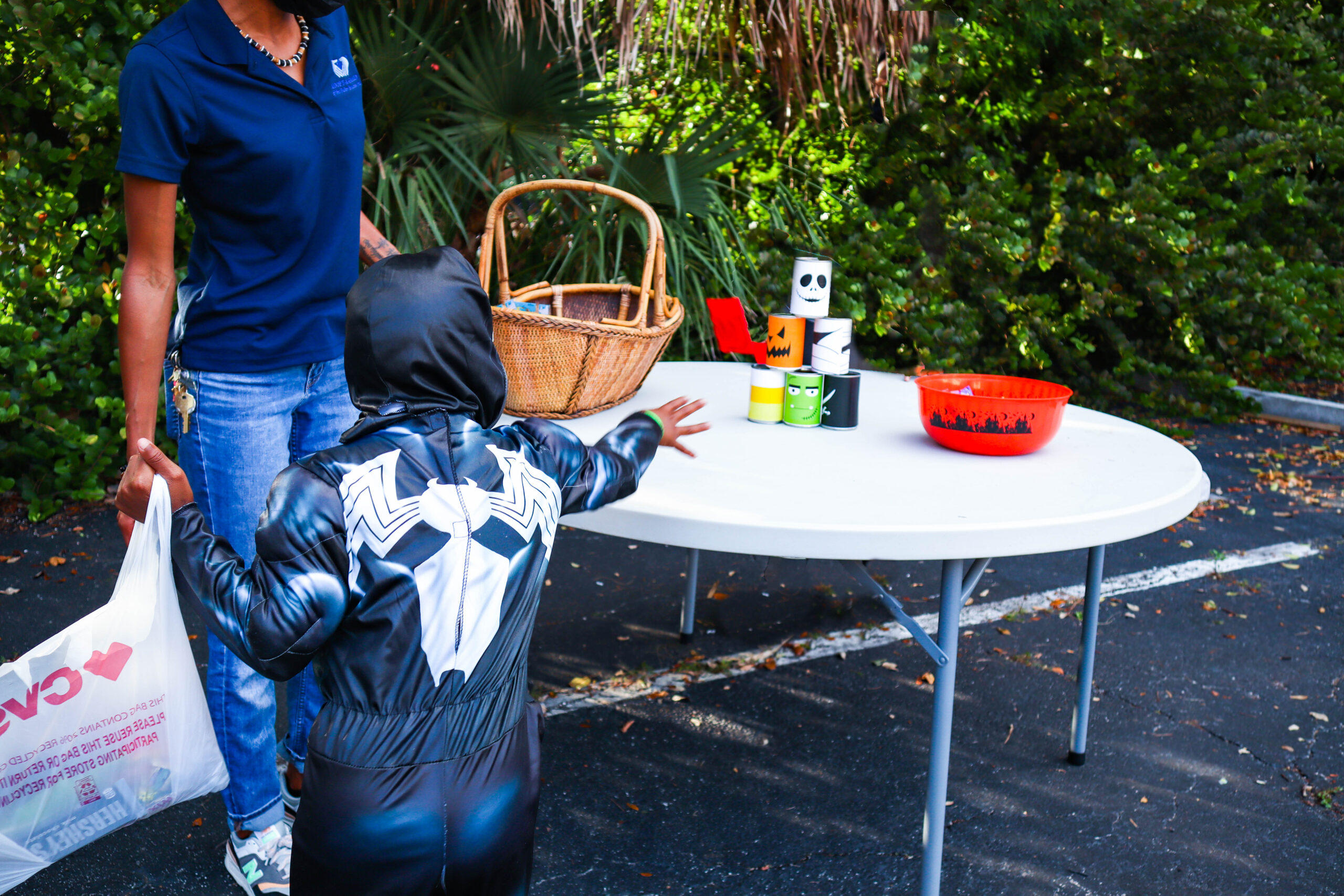 In addition to all the sweets collected throughout the night, participants received a salty snack from Little Smiles Florida.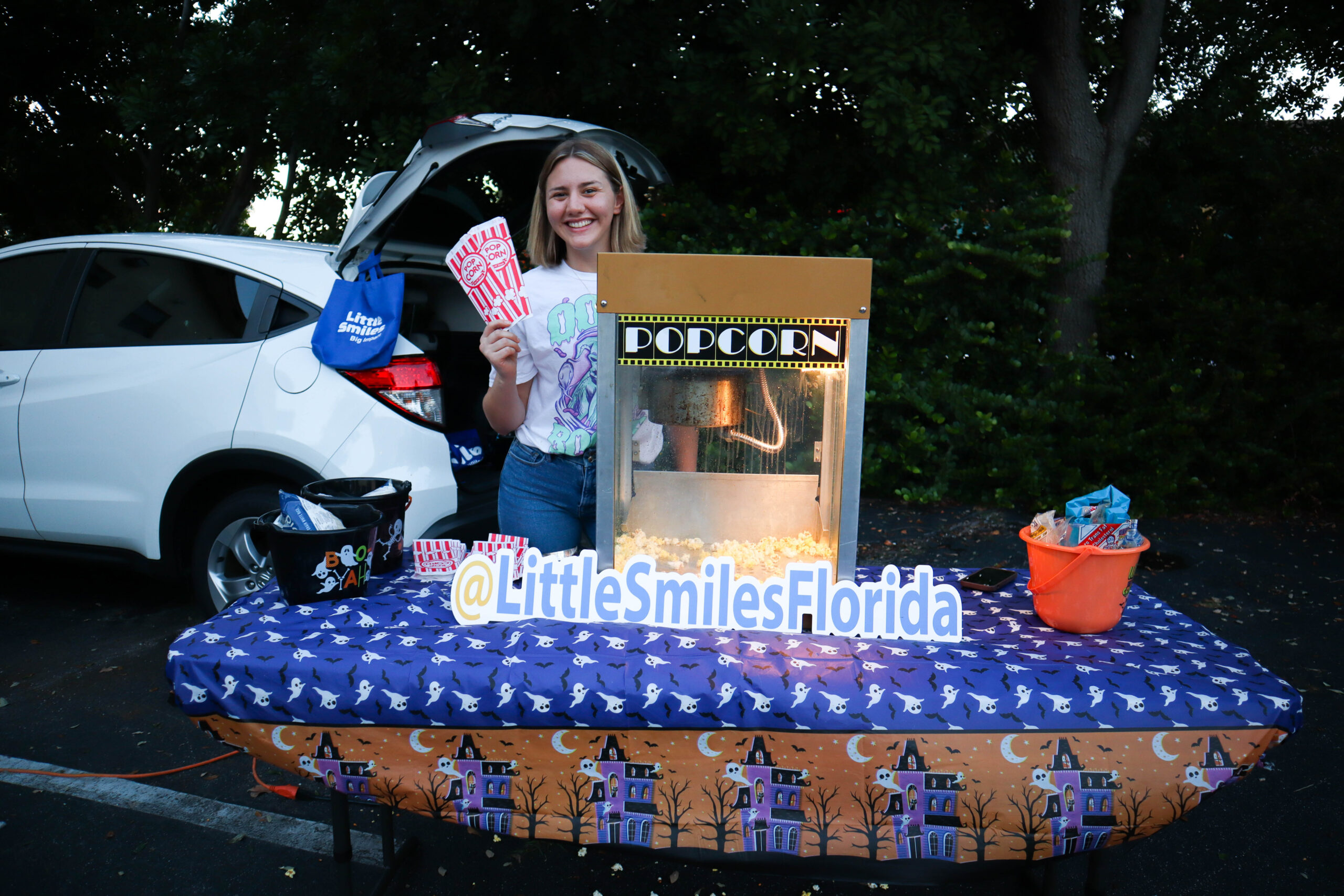 We are grateful for everyone who generously donated costumes, candy, supplies, and funds to help make this year's Trunk or Treat a great one! 
Adopt-A-Family was happy to offer families a safe and fun way to celebrate Halloween this year.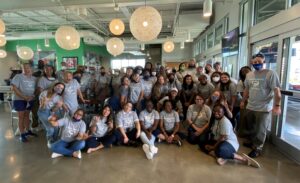 The week of Adopt-A-Family's annual United Way campaign is always a favorite among staff – and for good reason. Our team comes together to participate in fun challenges, engage in exciting learning opportunities, and raise money for a great cause. Adopt-A-Family staff has an impressive track record of reaching 100% fundraising participation – and this year, our 62-member staff reached that goal once again!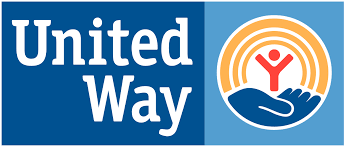 What is United Way?  
United Way is the largest privately-funded nonprofit in the world, motivated by a globally-minded mission to improve three areas of life: education, health and financial stability. Our local United Way partners, United Way of Palm Beach County and Town of Palm Beach United Way, contribute regularly to Adopt-A-Family's mission to strengthen families who are experiencing or at risk for homelessness. Adopt-A-Family's campaign raised support for United Way Palm Beach County, whose mission is to ensure that everyone in Palm Beach County has access to the basics: a quality education, a place to live, financial stability, good medical care, and enough to eat.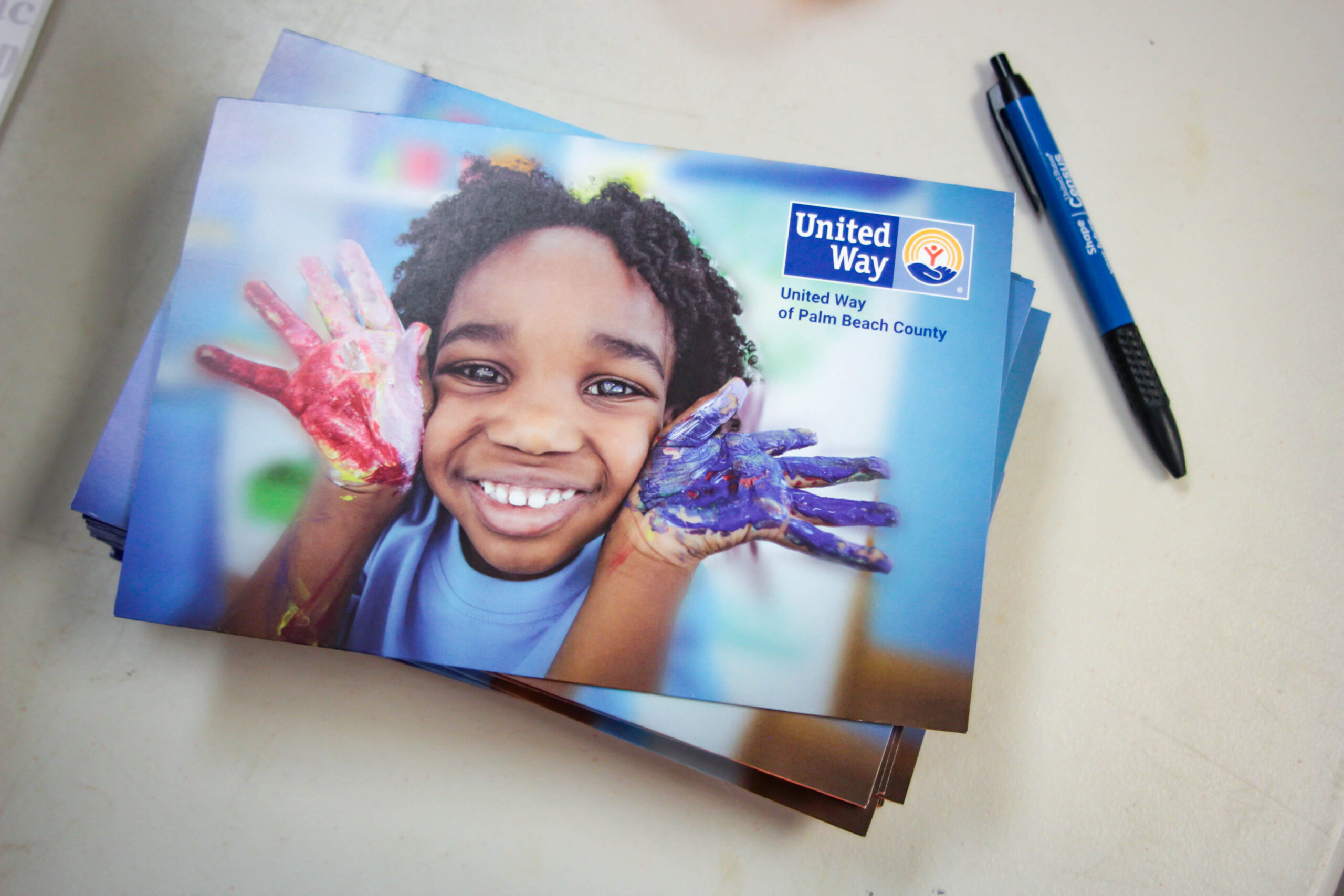 2021 United Way Campaign Week  
Last week was a blast as Adopt-A-Family staff participated in games, training opportunities, raffles and challenges to celebrate our United Way partnership. This year's United Way campaign week organizers, Ina Mallet and Miriam Garcia, were on their A game! The theme, "United We Play, United We Win," appealed to our die-hard golfers and novices alike. Starting with a "tee-off" breakfast and ending with a party at Drive Shack, our week was infused with a sense of competition and comradery.  
Ina and Miriam kicked off our campaign week Monday morning with breakfast and a short message from United Way of Palm Beach County's Whitney Erasmus, who graciously shared her inspirational story and passion with us.  
On Tuesday, more than 40 staff members attended a training led by Andrea Elrod of AVDA (Aid to Victims of Domestic Abuse, Inc). Andrea focused on data and trends surrounding abuse, and taught our team ways to recognize and act on potential abuse situations.
AAF staff dressed up in their favorite sports jerseys on Wednesday. Staff working in our office locations and staff working from home proudly represented their teams. 
Thursday's trivia game was a blast! Over 20 staff logged on to the virtual competition ready to win some great prizes. Prizes up for grabs each round included a pizza party for the winner's department and a chance for the winner to choose a costume their supervisor must wear to work for a day. 
Finally, Friday's grand finale took place at Drive Shack. Staff members split up into small teams and took a swing at golf, and gift baskets were awarded to our raffle winners. CEO Matt Constantine and Board Chair Kirsten Turner thanked our AAF team for their hard work and announced that our goal of 100% participation was reached again! 
Overall, the 2021 United Way campaign week was a success. United Way has been a tremendous support to Adopt-A-Family over the years, and we are always grateful for an opportunity to celebrate our collaboration and show our support for our partner organizations.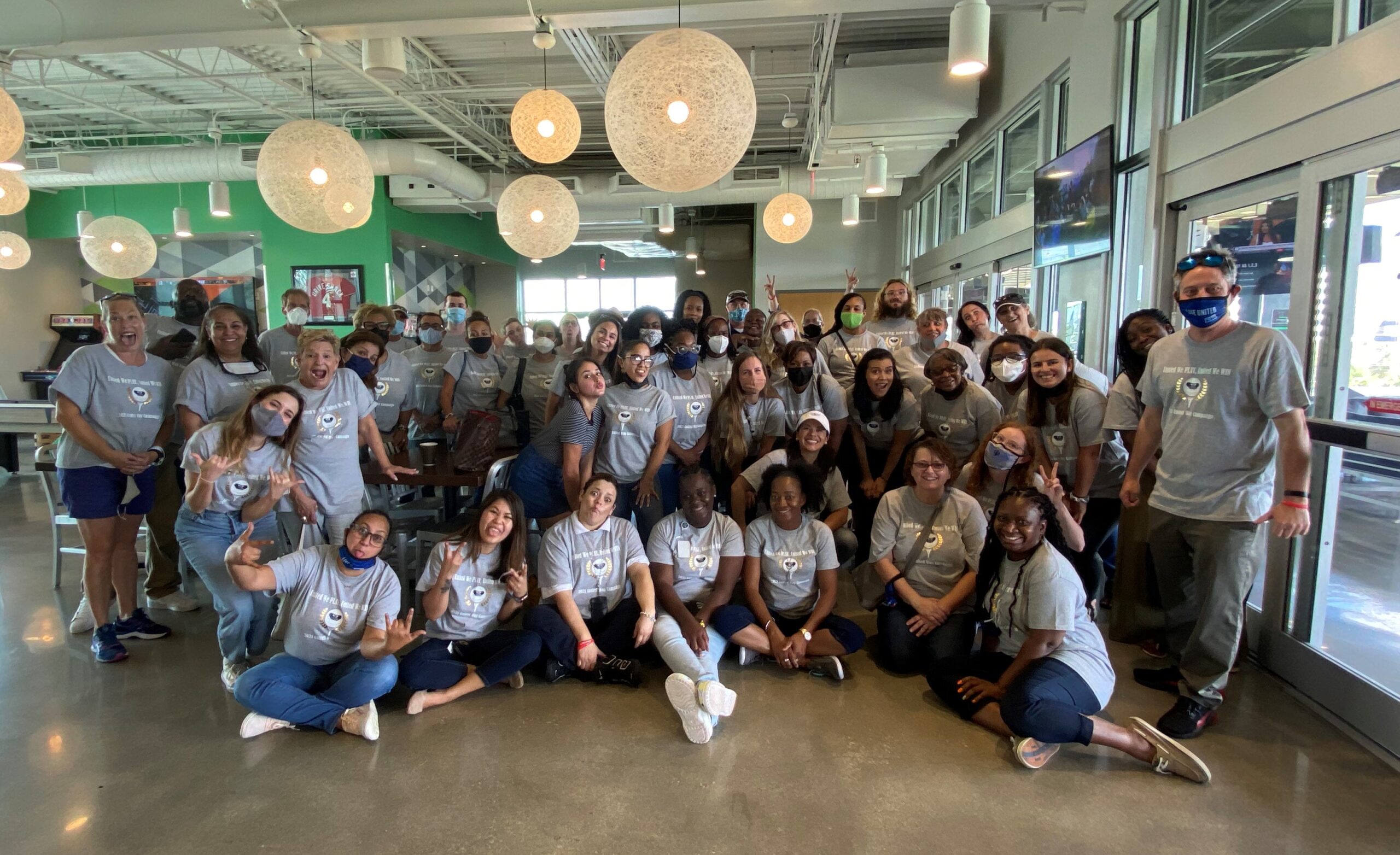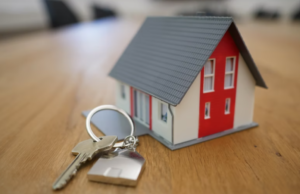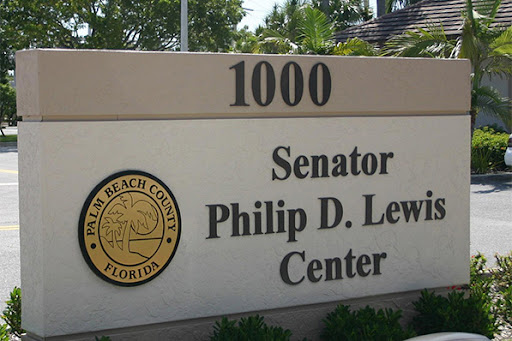 Stephen Vaughan is a Housing Specialist at Adopt-A-Family. For seven years, he has worked within the Rapid Re-Housing initiative operating out of the Senator Philip D. Lewis Homeless Resource Center.  
Stephen is unembellished and steadfast in his work. The truly affordable housing landscape is bleak, and the Rapid Re-Housing team must stay laser-focused on the market around them to catch affordable opportunities before they vanish.  
When asked how he works around the affordable housing crisis, his response was blunt:  
"You don't," he said. "You just try to provide the best service you can, and you move as fast as you can to get people housed." 
Stephen explained that the reality of the housing shortage is daunting, but finding solutions is not impossible if a person is dedicated.  
In other words, you don't avoid the housing shortage, you face it.  
The clients of Rapid Re-Housing are starkly aware of this reality.  
What We're Seeing 
In Lake Worth, the fair market rent (FMR) value of a two-bedroom housing unit is $1,300 per month. Landlords typically expect tenants to prove a 3:1 income-to-rent ratio before they agree to the rental. This means a person would need to make $3,900 each month to qualify for a two-bedroom rental. 
Suppose a single mother in Lake Worth is working a minimum wage job (Florida's minimum wage is $10/hour), and is searching for a comfortable home for her family. To afford a two-bedroom home, she would have to work 97.5 hours each week. That's 14 hours a day, seven days a week. After the commute from work, dinner, and a shower, this person may have time to get nearly 5 hours of sleep a night. A lifestyle like this would be unsustainable for any single person. Not to mention, caring for a family would be impossible.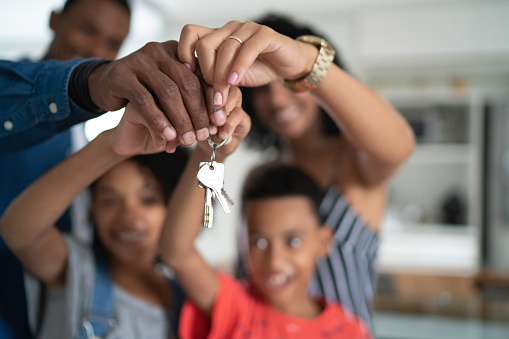 What We're Doing About It 
Many people in Palm Beach County have found themselves in scenarios like this. These stories the motivation behind every Adopt-A-Family program, including Rapid Re-Housing. The Rapid Re-Housing team is charged with the duty of housing families who have become homeless and are in immediate need of a safe and sustainable solution. The program assists an average of 125 families every year by quickly locating affordable units and offering declining rent assistance.  
Adopt-A-Family operates a broad range of programs, all of which contribute to the agency's multi-faceted approach to homelessness prevention. One AAF program, the Housing Stabilization Program (HSP), offers emergency financial assistance to renters at risk of being evicted from the units they already live in; HSP's mission is to prevent disruption to a family's living situation by stabilizing it before relocation becomes necessary.  
Additionally, Adopt-A-Family owns 120 affordable housing units at or near our Lake Worth Campus, and operates 9 major programs to strengthen at-risk families by providing stable, safe and affordable housing solutions.