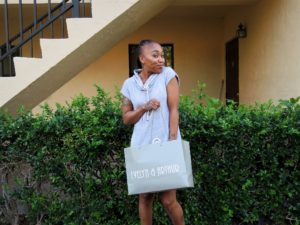 Confidence.
Joy.
Memories.
These are just a few of the words we could use to describe what Evelyn & Arthur has brought to Adopt-A-Family.  AAF  is  grateful for everything that Adrianne Weissman, President of Evelyn & Arthur, has done and continues to do for our agency  and the community at large.
On March 6th, Adrianne, along with other members of her team, came to Adopt-A-Family's property and hosted a shopping event for our clients. At first uncertain, our clients were greeted with immense respect and excitement by the Evelyn & Arthur team and soon those cautious expressions turned into ones of laughter and excitement! Seeing the sheer joy and confidence as our clients, with the high energy and assistance from the E & A team, were able to shop, try on, and take home fabulous outfits that they looked and felt amazing in! The grace and respect that the E & A team showed to all our clients and staff made for a memorable night for everyone involved.
On March 16th, Evelyn & Arthur held a special shopping experience at their Palm Beach Garden's location. They had wine and light hors d'oeuvres for customers and made sure that each customer felt welcomed and offered each individual a personal shopping experience. E & A were generous and a percentage of their sales back to Adopt-A-Family.. Adopt-A-Family sincerely thanks Adrianne Weissman and the  entire Evelyn and Arthur team. We look forward to our continued partnership with them.