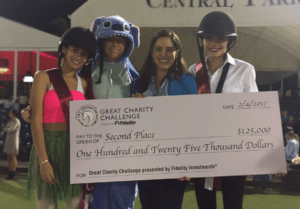 Special Announcement: Adopt-A-Family was drawn as a "Charity Wild Card" during this Saturday's Great Charity Challenge presented by Fidelity Investments, leading to a 2nd place finish!
Adopt-A-Family went from Wild Card #3 during the Great Charity Challenge (GCC)​ draw to a second place finish in this year's special competition, resulting in $125,000!
We are humbled and honored to have been selected and represented by such a talented team of riders. Special thanks to Sydney Shulman, Lilli Hymowitz, and Hannah Patten for your amazing team performance.
In addition to the special GCC results, we thank The Ziegler Family Foundation who awarded Adopt-A-Family a $5,000 grant in support of our work as a chosen charity through the Grand Prix Society.
We cannot thank the sponsors, the Winter Equestrian Festival​, our team, and all involved with the Great Charity Challenge enough for creating such a special day of philanthropic impact for Palm Beach County charities!
Special thanks to team sponsor: The Patten Family
Corporate sponsor:  H5 Stables