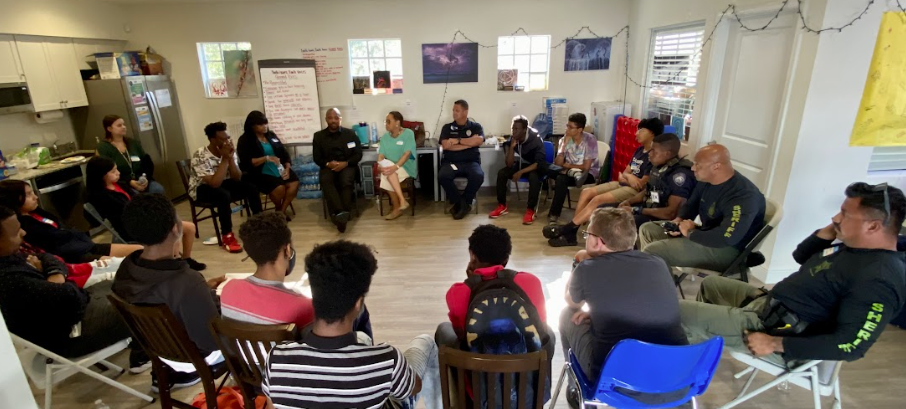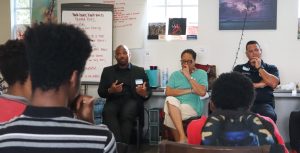 Adopt-A-Family's Youth Success Group participated in a 6-week "Youth Issues, Youth Voices" dialogue group led by Barbara Cheives of Converge & Associates. The sessions explored topics like racial and ethnic tension, violence in the community, healthy relationships, and substance abuse. Each gathering allowed students the space to openly share opinions and experiences, and brainstorm solutions to issues youth are facing today.
To conclude the 6-week course, several leaders in the local criminal justice system joined the Youth Success Group for an open conversation with the middle- and high- school students on May 11. Judge Bradley Harper, criminal prosecutor Cheo Reid, criminal defense lawyer Maegan Young, Deputy Morales, Agent Ramsey, and Palm Beach School District Police officers Morales and Nickelson shared advice, bringing valuable perspective from their years of responding to juvenile offenses.
"It's hard to see what kids like you go through in the system all because of a stupid mistake, or because you never got the help or guidance you needed," Prosecutor Reid shared with the kids.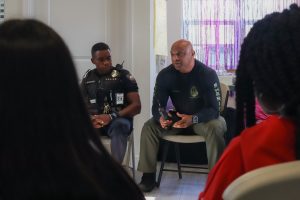 As conversation flowed, covering hot topics like social media crimes and the rising popularity of vaping, each professional took the time to share heartfelt advice and personal anecdotes.
"You need to get comfortable with being uncomfortable," Judge Harper told the students. "Every guest in this room made decisions that made them uncomfortable at some point – either it had never been done in their family before, or it was a tough road. You have opportunities coming for you, but those doors won't always be open. If you have an opportunity, take it, give it a try. When you feel buried, when you're in a dark and uncomfortable place, that's when you grow."
We thank each guest for taking the time to have this special evening with the students of our Youth Success Group, and to Ms. Cheives for her continued work within the agency.