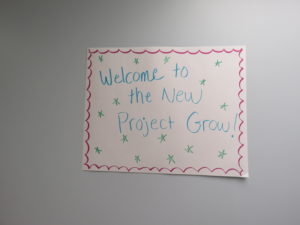 Adopt-A-Family recently completed exciting renovations to Project Grow, the agency's afterschool and out-of-school program that fosters a stable and educational environment for children in kindergarten through fifth grade.  A generous donor provided the funds to enable the agency to expand Project Grow's capacity, enhance its security, and revitalize the atmosphere.
Stuart & Shelby Development, Inc. was hired to execute the renovations and they completed the project during the morning and on weekends so that Project Grow did not have to close for a single day during construction. The team provided daily updates to Adopt-A-Family's maintenance supervisor to minimize the project's impact on agency operations.
The newly expanded classrooms will enable Project Grow teachers to implement movement-rich activities like yoga and robotics.  In addition, the renovations included vital safety and security enhancements such as adding a private, secure entrance just for parents and students and new exterior doors and locks for all classrooms. Each teacher received new, modern desks and the front reception area got a makeover as well. A fresh coat of paint brightened up the classrooms and hallways, and the children have expressed joy and pride in their new space.
We want to express our sincere gratitude to the donor who made it possible to expand Project Grow's capacity and enable the agency to work with more children in the community.  We also want to extend our thanks to Stuart & Shelby Development for their professional and efficient work. We are incredibly thankful for the individuals who made this renovation possible.
We look forward to seeing the positive impacts the updates will have on the future of Project Grow and the agency!  
During Construction:
After Construction