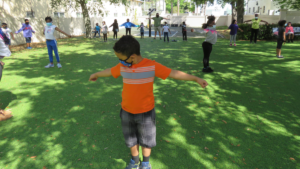 As we enter year two of the COVID-era, troubling trends have emerged among our children as a result of the necessary precautions required to protect them from infection: They are spending more time indoors in front of screens and eating snacks, and spending less time playing outdoors and engaging in physical activities.
That's why Adopt-A-Family's Project Grow after-school program has prioritized physical fitness and mental wellness as a critical component of its curriculum.
"It's really important that the kids in Project Grow have regular opportunities to move their bodies and feel the joy that comes with that movement," said Daron Morse, AAF's Director of Youth Educational Programs. "Kids need to move to be healthy and to feel happy."
In addition to hosting exercise and nutrition classes through FLIPANY, Project Grow has implemented physical education sessions for the kids.  The program recently partnered with Girls on the Run – an initiative that empowers young girls to develop a connection between physical and emotional health.
The Importance of Exercise in the Age of COVID
Social distancing and stay-at-home orders have prevented many children from playing sports or even walking the halls at school, notes this Stanford Medicine report. For so many kids, the school day begins with them rolling out of bed and sitting up in front of a laptop for class, remaining stationary for hours on end. Even children who attend school in person have had their P.E. classes and recess time limited or eliminated.
"Overall, we've seen excessive weight gain during the pandemic," said Dr. Elizabeth Shepard of Stanford Children's Health's Center for Healthy Weight. "For some kids, that puts them suddenly into the range of overweight or obesity and that can be quite detrimental to their health over the long term."
Before the onset of the pandemic, exercise was important. In this COVID-19 era, it's essential and even lifesaving.
'If You Keep Trying It, You Will Get Better'
When Palm Beach County students were off for Spring Break, Project Grow students assembled outside on the playground turf behind Adopt-A-Family's Lake Worth office one weekday afternoon.
They stood in front of volunteer PE instructor Wayne Garber, who led them through a battery of exercises, like calf raises, push-ups, and sit-ups.
As some of the students began to tire and breathe heavily, Garber, in his most pleasant tone, encouraged them, revealing why those pushups were so important.
"When you do any exercise or sport, your brain has to learn the most efficient way to talk to your muscles, so these pushups will help you develop a pathway," he said. "If you keep trying it, you will get better."
Girls on the Run, More than a Race
A few days later, volunteer instructor Ann Olberding led the very first Girls on the Run session with a group of 3rd-5th grade girls. Olberding's Delray Beach Division 6 Tennis Team generously donated running shoes, shorts, socks, and water bottles – everything they need to train for a 5k race, which concludes the program.
Olberding's mid-morning class began with journaling activities and concluded outdoors, where they stretched and started doing exercises.
"Right now, we're going to get our hearts pumping and we're going to get moving, so the first thing we're going to do is jumping jacks."
The half-circle of girls that formed around Olberding followed her fluid and easy movements, as she led them from jumping jacks to arm raises, lunges, and jumps. They ended that first session with laps around the playground, sprinting past their instructor and giggling with delight only to tire themselves out a short time later.
"We did three great laps, next week we're going to do four," Olberding said. "This is not about the race; this is all about endurance."
And it's also about providing students the right environment to implement physical fitness into their daily lives.
"Project Grow is the perfect space for supportive development in physical fitness, health, and wellness," said Morse, "The kids feel comfortable in Project Grow so they are willing to try a physical activity they may otherwise decline."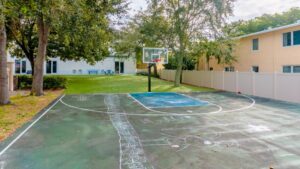 Elliott Erwitt once said this about photography's purpose: "It's about finding something interesting in an ordinary place… I've found it has little to do with the things you see and everything to do with the way you see them."
On a Sunday in January, Bryson Moberley spent the afternoon snapping photos of Adopt-A-Family buildings and spaces, either endowing his shots with vibrant color or allowing natural light to do the work.
Bryson's photos exemplify Erwitt's famous quote. Have a look!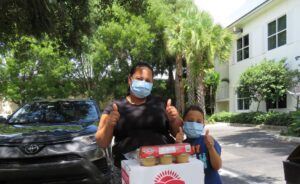 Covid-19 may have significantly altered life as we know it, but it could not stop Project Grow. When the pandemic caused Adopt-A-Family to go remote, it meant that Grow staff could no longer see students face-to-face. However, the staff was determined to find creative ways to consistently invest in the lives of their kids.
Throughout the spring and summer, staff members pursued alternative means to provide the crucial wraparound services their kindergarten through fifth-grade students needed.  For the program's students, who are formerly homeless and come from low-income backgrounds, delivering services that are proven, nuanced, and student-centered is of the utmost importance.
"Project Grow is working on building trust between the kids and the program and the people in it," said Daron Morse, Director of Youth Educational Programs for Adopt-A-Family. "A consistent external support system is very helpful to them."
Project Grow maintained contact with parents even when in-person interaction was untenable and discovered that an overwhelming majority experienced COVID-19-related job loss and food insecurity.
With summer approaching and pandemic-related summer camp closures mounting in the area, Adopt-A-Family recognized the importance of keeping the students engaged. In response, they designed a dynamic virtual summer camp.
Thanks to a generous program supporter, all 37 Project Grow families were provided with a new Chromebook so students could access online sessions.
While most virtual camps rely on prerecorded content, Project Grow upped the ante by designing a curriculum that featured live academic sessions and activities to foster student engagement.
Students took math and science classes and participated in poetry and art workshops. They also learned yoga, ballet, and computer coding.  Nature and wildlife sessions were provided by the Palm Beach Zoo, Florida Fishing Academy, and Gumbo Limbo.
Through it all, staff members wore many hats. Not only did they teach academic lessons, but they also administered technical assistance to parents and offered emotional support to the children. To help families experiencing job loss, Project Grow connected parents to job resources and opportunities for temporary financial assistance.
On Fridays, Project Grow staff handed out donated gourmet meals, snacks, toys, school supplies, and encouragement to students and parents while respecting social distancing protocols.
It was on those Fridays that teachers got to see their students face-to-face, which resulted in jubilant greetings and smiles. One Friday in July, 4th and 5th grade teacher Mr. Evan greeted a student named Jonathan and gave him some snacks and his mother a box of food.
The multitude of challenges posed by the pandemic revealed Project Grow's malleability, innovation, and attentiveness in how it serves its students.
When the Palm Beach County School Board voted to postpone the start of the school year in late July, Project Grow extended its summer camp for four more weeks to ensure student enrichment was fostered until the first day of school.
"We don't want a gap to occur where the kids lose practice in engaging with their peers and teachers, Ms. Daron said. "That's a big step in a kid's development."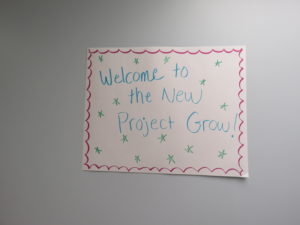 Adopt-A-Family recently completed exciting renovations to Project Grow, the agency's afterschool and out-of-school program that fosters a stable and educational environment for children in kindergarten through fifth grade.  A generous donor provided the funds to enable the agency to expand Project Grow's capacity, enhance its security, and revitalize the atmosphere.
Stuart & Shelby Development, Inc. was hired to execute the renovations and they completed the project during the morning and on weekends so that Project Grow did not have to close for a single day during construction. The team provided daily updates to Adopt-A-Family's maintenance supervisor to minimize the project's impact on agency operations.
The newly expanded classrooms will enable Project Grow teachers to implement movement-rich activities like yoga and robotics.  In addition, the renovations included vital safety and security enhancements such as adding a private, secure entrance just for parents and students and new exterior doors and locks for all classrooms. Each teacher received new, modern desks and the front reception area got a makeover as well. A fresh coat of paint brightened up the classrooms and hallways, and the children have expressed joy and pride in their new space.
We want to express our sincere gratitude to the donor who made it possible to expand Project Grow's capacity and enable the agency to work with more children in the community.  We also want to extend our thanks to Stuart & Shelby Development for their professional and efficient work. We are incredibly thankful for the individuals who made this renovation possible.
We look forward to seeing the positive impacts the updates will have on the future of Project Grow and the agency!  
During Construction:
After Construction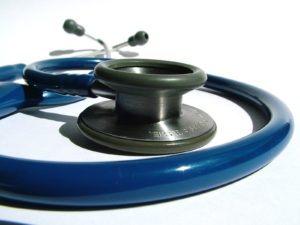 When Erlande, a Project Grow alum, speaks about her future, her eyes brighten with enthusiasm.
"I know I want to work with neo-natal infants because it's the most meaningful way I could give back to others," she shared. "I don't want to sound too cliché, but when you grow up around nothing but crisis and hurt—it only makes sense to find something that can impact others in a powerful way."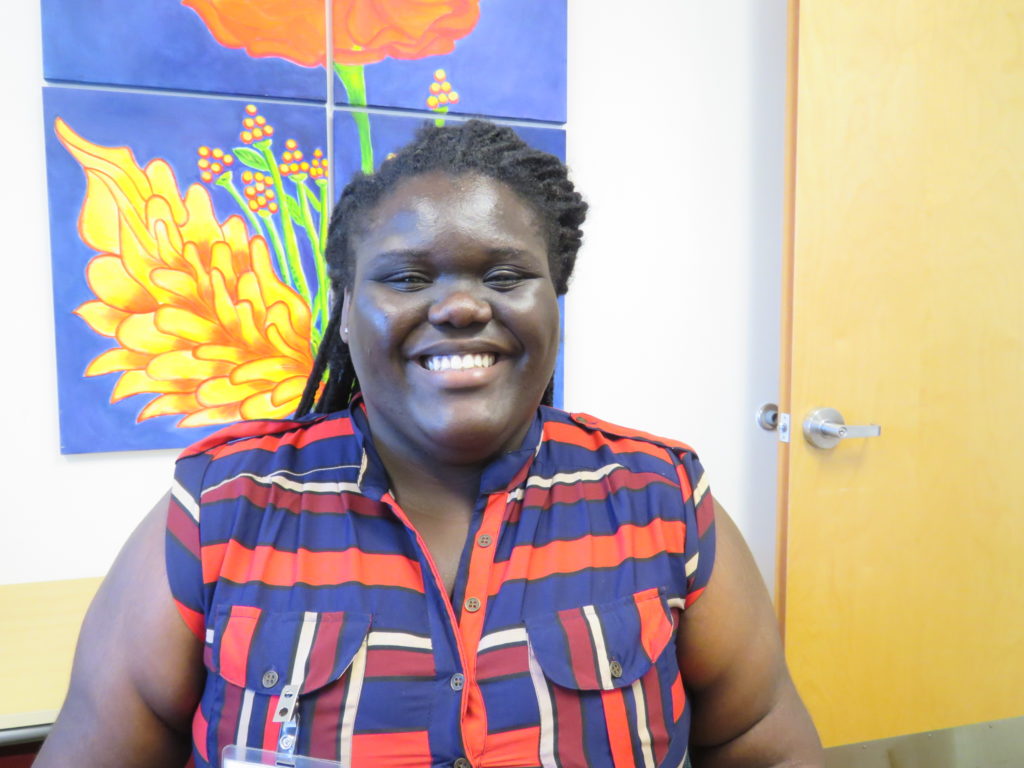 Now a senior in High School,  Erlande was visiting Adopt-A-Family as she preparing for her adventure into college. While here, she shared the amazing life accomplishments she experienced since her time in Project Grow.
Erlande came to AAF as a young child, uncertain and worried, reaming closed off to staff and the other kids in the program. That all changed though, with the support from teachers, newly made friends in the program and the on-site mental health counselor.  "When Erlande first started the program, she was really shy and spoke in such a quiet tone," shared Daron Morse, Project Grow's Director of Educational Programs. "Over the years, her confidence began to build more and her voice grew along with it."
After Project Grow, Erlande became focused on improving her mental health by participating in counseling and becoming involved in the community—healthy coping strategies that Erlande credits with eliminating frustration and anger management challenges she struggled with throughout childhood.
While sharing her excitement to AAF staff during her visit, she couldn't help but express her gratitude for Project Grow, a program that helped shape her childhood and formative years for the better.
"Project Grow was my childhood," shared Erlande with a smile. "Everything I remember about my youth revolved around this program—from the singing and activities, to learning how to cope with challenges at home, Project Grow meant everything to me at a very difficult time in my life. I knew I could always come here no matter the crises I frequently faced in my home environment.  The program taught me how to treat people with respect and humility; qualities that helped me excel in the healthcare career I began working toward early in my high school years. I remember volunteering with the nursing home across from Adopt-A-Family and applying everything I learned during my Project Grow years on a daily basis. To work in the healthcare field, you need to have a lot of compassion and patience; both are qualities I don't think I could have refined without my time in Grow."
Once she graduated out of Project Grow,  Erlande became focused on improving her mental health by participating in counseling and becoming involved in the community—healthy coping strategies that
Erlande credits with eliminating frustration and anger management challenges she struggled with throughout childhood.
"I knew I could always come here (Project Grow) no matter the crises I frequently faced in my home environment.  The program taught me how to treat people with respect and humility; qualities that helped me excel in the healthcare career I began working toward early in my high school years."
As a busy high school senior, community volunteer, and Medicana employee, Erlande also successfully earned her Certified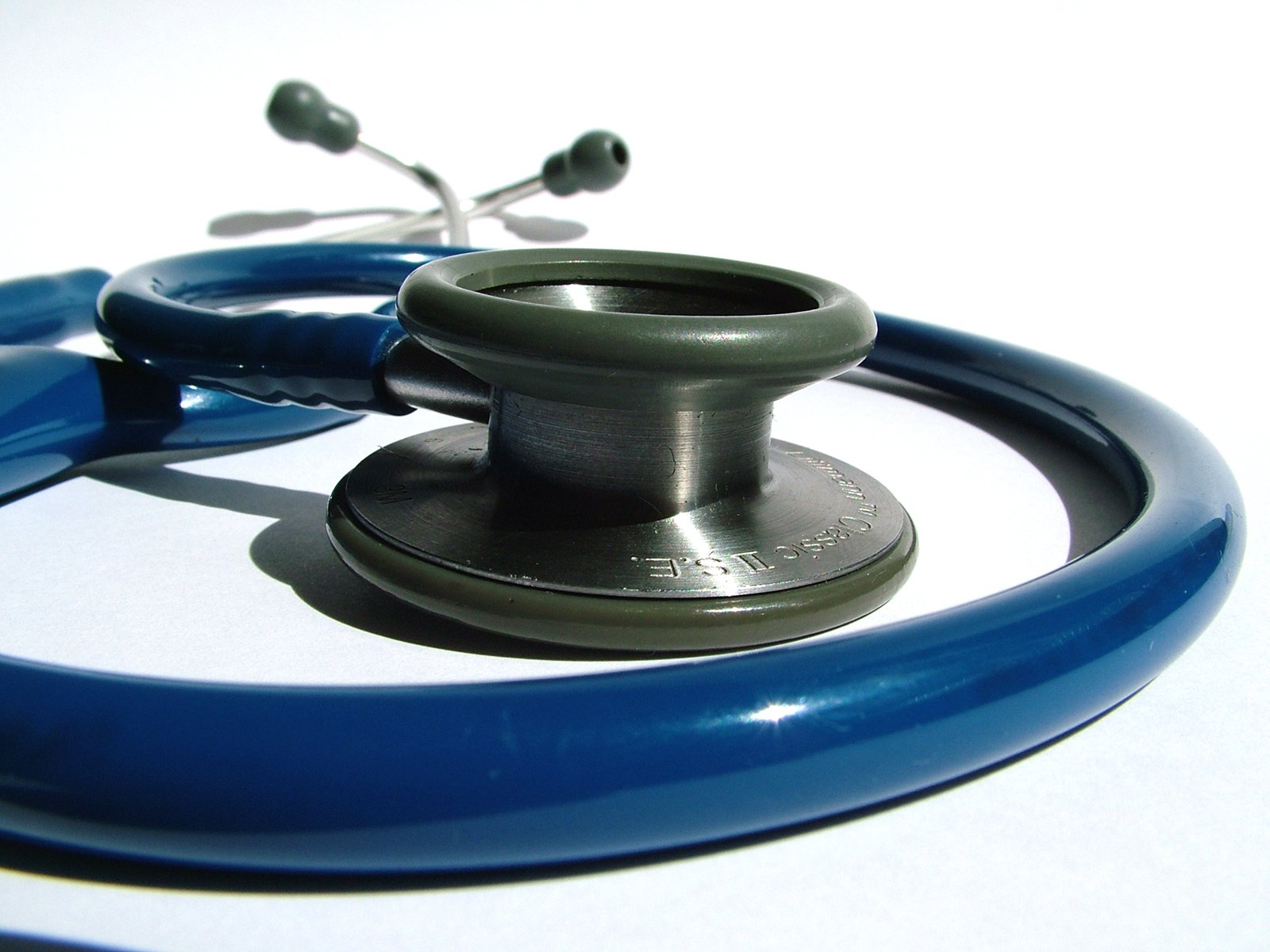 Nursing Assistant (CNA), EKG tech, and Medical Assistant licenses through a rigorous program offered through her high school. Erlande's resilience, academic and professional success, and commitment to community volunteerism caught the eyes of two local patrons of Bethesda-by-the-Sea Episcopal Church, who became significant mentors in her life. Soon afterward, Erlande was honored with a tuition-scholarship from Bethesda-by-the-Sea in addition to significant scholarship support from Florida State University and other private scholarship providers!  She planned to pursue a degree in nursing with hopes of someday working in a neo-natal intensive care unit.
Even after sharing her many successes, Erlande has one focus on her mind—how she can impact her hometown.
"Project Grow and Lake Worth had a GIGANTIC impact on my childhood," said Erlande in closing. "Lake Worth is where I was born and raised, however, you always want to become someone better than you grew up around. Even though I've gone through things that were so difficult and hurtful, I see myself back here in ten years giving back to this community (hopefully as a neo-natal intensive care nurse)."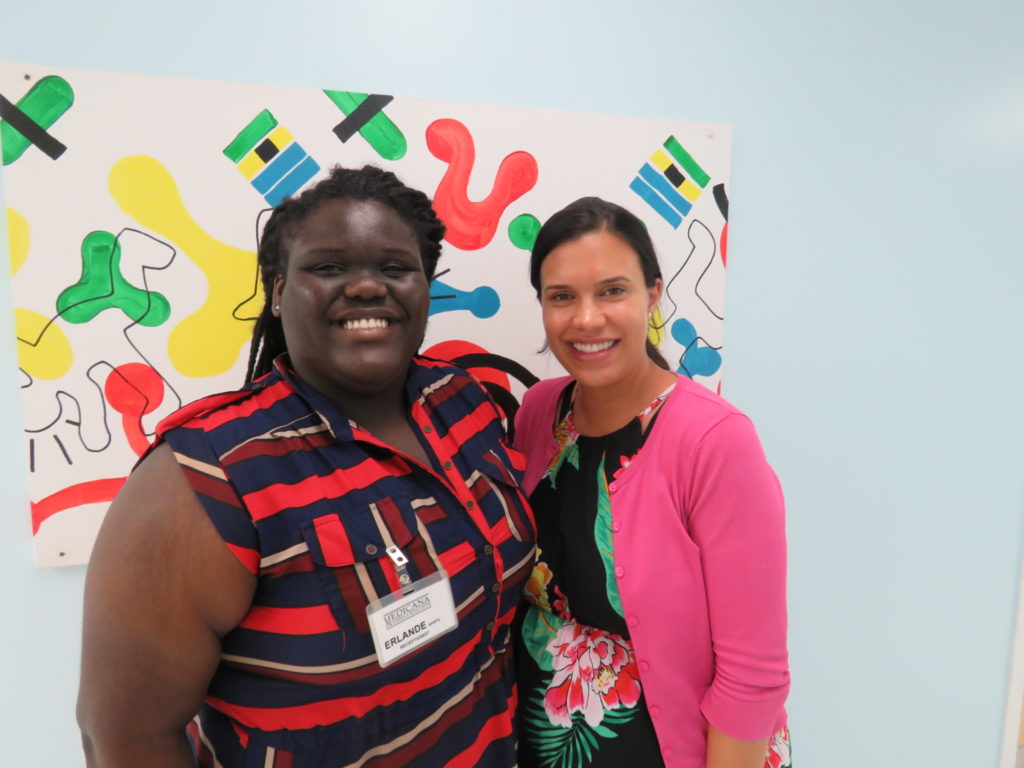 We congratulate Erlande and wish her well on her incredible journey forward!