Out of Reach 2019 Report
The National Low-Income Housing Coalition recently released its 2019 Out of Reach report which reveals startling statistics on the current state of affordable housing throughout the country. Out of Reach documents the significant and growing gap between renters' wages and the cost of housing in every county and state in America.  The report breaks down the average hourly wage a full-time worker must earn to afford a modest rental without spending more than 30% of their annual income.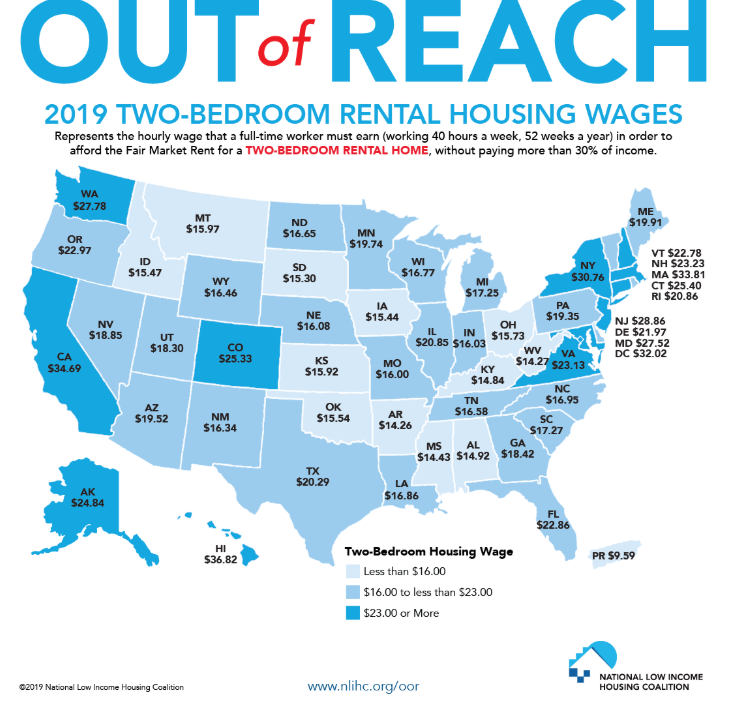 The Out of Reach report states that there is not a single county or metropolitan area in Florida where an individual working a full-time, minimum wage job can afford a simple 2-bedroom apartment. On average, they would need to work 108 hours per week or have 2.7 full-time minimum wage jobs to afford a decent place to live.  Coupled with the rising costs of food, childcare, and transportation, low-income families often find themselves having to make the impossible decision between paying rent and buying food or seeking medical care.

With Palm Beach County being the 3rd most expensive county in Florida and West Palm Beach-Boca Raton being the 2nd most expensive metropolitan area in Florida, drastic changes are needed to decrease the disparity between wages and housing costs.  The Out of Reach report states that Fair Market Rent in Palm Beach County is $1434 per month for a 2-bedroom apartment which would require a single parent to earn $27.58 to afford and maintain stable housing.
Every day, Adopt-A-Family works to combat the affordable housing crisis in Palm Beach County and equip low-income families with the tools they need to become stable and self-sufficient in the midst of a rental landscape that is stacked against them. The agency's efforts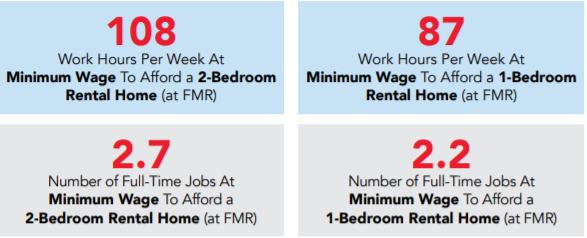 include:
51 units of housing for homeless Palm Beach County families
55 units of affordable rentals for low-income Palm Beach County families
Financial assistance to prevent eviction for low-income families experiencing a crisis
A new housing project that will provide 14 units of housing reserved for unstably housed students at Highland Elementary School in Lake Worth, Florida
Case management, financial literacy classes, credit repair services, budget counseling, first-time home buyer education, mental health services, and linkage to support services to enable families to become self-sufficient.
Read more 2019 Out of Reach report here.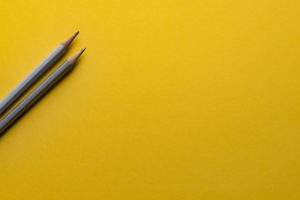 It is well documented that children's educational and social outcomes improve when their parents are engaged in their academic experience.  Parent involvement is even more critical for very low-income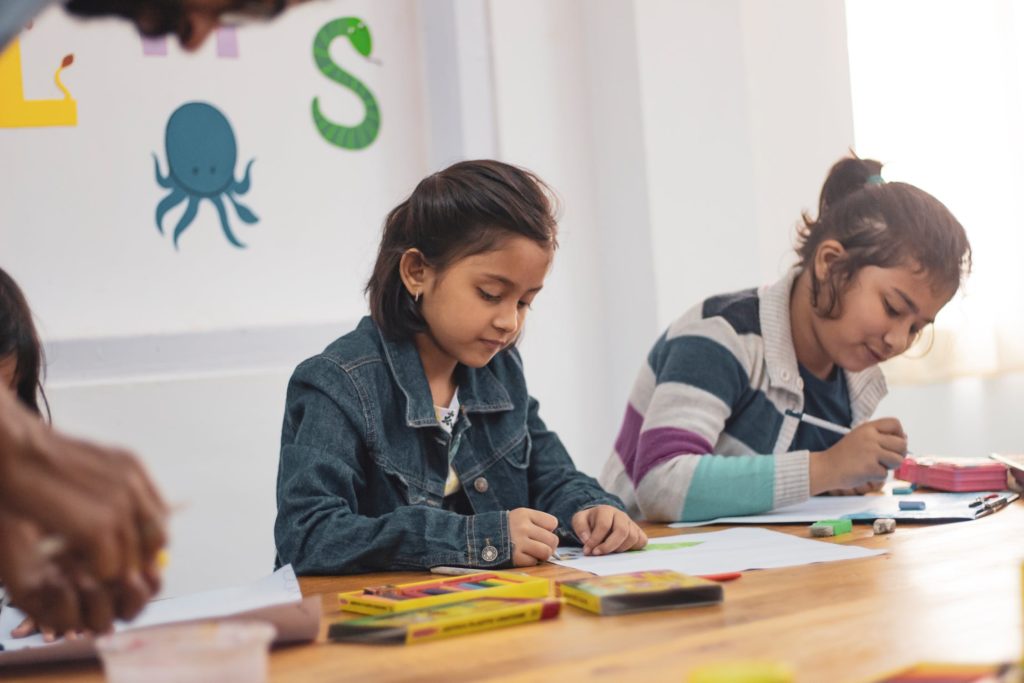 children who often have to overcome additional obstacles including under-resourced schools and stressful environments.  Studies show that low-income parents want to be involved in their children's education, but language, transportation, cultural, and employment barriers make it very challenging.
One of the Agency's core programs, Project Grow is an afterschool and out-of-school program which fosters a stable and educational environment for children in kindergarten through fifth grade. At Adopt-A-Family, Project Grow provides an Academic Advisor to eliminate some of these barriers by acting as a liaison between parents and the school. The program is customized to meet the unique challenges of 60 formerly homeless and low-income students from Adopt-A-Family housing programs and the surrounding community.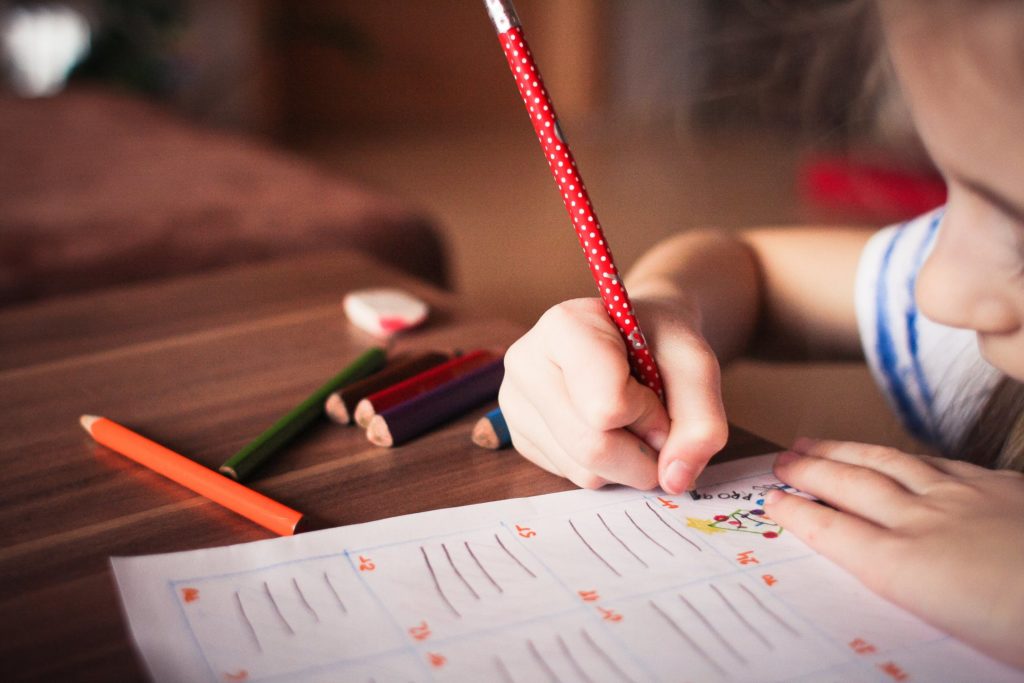 Project Grow teachers work with the children's parent to ensure parental involvement and encourage parent/children engagement. The mission of Project Grow is to provide a safe, stable environment for low-income, formerly homeless children in which to learn.
Click the link below to read an article from How Housing Matters to learn more about the structural barriers preventing low-income parents from engaging in their children's education, and the ways in which the community can come together to accommodate parents who have a desire to support their children in the classroom.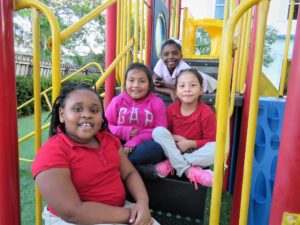 Sandy first came to Project Grow scared and heartbroken. Her father had tragically passed away and with him, the sense of stability of their home and livelihood.  Her mother worked incredibly hard to support her family and Sandy was grateful for that, and even though her mother did everything she could possibly do, they still had a very low income and struggled to get by.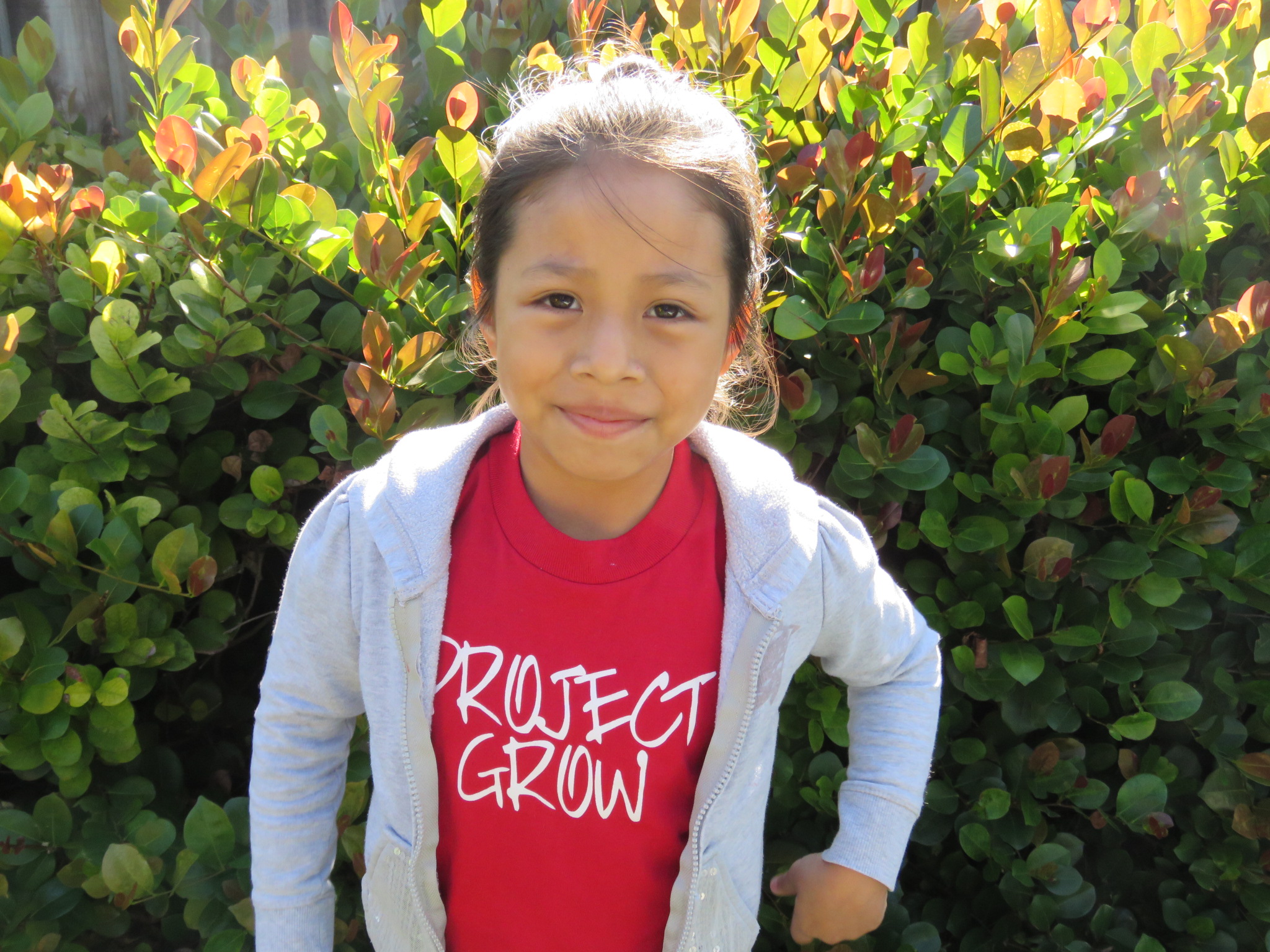 English was Sandy's second language and her mother spoke very limited English. Sandy did the best she could, but it made it extremely difficult for her to understand her homework, make friends and feel any sense of self-confidence. In addition to educational challenges, Sandy  suffered from significant dental issues, but due to her family's lack of insurance coverage, those issues went untreated. She was a very picky eater but loved candy, which exacerbated her dental problems. Sandy missed school often as a result of feeling ill.  
"Sandy did the best she could, but it made it extremely difficult for her to understand her homework make friends and feel any sense of self-confidence"
Sandy started attending Adopt-A-Family's Project Grow and immediately began receiving academic services, including literacy tutoring from Literacy AmeriCorps members and one-on-one tutoring in all subject areas with Grow's school District of Palm Beach County's tutor. Sandy also started seeing Adopt-A-Family's on-site counselor to process the loss of her father.  She expressed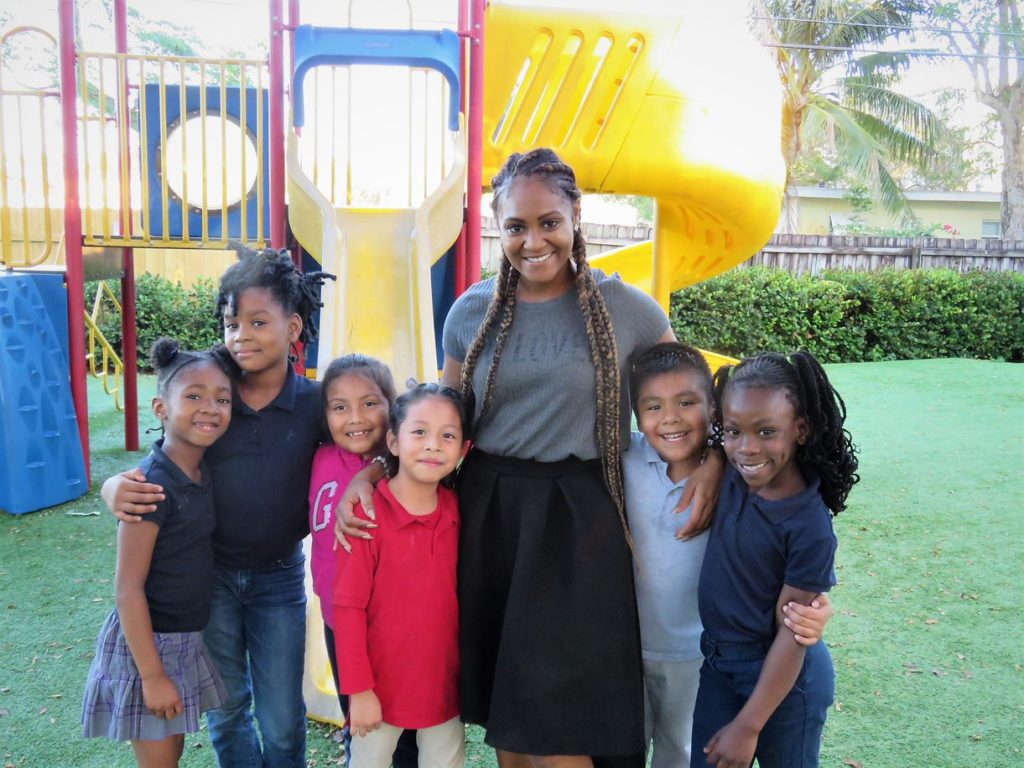 that she was afraid to see a dentist so Project Grow staff talked to Sandy about the importance of proper hygiene and regular dental visits for her overall health.  After participating in the "Grow it, Try It, Like It" nutrition classes at Project Grow, she learned that she could substitute fruit for candy. Adopt-A-Family was able to connect Sandy's mother to dental and health services for her family and Sandy has since received the dental treatment she needed.  
Sandy had a hard time easing into the program at first; she would cry almost every day, struggled with her reading and was
extremely shy and hesitant to participate in class. The amazing teachers, tutors and staff refused to give up on her though, and diligently worked alongside her and regularly met with Sandy's mother to better support her academic and personal growth.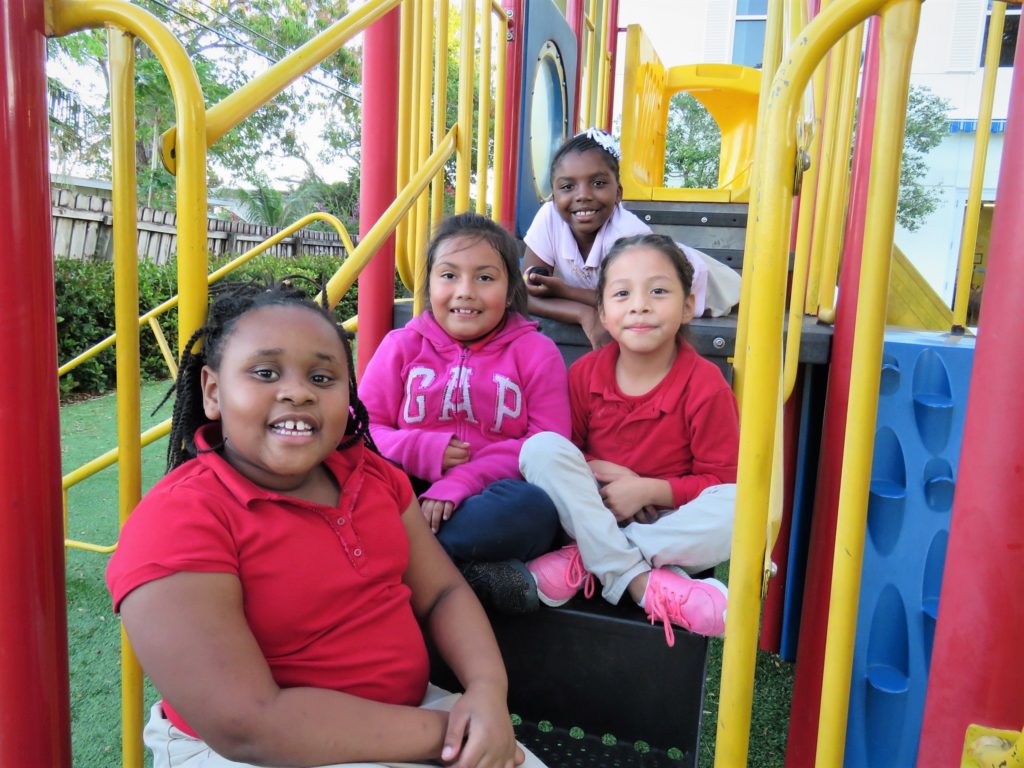 Sandy is now in 1st grade and has become a bright, outgoing young girl. She is absent from school much less often and has even become a leader in her Project Grow classroom. Her reading skills have improved as a result of the tutoring services she has received, her dental and overall health has improved significantly and she has gained immense self-confidence.  Sandy enjoys participating in science experiments in her Project Grow classroom and dreams of one day becoming a police officer.  
Do you want to be a part of Sandy's story and other's like her? Consider donating today and your gift will go directly to Project Grow and the impact the program has on children's lives every single day.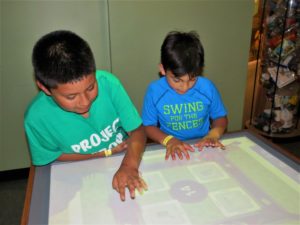 Project GROW Summer Camp Memories
It was an incredible Summer at Project Grow, Adopt-A-Family's afterschool and summer camp program for homeless and low-income elementary school students. We owe a special thanks to The Episcopal Church of Bethesda-By-the-Sea who generously provided fund support to enrich the summer camp activities and trips, leading the way to exploration and continued learning for all of our students. Thanks to Project Grow supporters, campers went on more than a dozen field trips and had special visitors conduct workshops and activities on-site.  
Here are our favorite highlights:  
Fort Lauderdale Museum of Discovery and Science:
A student favorite every summer is off-site field trips. The Fort Lauderdale Museum of Discovery and Science offers hundreds of interactive exhibits. Visitors can see exciting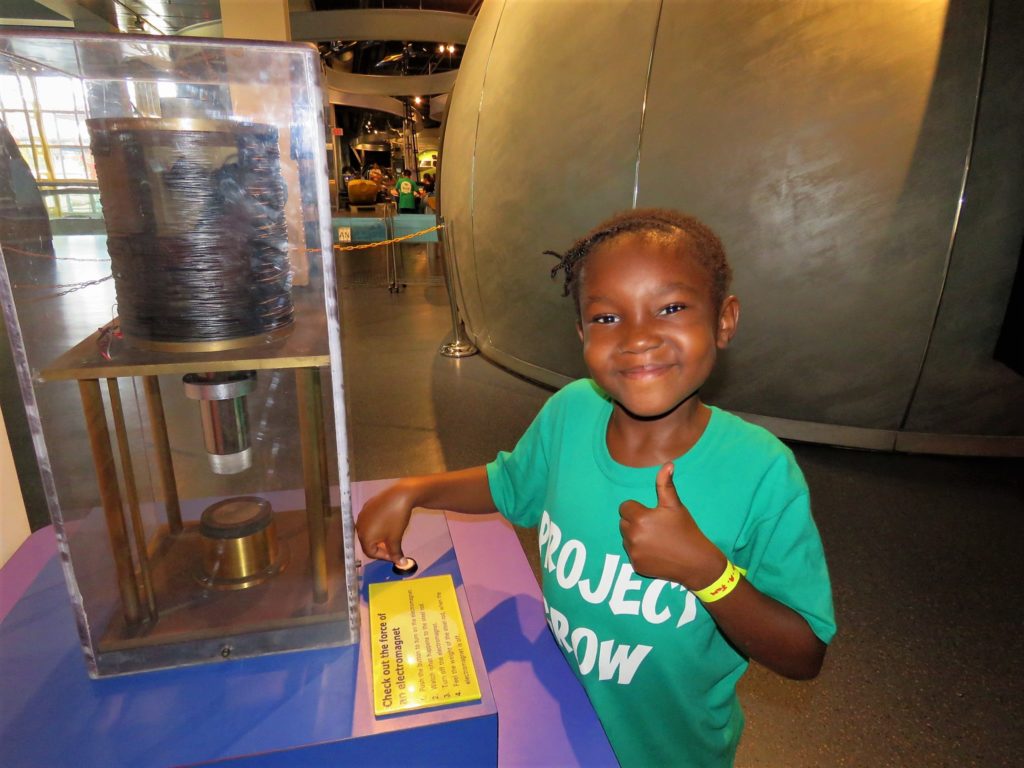 science demonstrations and presentations by community experts.  
All of the Project Grow students attended the field trip and were able to take in a showing of "Backyard Wilderness" which explores the natural ecosystem of a typical family's backyard on the museum's famous iMAX theatre screen. They were also able to do a mock TV News broadcast (we think there may be some future newscasters in the bunch!) Their minds were opened to the incredible work that paleontologists and meteorologists do, and they even took a ride on an everglade's airboat simulator!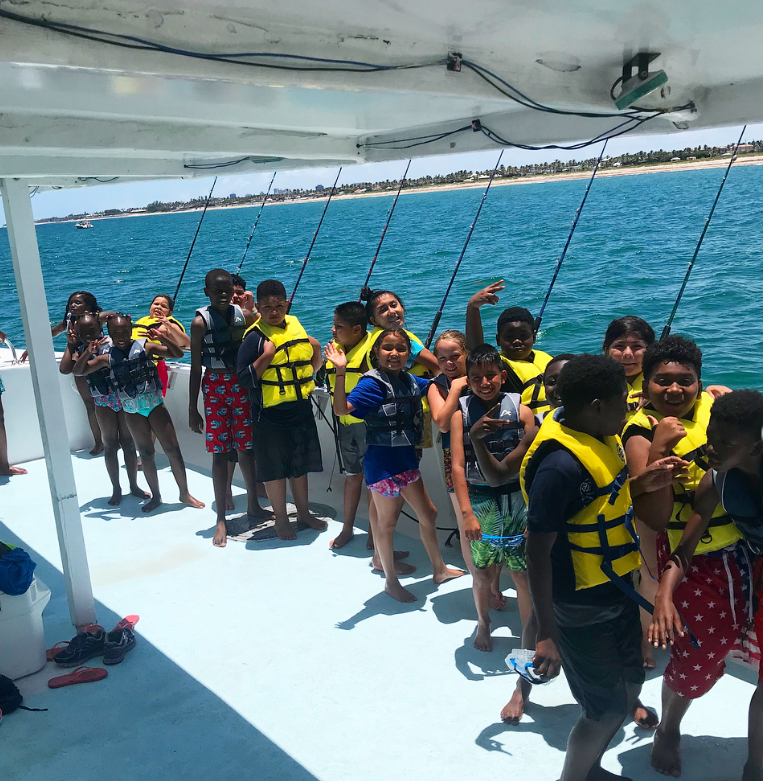 Florida Fishing Academy: 
Florida Fishing Academy took students out on the open ocean for a very special deep sea fishing experience. Using their newly gained knowledge from classes that Florida  Fishing Academy held for the them over the summer, students enjoyed the salty air and sunshine, jumped into the cool ocean waters, and fished for deep sea critters (they were even able to bring back their catch!) For many of the students, it was their first time on a boat and on the ocean, making for a memorable trip.  
 Frost Museum: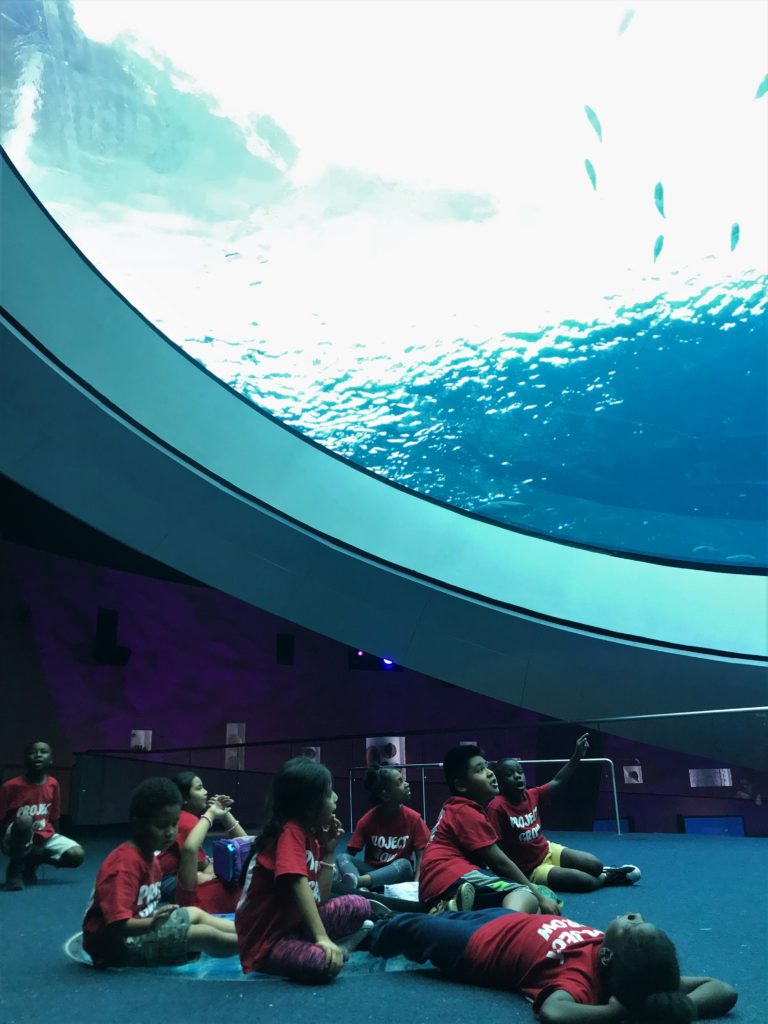 The highlight of our students summer camp experience was their visit to the brand-new Phillip and Patricia Frost Museum of Science in Miami. The Frost Science Museum is dedicated to sharing the power of science to its visitors.  
Every grade level of the Project Grow students enjoyed the 2-hour drive, their minds racing with excitement and curiosity of this new adventure. They excitedly explored each of the floors of the 3-level aquarium, which includes a 31-foot oculus! The students rested underneath it as they observed large fish soar overhead.   
Their imaginations were heightened when they viewed other exhibits including "Feathers to Stars" where they learned all about flight. They also viewed the "Me Lab" and learned how their body works and the different systems within it, as well as the "DaVinci Inventions" and much more.  
These trips and activities allowed students to explore places and experience things for the very first time. Thank you again to all who ensured our students and campers thrived during the summer months, when opportunities to learn would be minimal without the structure and enrichment of Project Grow.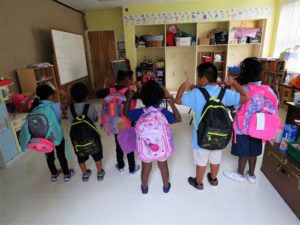 Adopt-A-Family's relationship with TJ Maxx began in 2015 when they put on a "TJ Maxx Fun Day" for our Project Grow afterschool program students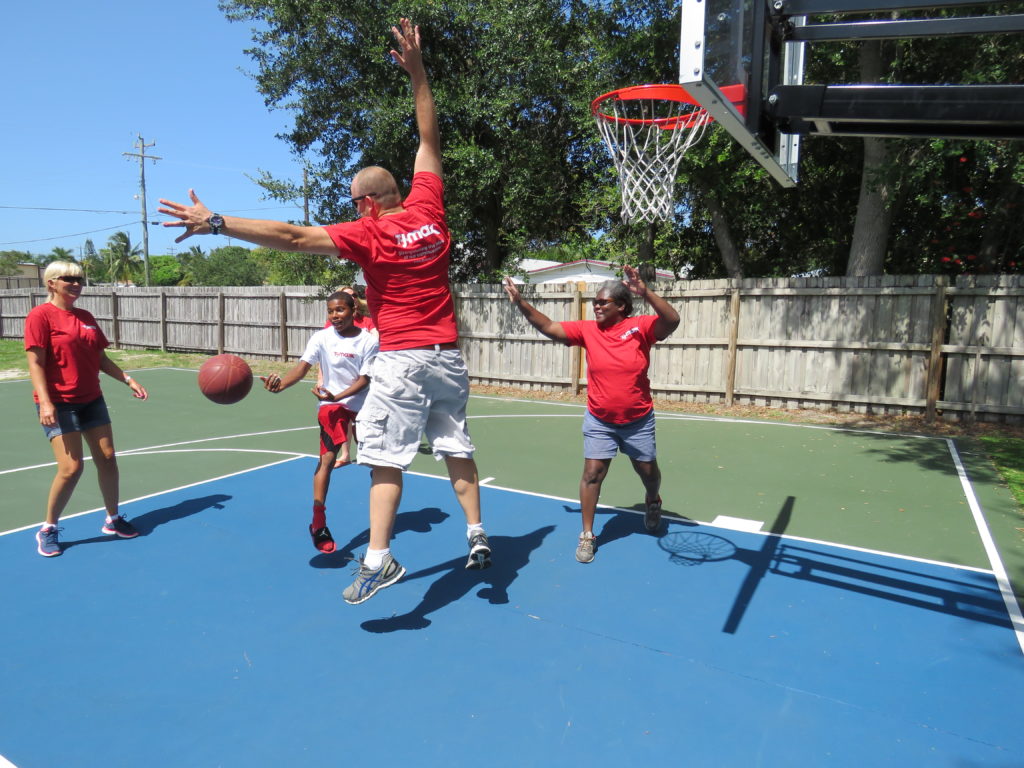 on the Grow playground. They brought every child a backpack and t-shirt, played outdoor activities, and got to know the students and staff. Everyone had such a blast that they came back the following year and held a "TJ Maxx Fun Day" again!
Since then, they have "adopted" us in many ways.
TJ Maxx has provided grant support of our  Housing Stabilization Program (HSP) which provides rent and utility assistance for families on the verge of homelessness.
Since 2015, they have donated more than 60 turkeys to our families to ensure that they all have a special Thanksgiving.
 They provided more than 50 children books for the agency to use as the beautiful centerpieces at our 2017 Tree Lighting event, which are remembered as one of the most popular centerpieces in the event's history.   
Each new school year, TJ Maxx provides Project Grow students with backpacks, school supplies, and clothing; a huge financial relief for a lot of the families of our students. 
Thank you, TJ Maxx for all you do to support Adopt-A-Family and the families that we serve. Click To Tweet

We want to share some exciting news with the Adopt-A-Family community. Adopt-A-Family is proud to report that we received our 12th consecutive 4-star rating from Charity Navigator.
With more than 1.5 million American charities, Charity Navigator aims to accentuate the work of efficient and transparent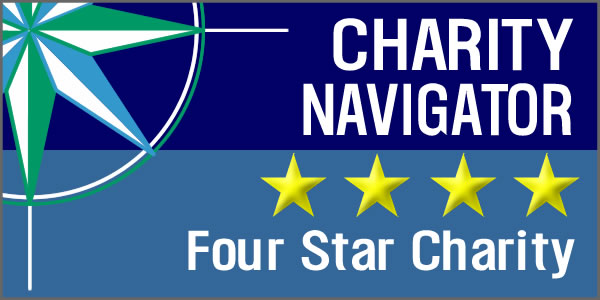 organizations. The intent of our work is to provide donors with essential information to give them greater confidence in both the charitable decisions that they make and the nonprofit sector. Forbes, Business Week, and Kiplinger's Financial Magazine, among others, have boasted on Charity Navigator's unique method of applying data-driven analysis to the charitable sector. By evaluating ten times more charities than their nearest competitor leads the way for Charity Navigator to be the leading charity evaluator in America.
"Only 1% of the charities we evaluate have received at least 12 consecutive 4-star evaluations, indicating that Adopt-A-Family outperforms most other charities in America."
In the updated rating letter to the agency, Michael Thatcher (President and CEO of Charity Navigator) writes; "Attaining a 4-star rating verifies that Adopt-A-Family exceeds industry standards and outperforms most charities in your area of work. Only 1% of the charities we evaluate have received at least 12 consecutive 4-star evaluations, indicating that Adopt-A-Family outperforms most other charities in America. This exceptional designation from Charity Navigator sets Adopt-A-Family apart from its peers and demonstrates to the public its trustworthiness."
None of this would be possible without the support and generous investment of our donors, funders, and board of directors. We are extremely grateful for this recognition, but even more so, we are thankful for the privilege to serve the families in our community every single day.
Thank you again for all that you do to support Adopt-A-Family's mission.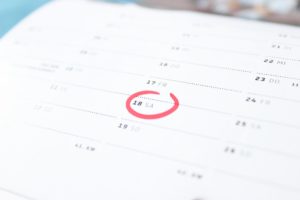 5 Tips for Fundraising with Adopt-A-Family 
Looking to raise money for Adopt-A-Family but not quite sure how to get started? Consider hosting a fundraising event!
Did you know that 80% of Americans believe it's essential for people to come together in order to promote positive change–regardless of age, gender, income, or geography?
Fundraising events can make a big impact when advocating and spreading awareness for a good cause– like Adopt-A-Family! Each day, we're working toward our mission to strengthen families with children in their efforts to achieve stability and self-sufficiency. By providing access to all-encompassing services for our families, we're holding true to our withstanding vision of being leaders in "helping families help themselves."
At Adopt-A-Family, we encourage our supporters to take action and give aid to our organization. With your help, we can reach our full potential! Fundraisers are a great way to get involved in our organization (and they're fun too)! Here are a few important factors to keep in mind when planning your event!
1. Set a Goal
The foundation of hosting a successful event is understanding its overall purpose and goals. Are you seeking to bring in donations, or simply to spread awareness? If you're after financial gain, start there. How much money do you wish to make, or even need to make in order to turn a profit? Ensure that all your objectives, no matter how easily attainable, have measurable targets. Registering your event through an online ticketing platform can allow you to track real-time sponsorships and donations! Analyzing your success is crucial to indicating changes to make in the future.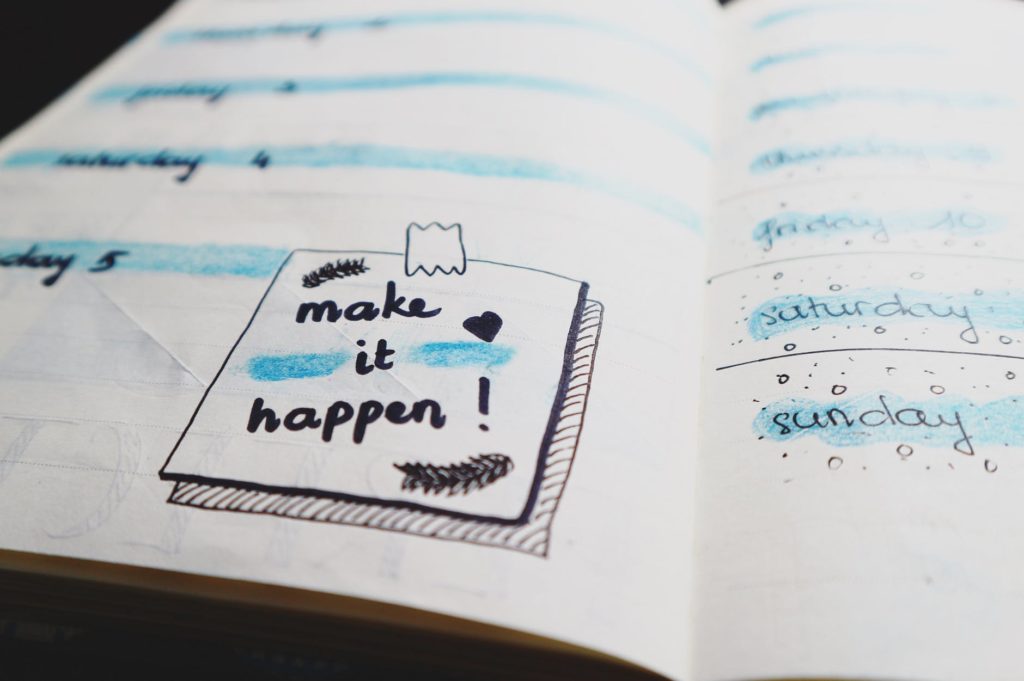 2. Create a Budget
Creating (and sticking to!) a budget can be one of the most stressful components of event planning, especially when fundraising for a nonprofit. When all is said and done, you want to be left with funds to donate to your cause! Establish a rough budget as soon as you begin event planning, and be sure to document all your costs through a spreadsheet. Even your smallest costs can add up to more than you may intend, so be sure to leave room in your budget for the unpredictable!
3. Host Your Event in Collaboration With an Upcoming Celebration
One of the most simple ways to host a fundraising event is to schedule it in tandem with a personal celebration! Requesting attendees' "presence" instead of presents is becoming a popular trend in children's birthday parties and holiday celebrations. Is your birthday, wedding, or anniversary right around the corner? Ask friends and family to donate to a meaningful organization (like Adopt-A-Family!) rather than giving gifts. Not only is this an effective way to fundraise, but it also reminds others to be charitable in their daily lives.
4. Choose a Unique Theme 
It's important to remember that when planning a fundraiser, your guests are excited to contribute to a good cause, but they're more excited to have a great time! Select a fun theme that will motivate others to both attend and donate. Make sure your event is unique, exciting, and in line with your cause or organization. From trivia nights to neighborhood street parties, the options are truly endless!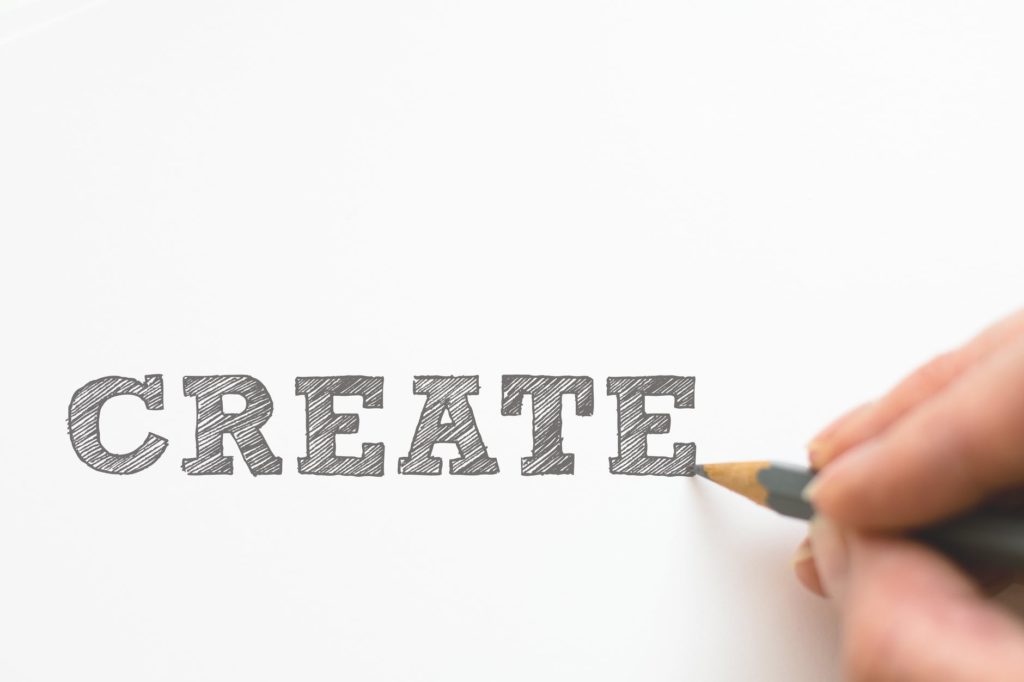 If you don't have the time to host your own event, that's fine! At Adopt-A-Family, we're constantly hosting special events to raise money. Be sure to check out our events calendar .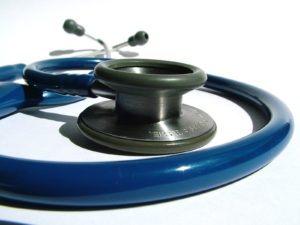 When Erlande, a Project Grow alum, speaks about her future, her eyes brighten with enthusiasm.
"I know I want to work with neo-natal infants because it's the most meaningful way I could give back to others," she shared. "I don't want to sound too cliché, but when you grow up around nothing but crisis and hurt—it only makes sense to find something that can impact others in a powerful way."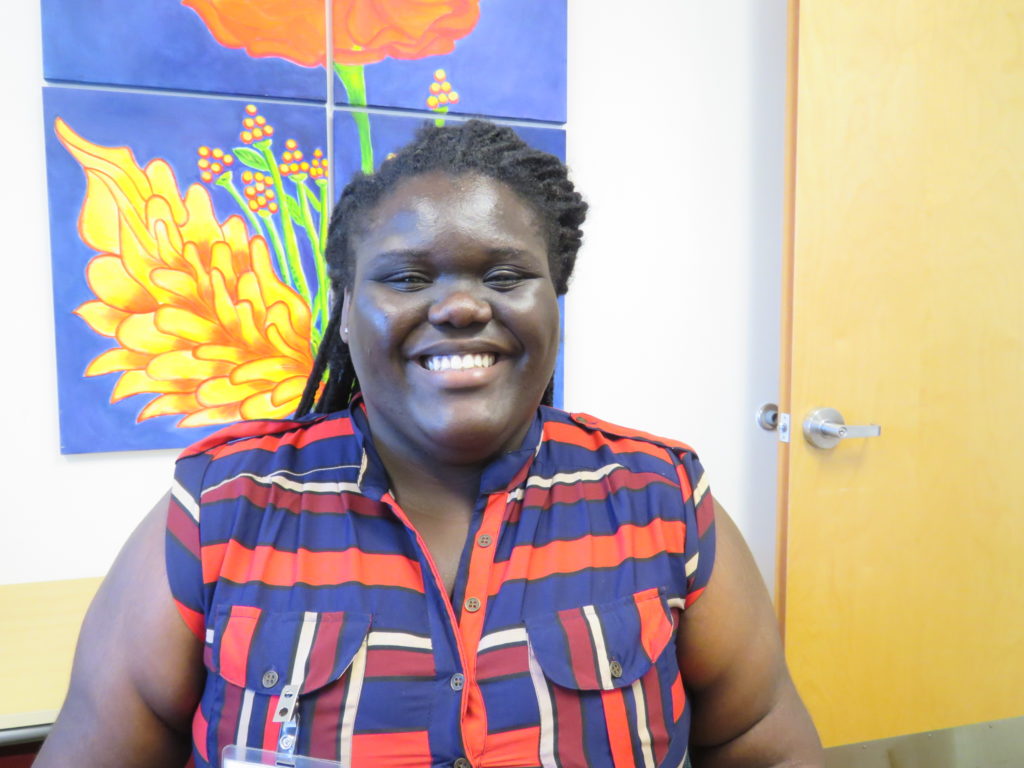 Now a senior in High School,  Erlande was visiting Adopt-A-Family as she preparing for her adventure into college. While here, she shared the amazing life accomplishments she experienced since her time in Project Grow.
Erlande came to AAF as a young child, uncertain and worried, reaming closed off to staff and the other kids in the program. That all changed though, with the support from teachers, newly made friends in the program and the on-site mental health counselor.  "When Erlande first started the program, she was really shy and spoke in such a quiet tone," shared Daron Morse, Project Grow's Director of Educational Programs. "Over the years, her confidence began to build more and her voice grew along with it."
After Project Grow, Erlande became focused on improving her mental health by participating in counseling and becoming involved in the community—healthy coping strategies that Erlande credits with eliminating frustration and anger management challenges she struggled with throughout childhood.
While sharing her excitement to AAF staff during her visit, she couldn't help but express her gratitude for Project Grow, a program that helped shape her childhood and formative years for the better.
"Project Grow was my childhood," shared Erlande with a smile. "Everything I remember about my youth revolved around this program—from the singing and activities, to learning how to cope with challenges at home, Project Grow meant everything to me at a very difficult time in my life. I knew I could always come here no matter the crises I frequently faced in my home environment.  The program taught me how to treat people with respect and humility; qualities that helped me excel in the healthcare career I began working toward early in my high school years. I remember volunteering with the nursing home across from Adopt-A-Family and applying everything I learned during my Project Grow years on a daily basis. To work in the healthcare field, you need to have a lot of compassion and patience; both are qualities I don't think I could have refined without my time in Grow."
Once she graduated out of Project Grow,  Erlande became focused on improving her mental health by participating in counseling and becoming involved in the community—healthy coping strategies that
Erlande credits with eliminating frustration and anger management challenges she struggled with throughout childhood.
"I knew I could always come here (Project Grow) no matter the crises I frequently faced in my home environment.  The program taught me how to treat people with respect and humility; qualities that helped me excel in the healthcare career I began working toward early in my high school years."
As a busy high school senior, community volunteer, and Medicana employee, Erlande also successfully earned her Certified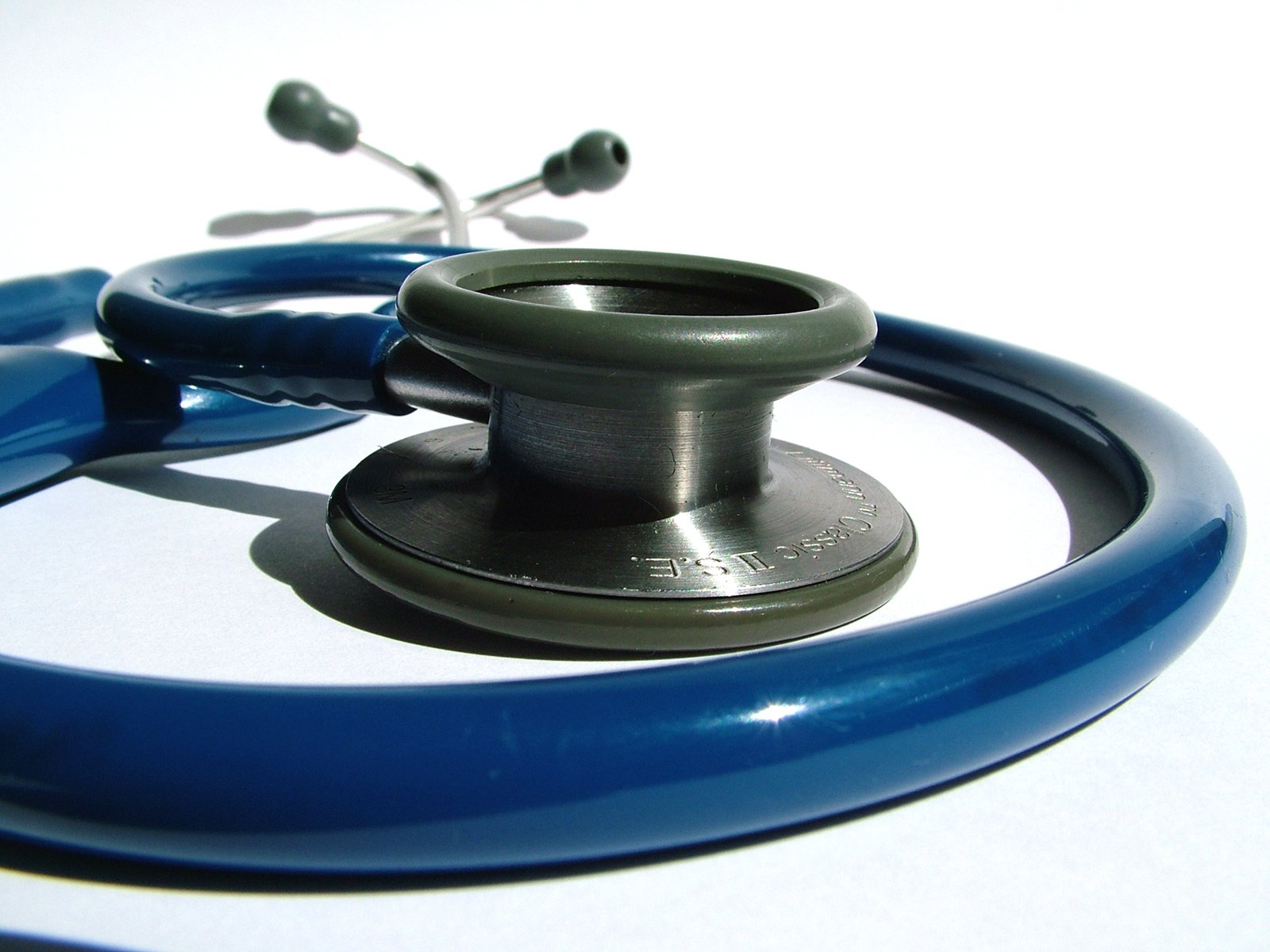 Nursing Assistant (CNA), EKG tech, and Medical Assistant licenses through a rigorous program offered through her high school. Erlande's resilience, academic and professional success, and commitment to community volunteerism caught the eyes of two local patrons of Bethesda-by-the-Sea Episcopal Church, who became significant mentors in her life. Soon afterward, Erlande was honored with a tuition-scholarship from Bethesda-by-the-Sea in addition to significant scholarship support from Florida State University and other private scholarship providers!  She planned to pursue a degree in nursing with hopes of someday working in a neo-natal intensive care unit.
Even after sharing her many successes, Erlande has one focus on her mind—how she can impact her hometown.
"Project Grow and Lake Worth had a GIGANTIC impact on my childhood," said Erlande in closing. "Lake Worth is where I was born and raised, however, you always want to become someone better than you grew up around. Even though I've gone through things that were so difficult and hurtful, I see myself back here in ten years giving back to this community (hopefully as a neo-natal intensive care nurse)."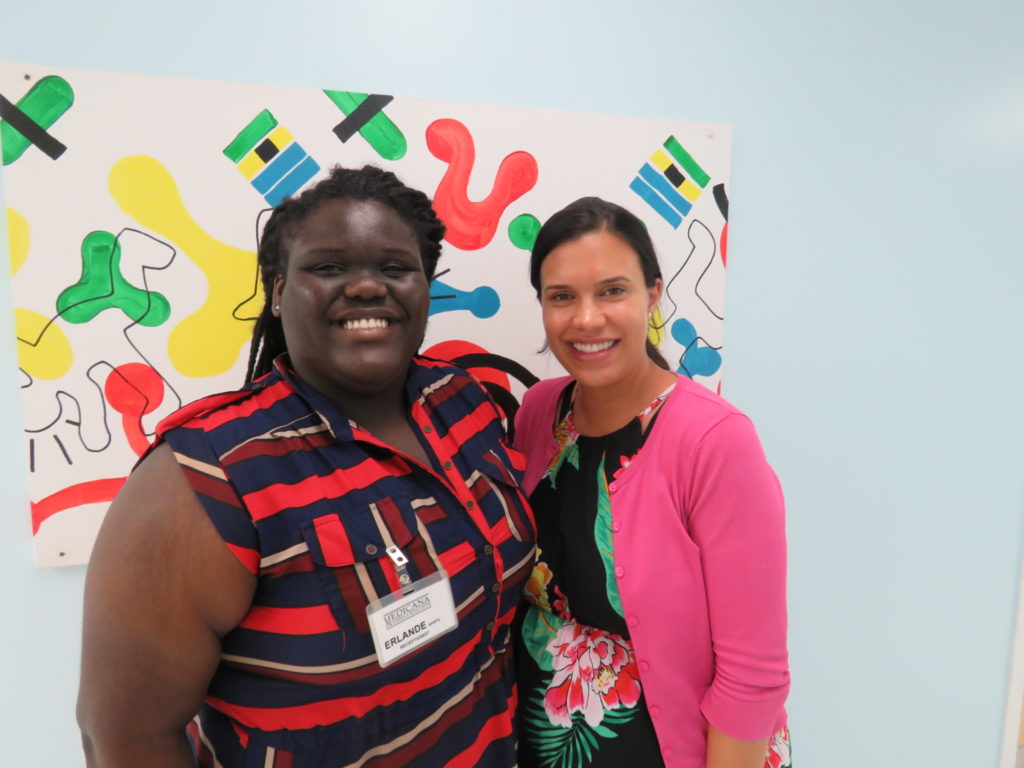 We congratulate Erlande and wish her well on her incredible journey forward!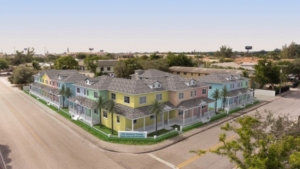 An Education-Centric Plan With Hope Built In
Adopt-A-Family is embarking on a new affordable housing capital campaign and we've already received immense support from our community! Adopt-A-Family wants to share our sincerest thanks to the anonymous donor who has backed this exciting project. Because of their donation, we are able to keep moving forward with the Capital Campaign and get closer to bringing stability back into the lives of families throughout our community.
You can learn more about our Capital Campaign by clicking on the links to press releases below: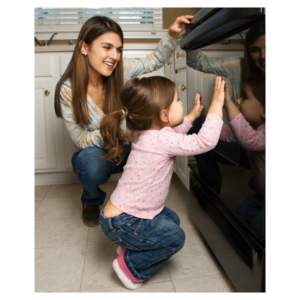 The Strength of a Mother
Kyla and her one-year old daughter Savannah, came to Adopt-A-Family scared and fearful of the world around them, holding on to each other tightly because they we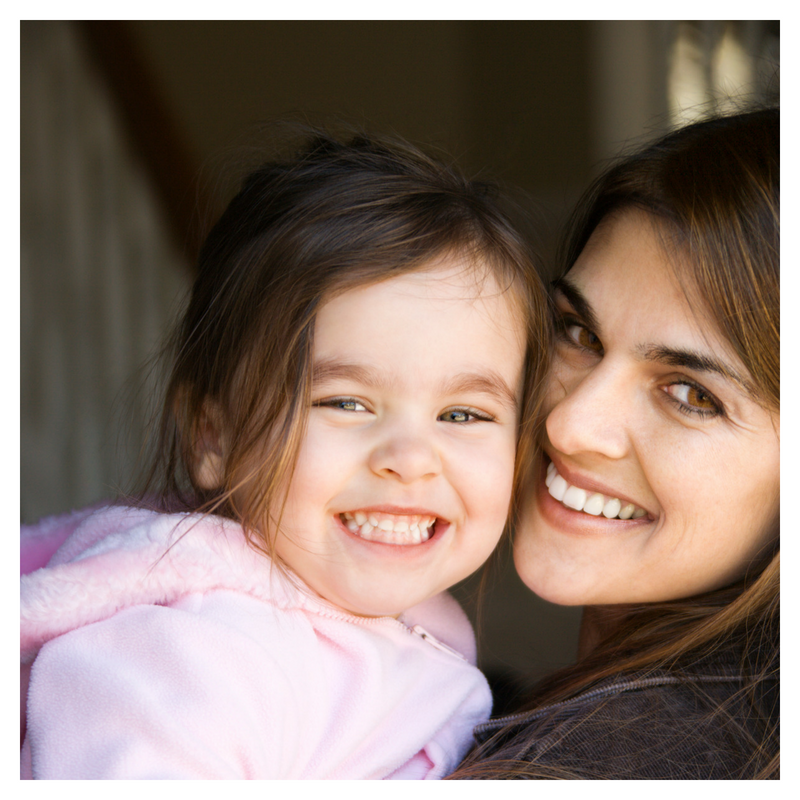 re afraid of the unknown.  Kyla had not had it easy, struggling for a long time with PTSD and extreme anxiety. She wanted nothing more than to provide a good and happy life for her daughter but needed a confidence boost and helping hand to do so.  Kyla and her daughter moved into SAFE in October 2012 and slowly began to open up and work towards gaining the courage and boldness to achieve her goals.
After spending time working and building her self-esteem with her Family Advocate at AAF, Kyla put her daughter in daycare so that she could explore employment and school opportunities.  With the help from AAF staff, Kyla's confidence grew stronger and stronger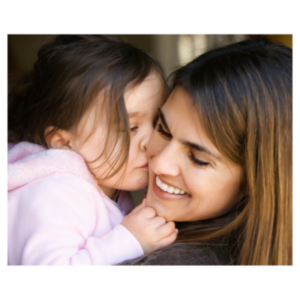 while Savannah learned to no longer fear the world, but to explore it and learn everything she could.  In 2014, while also working part-time and caring for her daughter, Kyla started to attend PBSC to go for her Associates in Human Services and was so successful there that she even made the Dean's List two years in a row.
"Kyla's confidence grew stronger and stronger Savannah learned to no longer fear the world, but to explore it and learn everything she could."
With her success earning her Associates Degree, Kyla is currently working towards earning her Bachelor's degree. By mid-2016 Kyla was married and expecting her second daughter Arabella and with help of her spouse and his family they were able to move into their own home in OK in September 2017 while being self-sufficient and providing a fulfilling and safe life for their daughters.  
If you want to help other mothers like Kyla, you can donate below. Let's make it a special Mothers Day to all the moms in our community!