We want to share some exciting news with the Adopt-A-Family community. Adopt-A-Family is proud to report that we received our 12th consecutive 4-star rating from Charity Navigator.
With more than 1.5 million American charities, Charity Navigator aims to accentuate the work of efficient and transparent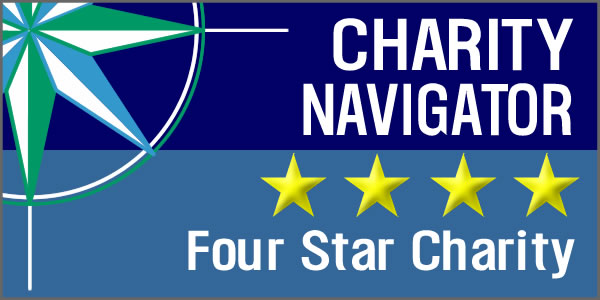 organizations. The intent of our work is to provide donors with essential information to give them greater confidence in both the charitable decisions that they make and the nonprofit sector. Forbes, Business Week, and Kiplinger's Financial Magazine, among others, have boasted on Charity Navigator's unique method of applying data-driven analysis to the charitable sector. By evaluating ten times more charities than their nearest competitor leads the way for Charity Navigator to be the leading charity evaluator in America.
"Only 1% of the charities we evaluate have received at least 12 consecutive 4-star evaluations, indicating that Adopt-A-Family outperforms most other charities in America."
In the updated rating letter to the agency, Michael Thatcher (President and CEO of Charity Navigator) writes; "Attaining a 4-star rating verifies that Adopt-A-Family exceeds industry standards and outperforms most charities in your area of work. Only 1% of the charities we evaluate have received at least 12 consecutive 4-star evaluations, indicating that Adopt-A-Family outperforms most other charities in America. This exceptional designation from Charity Navigator sets Adopt-A-Family apart from its peers and demonstrates to the public its trustworthiness."
None of this would be possible without the support and generous investment of our donors, funders, and board of directors. We are extremely grateful for this recognition, but even more so, we are thankful for the privilege to serve the families in our community every single day.
Thank you again for all that you do to support Adopt-A-Family's mission.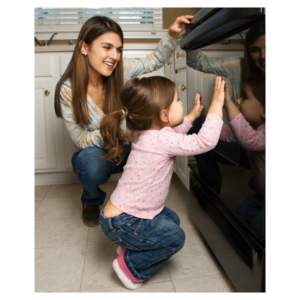 The Strength of a Mother
Kyla and her one-year old daughter Savannah, came to Adopt-A-Family scared and fearful of the world around them, holding on to each other tightly because they we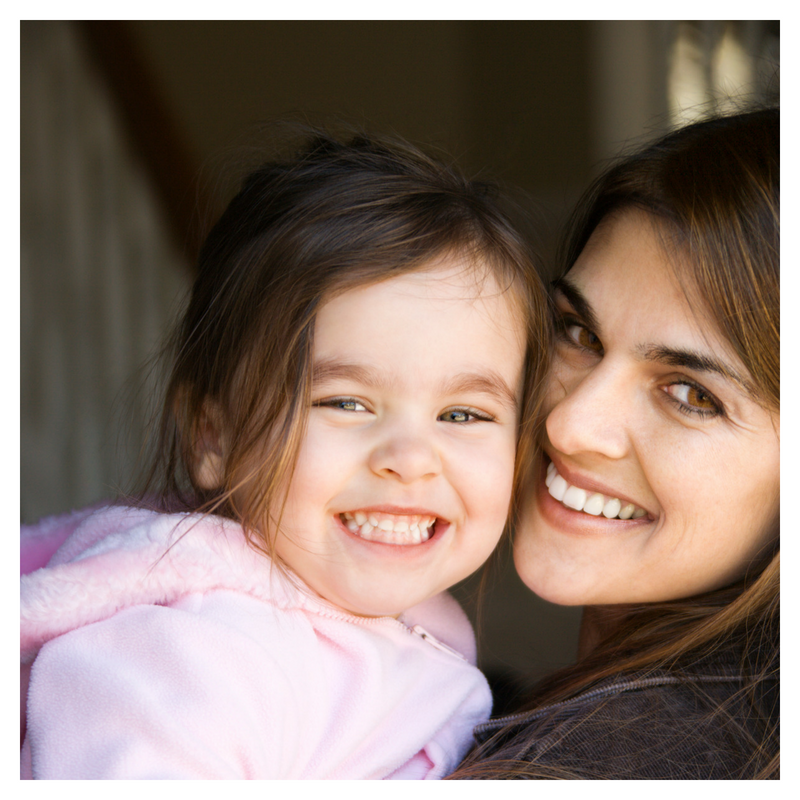 re afraid of the unknown.  Kyla had not had it easy, struggling for a long time with PTSD and extreme anxiety. She wanted nothing more than to provide a good and happy life for her daughter but needed a confidence boost and helping hand to do so.  Kyla and her daughter moved into SAFE in October 2012 and slowly began to open up and work towards gaining the courage and boldness to achieve her goals.
After spending time working and building her self-esteem with her Family Advocate at AAF, Kyla put her daughter in daycare so that she could explore employment and school opportunities.  With the help from AAF staff, Kyla's confidence grew stronger and stronger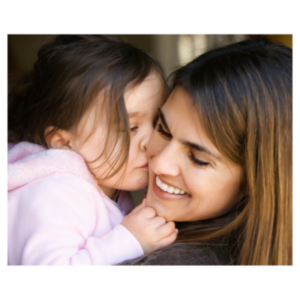 while Savannah learned to no longer fear the world, but to explore it and learn everything she could.  In 2014, while also working part-time and caring for her daughter, Kyla started to attend PBSC to go for her Associates in Human Services and was so successful there that she even made the Dean's List two years in a row.
"Kyla's confidence grew stronger and stronger Savannah learned to no longer fear the world, but to explore it and learn everything she could."
With her success earning her Associates Degree, Kyla is currently working towards earning her Bachelor's degree. By mid-2016 Kyla was married and expecting her second daughter Arabella and with help of her spouse and his family they were able to move into their own home in OK in September 2017 while being self-sufficient and providing a fulfilling and safe life for their daughters.  
If you want to help other mothers like Kyla, you can donate below. Let's make it a special Mothers Day to all the moms in our community!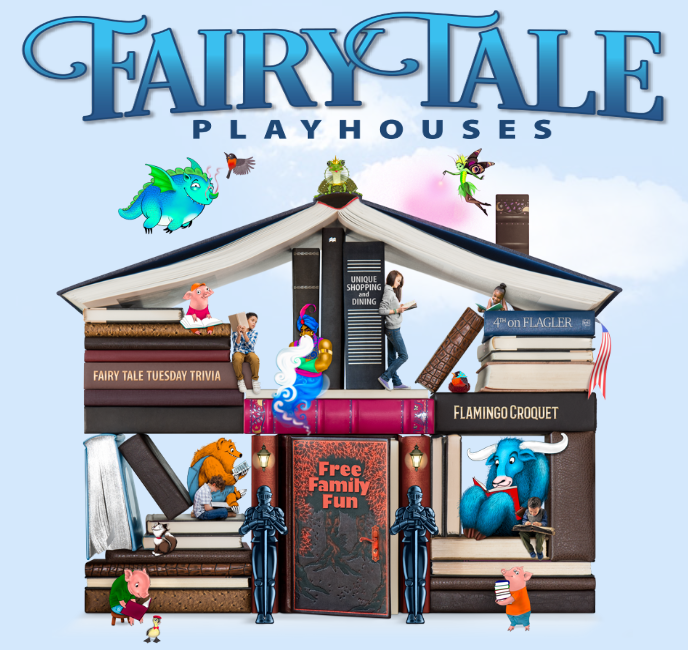 Adopt-A-Family is excited to be a part of The City of West Palm Beach's Clematis by Night Summer in Paradise event again this year! This year's Summer in Paradise will feature fifteen child-size playhouses, collectively referred to as the "Fairy Tale Playhouses." In partnership with Habitat for Humanity of Palm Beach County, the mini-homes will provide entertainment and shade to the smallest of waterfront visitors, all while raising awareness of affordable housing. Adopt-A-Family's Fairy Tale Playhouse will take on the story of "The Ugly Duckling" by Hans Christian Andersen and the playhouse will be designed and painted by local artist Freddy Hennevelt.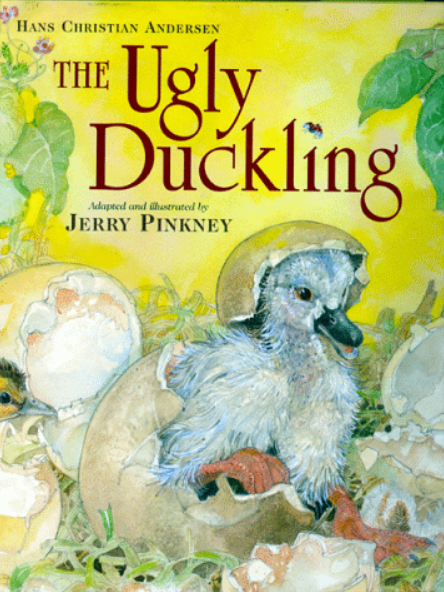 The first "unveiling" of the event will be held on June 7th, but other special for Clematis by Night series will be held all summer long! Come out and show your support to Adopt-A-Family and many other local nonprofits! We can't wait to see you there.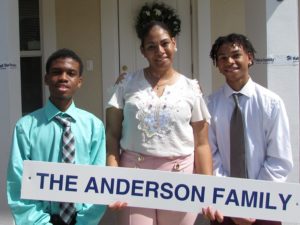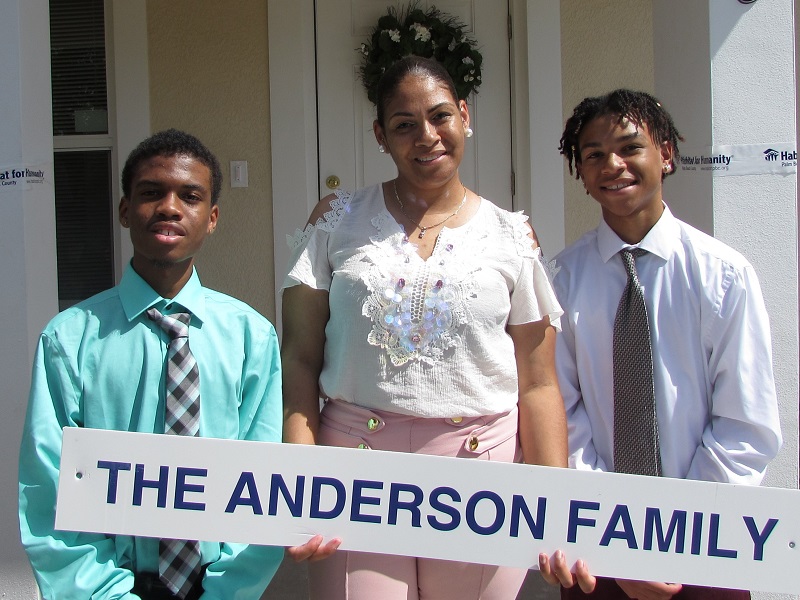 Jackie and her two sons, DaVante and Xavier, came to Adopt-A-Family several years ago on the verge of crisis—they had just learned the place they called home was going into foreclosure, and the family would soon be without a home. Turbulence and trauma in life had been commonplace for the family—three times previously Jackie and her sons had been on the verge of homelessness.
However, from day one at Adopt-A-Family, Jackie was determined to build a better life. She took advantage of every opportunity to grow within the Service Enriched Housing (SEH) program, which is dedicated to equipping and empowering families on their journey toward financial independence and homeowership. Both of her sons enrolled in Project Grow, Adopt-A-Family's afterschool and out-of-school program that is customized to meet the needs of formerly homeless children.
While an Adopt-A-Family SEH resident, Jackie earned her high school diploma and CNA certification, ensuring her employment options would drastically improve. Jackie also worked diligently to repair her credit and reduce past debts that had weighed heavily on the family throughout the years. Working with Adopt-A-Family's NeighborWorks Certified Credit Counselor, she developed meticulous saving habits and budgeting skills—while also participating in the program's "Home Buyer's Club," earning her first time homebuyer's certification.
All the while, Jackie dedicated her drive and passion toward building a better life for her children.
"While I was struggling, my kids were struggling as well," she shared. "That's what made the stability of Adopt-A-Family so vital. Stability has always been the primary goal for my kids. It's finally happened. I've accomplished that goal. Having children taught me how to be strong, and motivated to reach this level of independence. I never had a blueprint for how to be a good mother and raise my children. I'd admit, I wasn't prepared for it at first. However, they were what kept me together and gave me that added motivation to push forward."
"Jackie has fought incredibly hard to get to this moment," shared Christina Hewitt, Jackie's Adopt-A-Family program manager. "Regardless of how difficult things became for her, she never lost her ability to stay positive that her life would take a turn for the better. I truly admire her resilience and perseverance."
We congratulate Jackie, and her entire family, on achieving the dream of homeownerhip! The family celebrated their home dedication with our partner, Habitat for Humanity of Palm Beach County, on August 21st, 2017. Special thanks to Habitat for Humanity and the many partners who came together to make this dream a reality.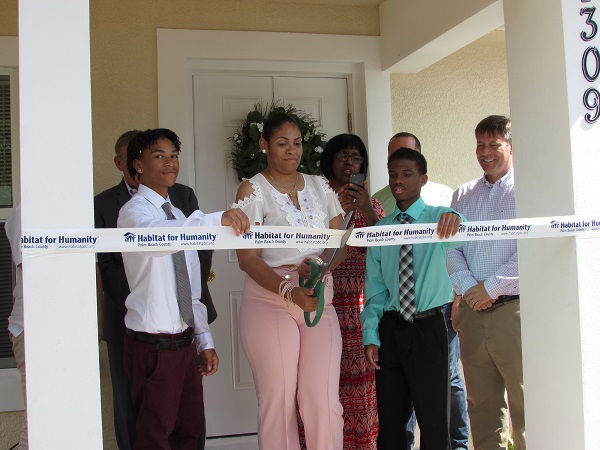 ---
About Service Enriched Housing: Service Enriched Housing (SEH) is an innovative housing program for low-income families dedicated to the pursuit of increased financial stability and homeownership. SEH provides safe and affordable housing for 30 families who meet program requirements. Families work collaboratively with the program manager to address credit obstacles, eliminate debt, and learn the necessary steps to becoming a homeowner.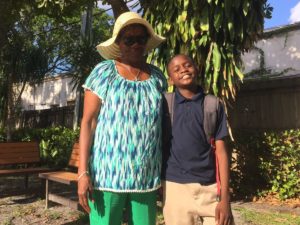 (for mobile viewing, turn your phone horizontally for best quality). 
Angela is a full-time crossing guard employed by the Palm Beach Sheriff's Office. As a single grandmother to David, a ten-year-old student in Project Grow, life poses many challenges. Adopt-A-Family has provided a stable, consistent, and nurturing environment David would otherwise not have while his grandmother is working.
---
"Coming to know Adopt-A-Family has turned the light on," shared Angela. "It has been such a joy and peace of mind knowing David has a special place to go each day afterschool."
---
Each day we see the positive impact a stable environment provides our families and children.
Click To Tweet
We are asking for your support to ensure we provide access to opportunity and stability for more families than ever this year. Your donation will go directly to enhancing educational programming through our afterschool program, Project Grow, in addition to strengthening our efforts to end and prevent family homelessness throughout Palm Beach County.
When you Give with your heart for this year's Great Give, our families and children grow, just like Angela's.
We hope you will choose to #GiveAAF17.
---
About the Great Give: Great Give Palm Beach and Martin Counties is a 24-hour online giving event led by United Way of Palm Beach County, Achieve, Nonprofits First and United Way of Martin County designed to raise as much money as possible for nonprofits in a single day. This community-wide event celebrates the spirit of giving and the collective effort it takes to strengthen our community by raising critical funds for local nonprofits.
---